The Chicago Fire Episode You Forgot Mariska Hargitay Was In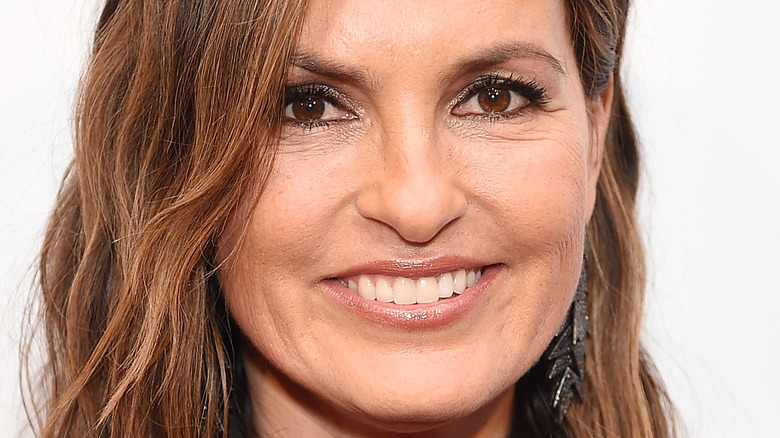 Michael Loccisano/Getty Images
Mariska Hargitay has been playing Detective Olivia Benson on "Law & Order: SVU" since 1999, and shows no sign of saying goodbye to her any time soon. Benson is so beloved, Taylor Swift memorably named one of her cats after the hard-nosed detective (Swift has another called Meredith Grey, after the "Grey's Anatomy" lead, played for a similarly long time by Ellen Pompeo). 
In an interview with Parade, Hargitay argued, "SVU' resonates because it's a path to healing and a path to survivorship." The award-winning actor, who auditioned for Benson three times before winning the role, added, "The conversations that the show inspires have brought a greater awareness and understanding of the issues. And every disclosure is a chance to show that a victim is to be believed." 
Although fans, understandably, associate Hargitay most closely with her "SVU" character, she briefly entered the world-conquering "One Chicago" universe at one point, too. Naturally, though, there was a "Law & Order" connection. 
Detective Benson starred in an SVU crossover episode
Per the Chicago Tribune, actor Mariska Hargitay made her way to the Windy City to film part of a three-episode crossover event between "Chicago PD," "Chicago Fire" and "Law & Order: SVU." As "Chicago Fire" and "Chicago PD" co-creator Michael Brandt explained, "It'll be our seventh episode on all three shows." The action kicks off on "Chicago Fire," before moving on to "Chicago P.D." when their "unit is brought in to investigate." 
Then, "On 'SVU,' (Sergeant Hank) Voight and intelligence go to New York and work with Benson and everybody on 'SVU,' which then leads them back to Chicago for the last hour on Wednesday night (on 'PD'). Benson and SVU come to Chicago and she and Voight have some great scenes together." "We Called Her Jellybean" aired in 2015, and the crossover was so popular fans immediately demanded another. 
The Hollywood Reporter confirmed a second, two-night event was incoming. The story, which was loosely based on Ted Bundy, began on "Chicago Fire," with a doctor (played by "The Walking Dead" star Dallas Roberts) accused of a string of rapes and murders. Benson gets involved when she figures out a recent victim bears a striking resemblance to one she and Detective Stabler (Christopher Meloni) discovered back in the day in New York. 
The crossovers didn't end there either, with "Chicago Fire" alum Monica Raymund (Gabby Dawson) also directing an episode of "SVU" and describing working with Hargitay as "amazing," to TV Insider.