The Truth About The Love Is Blind Sleeping Arrangements
Netflix
Following the popularity and success of dating shows like "The Bachelor" and "Love Island," Netflix have jumped in on the trend with a twist. In 2021, the streaming service introduced somewhat of a controversial spin on the dating show formula with "Sexy Beasts" where couples would only be able to see each other dressed up as animals and other creatures.
On the more conventional side, there's shows like "Too Hot To Handle" where the singletons aren't allowed to kiss or have sex if they want a shot at winning a huge cash prize, or "Love Is Blind" where potential couples aren't allowed to see each other face-to-face. The latter has a lot of logistics involved with inventive ways to keep the singletons from seeing each other, including purpose built pods where couples can speak and emotionally connect with one another without judging appearances (via Insider).
The contestants spend quite a lot of time in these pods, with many viewers wondering how they go to the bathroom or whether they have to sleep in them. Thankfully, the singletons weren't confined to these pods for the entirety of the shoot.
The sleeping arrangements were changed in Season 2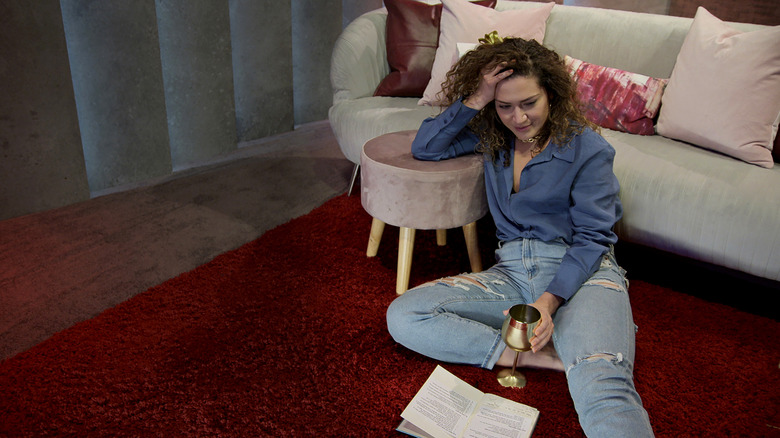 Netflix
As "Love Is Blind" creator Chris Coelen told Netflix's official companion site Tudum, the contestants aren't confined to their pods — they're just not allowed to see their potential match. So when they need to go to the bathroom or get a good night's rest, they are allowed to leave. "The first four days we filmed on average I'd say 18 to 20 hours," Season 1 contestant Kenny Barnes told Refinery29. "We slept in trailers and they were correctional facility beds. The design was to just strip us down from our comfort level."
That was soon changed in Season 2 after contestants complained about said beds. The second time around they were housed in hotel rooms, as Coelen told Tadum, but were escorted to and from their rooms so they didn't see their potential suitors.
And as for the long shoot days, the contestants weren't confined to just the pods and their trailers and hotel rooms. Lauren Cameron explained to Refinery29 that the girls and guys would get to hang out separately, and there were tons of things to do. "We baked, we had a twerk class," she explained. "We would just have conversations, talk to each other about our experience, play pool. It was literally a sorority."