Love Is Blind Engagements You Didn't See On The Show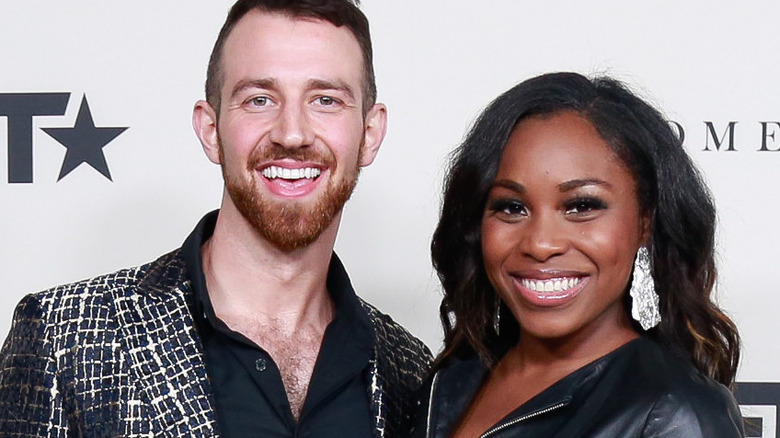 Liliane Lathan/Getty Images
Netflix's "Love is Blind" is the hit dating series where couples meet, get to know each other, and get engaged all without seeing the other person's face (via Variety). Season 1 was released in 2020 and became an instant hit. Viewers witnessed six couples get engaged, finally see each other, and jet off to Mexico for their honeymoons. But what many fans didn't know is that there were actually eight engagements on the show, but two couples got the boot.
The reason? According to People, producers were not expecting so many contestants to hit it off, and there just wasn't enough air-time or resources to feature all eight. "As we were preparing to go to the Mexico trip, the leads of the show came in and said, 'Hey, we were expecting maybe one or two [engagements]. We prepared for five. Then we got eight engagements, so we had to pick who we were going to follow,'" Rory Newbrough, one of the axed contestants, told People. "We got our phones back. They thanked us graciously and said, 'Sorry, we just don't have enough to cover everybody.'"
When Season 2 was released two years later, fans were excited to see the experiment unfold again, but whether engagements weren't shown or not remained a valid question.
There were two engagements cut from Love is Blind
Season 2 of "Love is Blind" followed the same track as Season 1. We witnessed six couples get engaged and watched their love unfold (or go up in flames). But just like the season before, there were engagements on the show that viewers didn't get to see. According to Tudum, Jason Beaumont and Kara Williams and Caitlin McKee and Joey Miller got engaged in the pods but were not featured on the show.
Williams was worried that she would never be viewed as "wifey material," but Jason Beaumont, a flight attendant, thought differently. He proposed and she said yes. Unfortunately, the couple has since parted ways (via Entertainment Weekly). Miller, who was shown in the beginning discussing his difficulties dating with a full head of gray hair, proposed to Caitlin McKee. The couple also split, with McKee confirming their relationship and their breakup in an Instagram post, saying "I had an amazing summer and fall with the opportunity to travel, meet each other's families, and build a genuine relationship without the cameras and crew. Although we ultimately chose to go our separate ways recently, we are choosing to remain friends and he will always hold a special place in my heart."
Season 3 of "Love is Blind" has already been filmed, according to show creator Chris Coelen (via Metro), but with no release date yet, fans will have to wait and see how many couples find love in the next round. In the meantime, they can always catch up with prior couples to see what the "Love is Blind" stars are up to now.