Here's What Grimes Looks Like Going Makeup-Free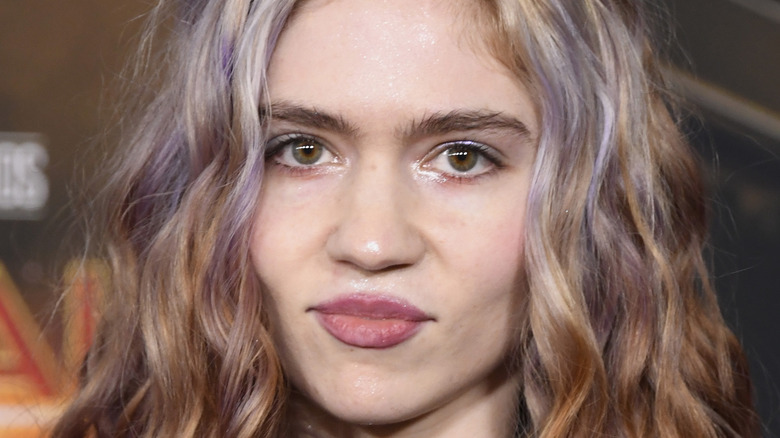 Frazer Harrison/Getty Images
Since kicking off her career as a musician over a decade ago, Grimes has never been one to blend in and be boring. She's known for her boundary-pushing music videos, dreamy electro-pop style, and for making headlines with shocking relationship and baby updates. The mother of two has also built her reputation on artistic visuals, which influence her unique look. Grimes is often seen with cotton candy-colored hair, fantastical clothes, and fun, glittery makeup. She even has white tattoos covering her entire back, which she described as "alien scars" in an Instagram post.
Grimes' image wouldn't be the same without her eye-catching outfits and the makeup and ink she adorns herself with. Maybe that's why we hardly ever see her without at least a little eyeliner and a touch of sparkle. But underneath the video game heroine-esque clothes and other-worldly makeup, she's more human than she lets on with her creative style.
Grimes is less alien, more human with no makeup
Grimes showed what she looks like when the makeup is stripped away in a video for Vogue. The 2020 video shows Grimes' bare face before diving into her pregnancy skincare routine (followed by a psychedelic makeup look, in true Grimes fashion). Her makeup-free beauty is raw and youthful, though she notes that she struggled with pregnancy skin woes, saying, "When I got knocked up, my skin just turned super red and just constantly covered in stuff." She also talked about how traveling and touring regularly can trigger skin problems, including dryness.
Just like us average earthlings, Grimes doesn't have perfect skin. And to her, that's probably not a problem. Her style has always been less about conventional beauty and more about creativity, with or without makeup. She sums it up well in her Vogue video, saying, "I like the idea of looking pretty, but ravaged."