The True Meaning Behind Grimes' Intensely Revealing New Music Video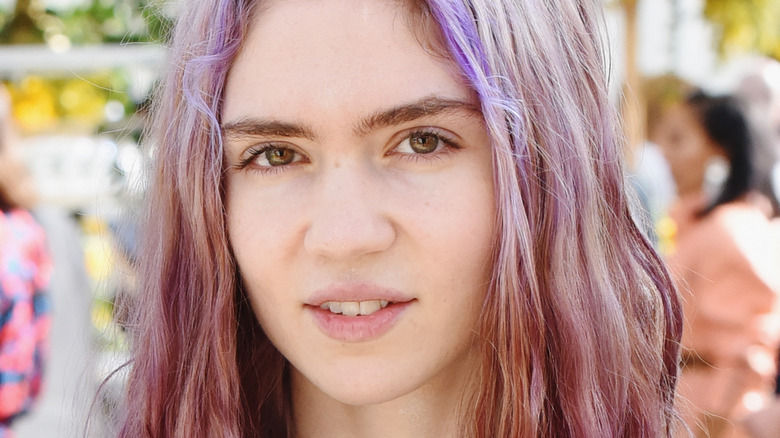 Vivien Killilea/Getty Images
It's been a pretty rough couple of months for Grimes, as her whirlwind relationship with billionaire Elon Musk has come to an end. The couple met in 2018 after whispers began to surface that the two had been "quietly dating," which was all but confirmed when they attended the Met Gala together that year (via Page Six). Fast-forward to January 2020, and yet another surprising turn of events, Grimes announced to the world on Instagram that she and Musk would be having a baby together. Musk later announced to Twitter that they named their bundle of joy "X Æ A-12 Musk."
After a year and a half of regular following and unfollowing of each other on social media, controversial tweets, and family feuds (via Cosmopolitan), Grimes and Musk announced that they are no longer together — but in a pretty confusing way, which has simply become the norm for Grimes and Musk. Indeed, they claimed to be "semi-separated." Musk explained, "It's mostly that my work at SpaceX and Tesla requires me to be primarily in Texas or traveling overseas, and her work is primarily in LA," he said. "She's staying with me now and Baby X is in the adjacent room" (via ABC7 News).
Here's what the music video consisted of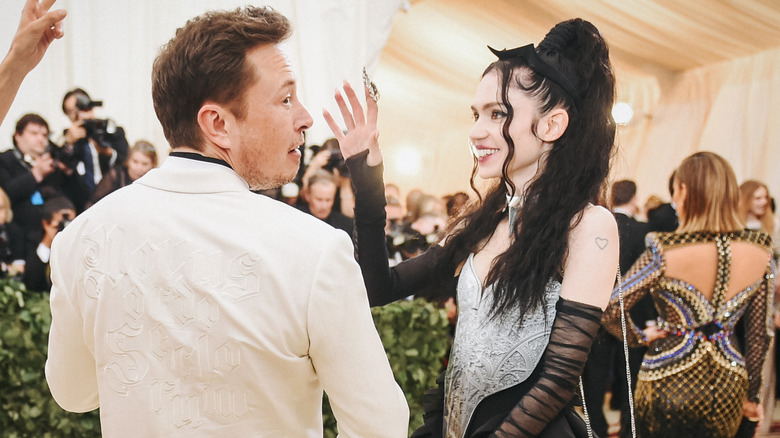 Jason Kempin/Getty Images
Grimes' response to her big breakup with Elon Musk has been pretty on-brand for the alternative singer who has made a name for herself by marching to the beat of her own drum. Aside from making comments and jokes regarding the status of her relationship with the SpaceX billionaire — such as a cheeky comment to Page Six that she will be "colonizing [one of Jupiter's moons] Europa separately from Elon for the lesbian space commune" — she also appears to be throwing herself into her music in order to deal with the big life change.
On September 30, 2021, Grimes took to Instagram to post a short music video, of sorts, releasing a new song of hers. In the video's caption, she revealed that the song is called "Love," and she wrote, "I wrote and produced this song this week in response to all the privacy invasion, bad press, online hate and harassment by paparazzis I've experienced this week," per Pitchfork. The music video is quite a low quality one, most likely filmed exclusively on her phone. It focuses on her dramatic makeup, her intensely long nails, and her emotion in her face.
People had mixed reviews to the song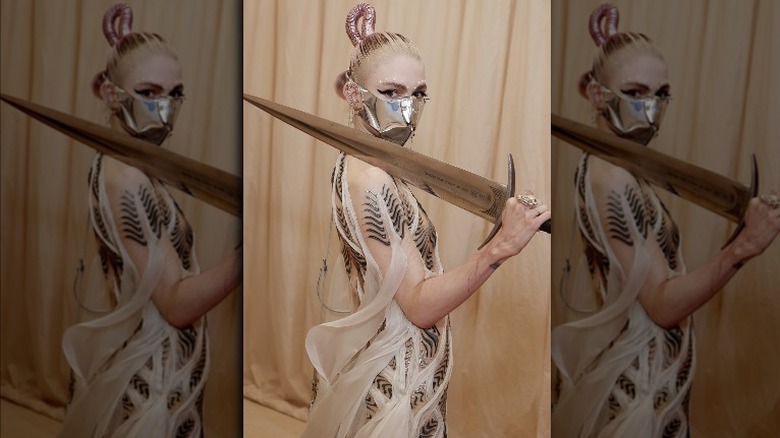 Arturo Holmes/mg21/Getty Images
In addition to the explanation of the inspiration behind the music, Grimes included the emotional, intense, dark lyrics of the song. Some of the stand-out lyrics include, "'It f***ing sucks to be awake / Oh Lord I pray my soul to take / nobody understands because / everything they hate / is everything I love," which were generously included in the caption so that fans can sing along, too (via the Daily Mail).
Responses to the music video have been quite mixed. While Grimes received a good amount of support and love from fellow celebrity friends, including Kaskade and Abdulla Elmaz, others commenters appeared to be decidedly confused on how to feel. One Instagram user commented, "Wait, this is f****** sad." Another person wondered, "I hope you're okay." Others simply couldn't help but bop along to the song, with one person writing, "The best music comes from break ups! You got this queen."