How Compatible Britney Spears And Sam Asghari Are Based On Their Zodiac Signs
Kevin Winter/Getty Images
Not a lot is currently known about Britney Spears and Sam Asghari's relationship. However, we do know that the couple met while shooting Spears' music video for "Slumber Party," which features Tinashe, in 2016, according to Harper's Bazaar.
Asghari moved to California at the age of 12 from his native Iran, and he's a personal trainer who has delved into modeling and acting, per The New York Times. He's also been very supportive of Spears' fight against her conservatorship case. Asghari has further been a steady and positive influence through Spears' mental struggles and legal issues, per People. The couple was ultimately engaged in September 2021 (via Us Weekly).
It looks like the happy couple is still going strong. On a recent birthday, Asghari posted a photo on Instagram of himself celebrating with Spears. "Wow. 28 and counting. Most of you think I'm 49 but you're wrong. I already celebrate every single day for this opportunity called 'life,'" he wrote. "I cherish & love everything I have with all I have. Thank you for all the overwhelming wishes. The best Bday getaway with my queen."
Spears' past tumultuous relationships, according to Us Weekly, haven't exactly been written in the stars. Now, let's see what the stars say about Spears and Asghari's long-term compatibility.
Britney Spears and Sam Asghari have opposing signs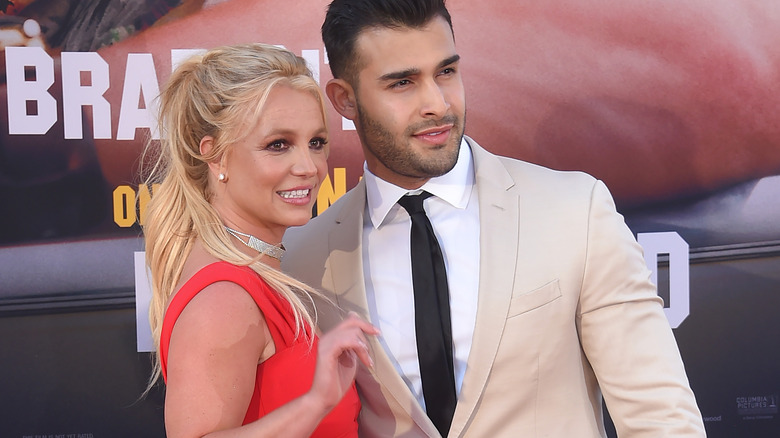 DFree/Shutterstock
Britney Spears was born on December 2, 1981, which makes her a Sagittarius. This fun-loving fire sign is usually very well-liked (via PureWow). They have a great sense of humor and enjoy discussing the deeper meanings in things. However, they don't always have tact and can be very forthright in their speech. Sagittarians enjoy helping people heal, and like to teach others what they know. They love their freedom, embrace change, and detest being constrained.
Asghari is a Pisces, born just a few months after Spears, on March 3, 1994. He's also 12 years younger than Spears, per MSN. Pisces is a water sign that essentially really loves love. They are romantic and always seek out "the one." Astrology Zodiac Signs takes it a step further and states that a Pisces man "lives only to love and please their partner." On the downside, Pisces can be very sensitive and not take criticism well. While Pisces embodies creative traits, they also tend to be a bit delusional, preferring to gloss over the harder parts of life, and, along with that, they can be highly emotionally reactive, according to Allure.
Do Britney Spears and Sam Asghari have astrological compatibility?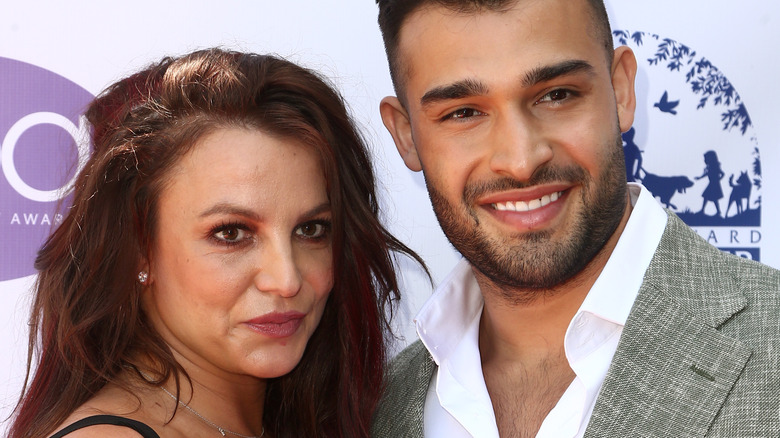 Tommaso Boddi/Getty Images
While emotional intelligence is important in relationships, a Sagittarius-Pisces relationship could be a bit of an emotional rollercoaster. They have opposite ways of dealing with life: Sagittarians are thinkers who try to find the intellectual solution, while Pisces turn inward and become withdrawn. Sagittarius rarely let the emotions take over, preferring to turn to facts and data while emotionally volatile Pisces can't seem to get out their emotions, particularly when criticized in any way. No matter what, they adore each other (via The Times of India).
The biggest obstacle may be Pisces' needy behavior, which may send Sagittarius running for the hills. Sagittarians can't deal with clinginess, per Sweety High, and Pisces crave constant togetherness.
While they do get along for a while, a Sagittarius-Pisces relationship doesn't always have the long-term compatibility needed to maintain a lifelong partnership. However, they do have the potential to help each other blossom if they accept that they have different ways of being in the world, per Astrology.com. When they each choose to look at each other's perspectives, they can learn to accept their differences.