How To Replicate Sofia Carson's Soft-Glam Look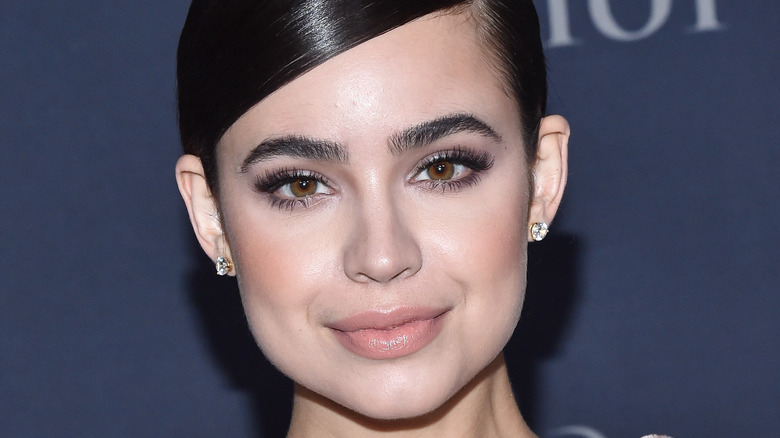 DFree/Shutterstock
We may receive a commission on purchases made from links.
Sofia Carson got her start as a guest star on Disney Channel and has since risen through the ranks to play a main character in the wildly popular "Descendants" trilogy. She also starred in ABC's "Pretty Little Liars" spin-off, "The Perfectionists," and has a blossoming music career.
Carson is known for her dramatic side part and sleek dark hair, though she believes that beauty has little to do with your appearance. "My mom has always told me the happiest girls are the prettiest girls," she shared with Vogue in her "Beauty Secrets" tutorial video. "Beauty is something that we are, not something that you can see."
The multi-talented actress first discovered her love of glam when her mom did her makeup before dance recitals. In 2021 she gave more insight into her formative beauty experiences. She told Allure, "I would wear my mom's lipstick, heels, and bandanna, and I would sing songs from Evita and Madonna. I guess beauty and art and music all became one at that age."
Most of her self-care routines come from her mom and grandmother, who always emphasized the importance of skincare and sun protection. There are even skin and beauty secrets that she, her sister, and mom have used for years. So the starlet told Vogue viewers some of the tricks that help her feel cared for and beautiful, inside and out.
Sofia Carson sees skincare as self-care
Sofia Carson shared in her "Beauty Secrets" video, "I think skincare is most definitely a part of self-care. And self-care is just doing things that make you feel good and love yourself." The actress's routine includes several Zo Skin Health products, including their Exfoliating Cleanser, Complexion Renewal Pads for her T-zone and cheeks, and Daily Power Defense moisturizer. She also uses a hydrating facial mist and offers cold under-eye masks as a solution for any potential puffiness. Carson takes her routine a step further, grabbing a cold face roller to get the blood flowing and a lavender spray, which she uses morning and night as an aromatic addition.
When it was time for her brows she told Vogue, "My mom insisted that I shouldn't do my eyebrows," despite the popular thin-brow trend during Carson's teen years. She's now thankful for her mom's advice and tends to her lush brows with a brush and an occasional trim for shaping. 
To get the actress' smooth skin tone, use a tinted moisturizer with SPF for sun protection in lieu of a heavier foundation, and apply concealer with a beauty blender. Carson stands by powder for a "matte finish," telling viewers that she's gotten into "baking" to brighten things up.
For some soft sculpting, apply a light contour — Carson uses a bronzer from Benefits Cosmetics — more powder, and line the lips a shade that makes them pop. 
Her beauty inspirations influence her makeup looks
Finally, to round out Sophia Carson's soft-glam look, you can grab two pinkish lipstick shades and blend them, then add some gloss. In her tutorial for Vogue, Carson goes for the Revlon lipgloss she's used on the red carpet for years. A global brand ambassador for Revlon, Carson told Pop Sugar in 2021 that using her mom's red lipstick was her first experiment with bold glam, and that growing up, "It made me feel unstoppable." Now, with her signature shade, Revlon's Sofia Red, the multi-talented actress is making what she calls her "first step into the beauty industry." 
Carson's favorite step, mascara, also holds a new resonance for her as the face for Revlon's Big Red Lash Mascara — she shared that seeing her face in the drugstore's Revlon aisle feels "surreal." To get her bold eye look, apply your favorite cream blush to your lids — Carson's choice is from Tower 28 — and use an inner eye highlight. 
Sophia Carson regularly draws inspiration from beauties that came before her, telling Vogue, "My muse has always been Audrey Hepburn in terms of makeup and beauty and fashion ... she really is the definition of timeless beauty." Her signature "severe" side-part ponytail, as she termed it, is also a tribute to Audrey Hepburn, referencing the actress's first-ever Oscars look.
To finish your timeless soft-glam à la Carson, use a beauty blender to clean up excess powder and hairspray your brow brush to keep everything in place.