Here's Who Hyacinth Will Really End Up With In Bridgerton, According To The Books
Viewers who have only just discovered the Bridgerton family on "Bridgerton" may be on the edge of their seats, wondering who will fall in love next when Season 2 drops on the streaming giant come March 25. That said, fans who have already read Julia Quinn's hit Regency-era novels likely have a good idea of what happens next. In both the books and the TV series, there are 8 Bridgerton siblings: Anthony, Benedict, Colin, Daphne, Eloise, Francesca, Gregory, and Hyacinth Bridgerton. According to her website, author Julia Quinn wrote the 8-book series with a different Bridgerton sibling in mind for each book. The novels chronicle the happily-ever-afters of the children of the late Edmund Bridgerton and his widow, Violet, set amidst the backdrop of 1800's London society. 
Judging by "Bridgerton" Season 1, it seems as though TV showrunner Chris Van Dusen and producer Shonda Rhimes intend to follow the same pattern. Based on Quinn's first novel, "The Duke & I," Season 1 followed Daphne as she fell in love with the dashing Duke of Hastings, Simon Basset. Currently, her older brother Anthony is set to take the spotlight in Season 2, which is based on Quinn's "The Viscount Who Loved Me." This means Season 3 should devote itself to Benedict's romance. But while "Bridgerton" Seasons 3 and 4 have already been greenlit, there's no guarantee that we'll see little Hyacinth's love story unfold onscreen. That said, who does she end up with in the books?
Hyacinth Bridgerton's romance plays out in book 7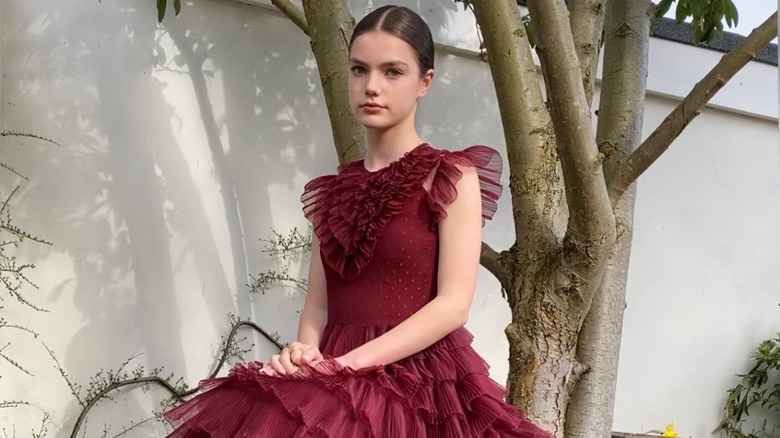 Rachel Hunt/Getty Images
As the youngest Bridgerton sibling, Hyacinth Bridgerton has so far only been seen as an outspoken little girl. Per IMDb, Florence Hunt portrays Hyacinth, whose role in Season 1 involved pestering her older sister Daphne Bridgerton with questions about princes and dukes. Eventually however, Hyacinth grows up and takes center stage in book 7 of Julia Quinn's hit series, titled "It's In His Kiss." According to Quinn's website, the synopsis of the book reveals that Hyacinth is destined to fall in love with Gareth St. Clair, who needs Hyacinth's help translating an old family diary. 
With Gareth on the edge of ruin, he's left with only a diary to make his fortune. But because the diary is written in Italian, he needs help translating it. Enter Hyacinth, who meets Gareth at a ball and volunteers to help with the translation, despite her imperfect language skills. Per the book's synopsis, things quickly heat up between the two protagonists. "As they delve into the mysterious text, they discover that the answers they seek lie not in the diary, but in each other ... and that there is nothing as simple — or as complicated — as a single, perfect kiss," reads Quinn's website. As one of the highest rated books in the series on Goodreads, it seems that fans of the show have lots to look forward to when (and if) "It's In His Kiss" gets adapted for television.