Here's What Snooki Looks Like Going Makeup-Free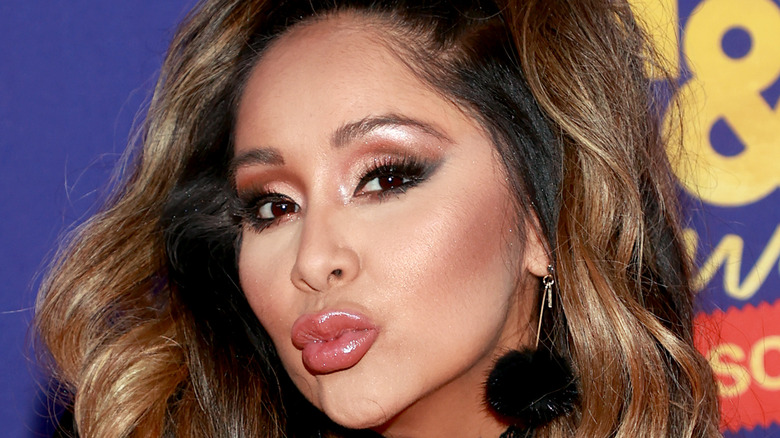 Matt Winkelmeyer/2021 Mtv Movie And Tv Awards/Getty Images
Nicole Polizzi, better known to all as "Snooki," has certainly matured over the years. The loud, vivacious, and sometimes combative girl made herself known by first appearing in the MTV reality series "Jersey Shore" and spin-off "Jersey Shore Family Vacation." She also appeared on "The Apprentice" and "Dancing With the Stars," per TV Guide.
Somewhere along the way, she settled down to raise a family. Over the years, viewers have watched Snooki transform into a mother of three who has put an end to her hard-partying ways.
Snooki's look at the time was heavy on overdone hair and makeup — who can forget the famous pouf? Part of the series revolved around the "Jersey Shore" crew getting ready to go out and party, and there was never a lack of full glam. Snooki's look was heavy on the thick, black eyeliner. She'd also add layers of various colored eyelids, often with lots of glitter. The eyes were finished with long false eyelashes. Her lips were equally bright and glossy, and the spray-tan was a given.
However, these days, along with putting her partying ways in the past, Snooki at home has mellowed into an almost unrecognizable natural look.
Snooki shows off a makeup-free look
Without makeup, Snooki looks dramatically different. In an Instagram post, Snooki downplayed her look; "Speaking of hot mess, here is my run to Target look. Cozy yet fashion statement. Be bold."
However, fresh-faced Snooki, devoid of the extreme spray tan, thick liner, and synthetic lashes, looks vibrant and energetic. Her face looks youthful and happy. With three children under the age of ten, the carefree days of spending hours getting glam might be a thing of the past, but underneath it all, she looks like a busy mom trying to get it all done.
It's not likely that Snooki will embrace the makeup-free look long-term. The "Jersey Shore" star has her own line of makeup, which she sells in her Snooki Shop stores. The store is open in two locations, one in Beacon, New York, and the other in Madison, New Jersey. A third location is set to open in Seaside Heights, New Jersey — right where it all began.