Caribbean Country Seeks To Remove Queen Elizabeth Amid Kate And William's Tour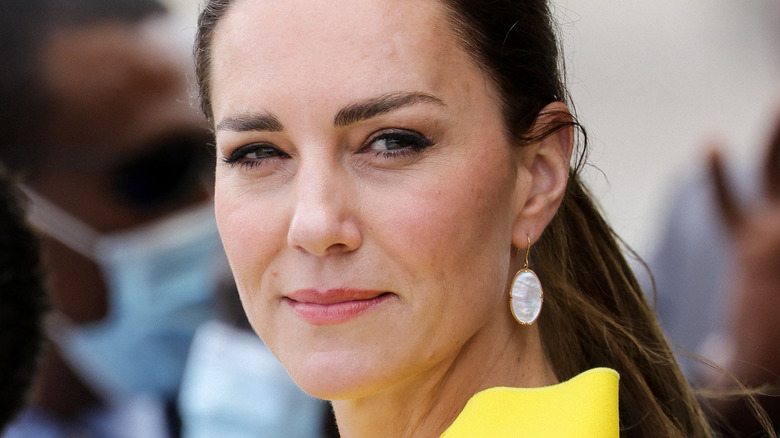 Chris Jackson/Getty Images
Being royal seems like all fun and games — until, you know, countries try to kick you out. Jamaica has officially moved to drop Queen Elizabeth as head of state, which is just as complicated as it may sound. The country, which is technically a constitutional monarchy, wants to officially become a republic instead. That would mean that Queen Elizabeth would no longer get to choose a prime minister for the country, and it would be free to make its own political decisions (via Royal.UK). Add to that a visit from Prince William and Kate Middleton and you have a very confusing time to be royal.
Jamaica is just one of the 54 countries in the U.K.'s Commonwealth. The group of countries is voluntarily ruled by the monarch, making Queen Elizabeth the Queen of Jamaica. Apparently, the country is close to cutting ties. According to The Independent, a group of politicians, business leaders, doctors and musicians have gotten together to protest the monarch, saying that they want to "remov[e] the shackles of its colonial past." Protesters are reportedly calling for monetary reparations as well as an apology from the monarchy for its colonial past. 
All of this comes amidst a visit from Prince William and Middleton. So, if you thought your family drama was confusing, think again. 
Protests are happening amidst Kate Middleton and Prince William's visit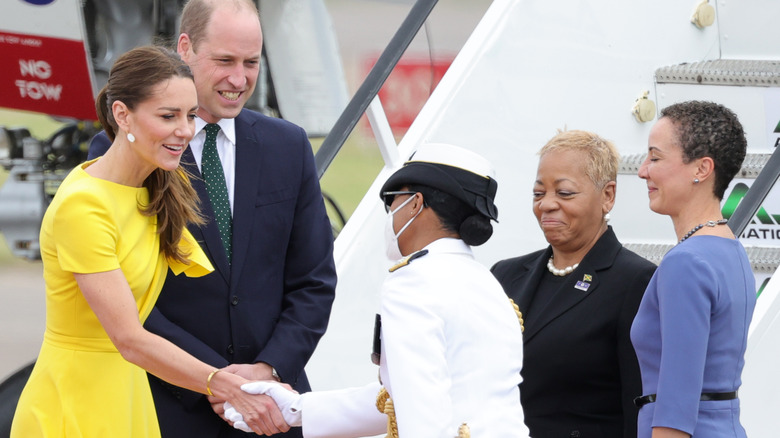 Chris Jackson/Getty Images
Prince William and Kate Middleton are on a Caribbean tour of Belize, Jamaica, and The Bahamas to celebrate the Queen's platinum jubilee to celebrate 70 years of service. There's only one small thing to understand: Not everyone is as excited as the queen. The Advocates Network in Jamaica penned an open letter to William and Middleton before they arrived, saying that they would not be celebrating with them (via Town & Country).
"We see no reason to celebrate 70 years of the ascension of your grandmother to the British throne," the group said in the letter, according to The Independent. "During her 70 years on the throne, your grandmother has done nothing to redress and atone for the suffering of our ancestors that took place during her reign and/or during the entire period of British trafficking of Africans, enslavement, indentureship and colonialization."
At the time of publication, William and Middleton have not acknowledged the letter but they have felt the backlash. On their previous stop in Belize, one of their events were cancelled because the residents and the local Q'eqehi Maya people did not want their helicopter to land on their soil. "We don't want them to land on our land, that's the message that we want to send," Indian Creek village chair Sebastian Shol told the Daily Mail. 
Needless to say, this is one problem that won't be going away soon.