Here's What Florence Pugh Looks Like Going Makeup-Free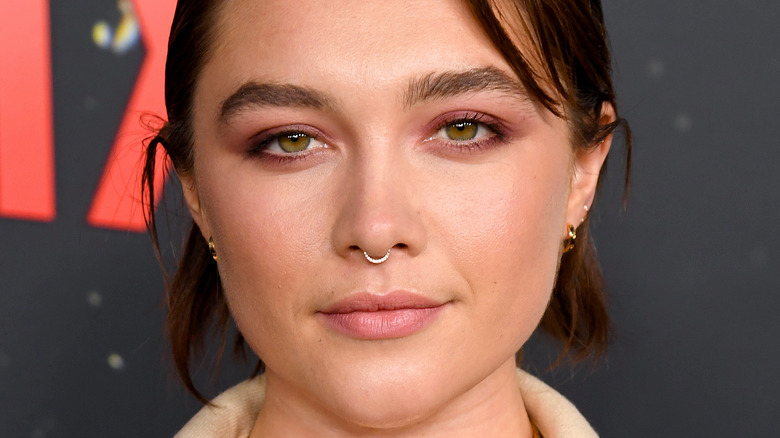 Kevin Mazur/Getty Images
Florence Pugh may be making waves on screen, but she's also become the star to rely on for the boldest red carpet looks. Speaking to Elle (via YouTube), the actress revealed that she and her stylist Rebecca Corbin-Murry "have been really interested in color, pops, and weird shapes" when choosing what to wear for big events like the Oscars. Speaking of the prestigious film awards, it was the "dreamy," custom made Louis Vuitton dress that remains one of her most favorite looks. She was especially fond of how it changed color in different lights, which made her feel "like a bit of a chameleon which was great."
While her outfits may be lavishly loud, Pugh maintains a minimalist approach when it comes to makeup. Pugh's makeup artist Naoko Scintu likes to "enhance her natural beauty" by focusing on her "big eyes and full lips," as she told Refinery29, which includes a variety of products that specialize in providing light coverage — specifically formulas that are "cream-based so that they mimic the skin's natural texture, only brighter and dewier" as Refinery29 writes.
Florence Pugh isn't a big fan of social media filters
Now and again Naoko Scintu will use a pop of color on her eyes and lips, but Florence Pugh is more comfortable with a much more natural look. Pugh has been outspoken about the reality of untouched photos on social media (via Cosmopolitan), and regularly shares her own bare-faced snaps on Instagram.
"We are living in an era where everything we see every single day on our phones is not true," the "Little Women" star told Elle (via YouTube), adding that as a society "we are ever so slightly being conditioned to believe that everything is naturally perfect and it just isn't." Pugh wants her fans — and followers — to know that "every single person you ever meet has an issue with their body," and that her hope for them "is that you give your body a rest and let it be. We all have weird bits, we do."
While Pugh doesn't share her insecurities specifically, she did share one of her bad habits — sleeping in her makeup. "I was so bad when I was a teenager at taking my make-up off, and then I remember I would wake up and have like three eyelashes gone because I went to sleep with mascara on," she said. "Don't do it, just take it off."