Why Lindsay Graham Stormed Out Of Ketanji Brown Jackson's Senate Hearing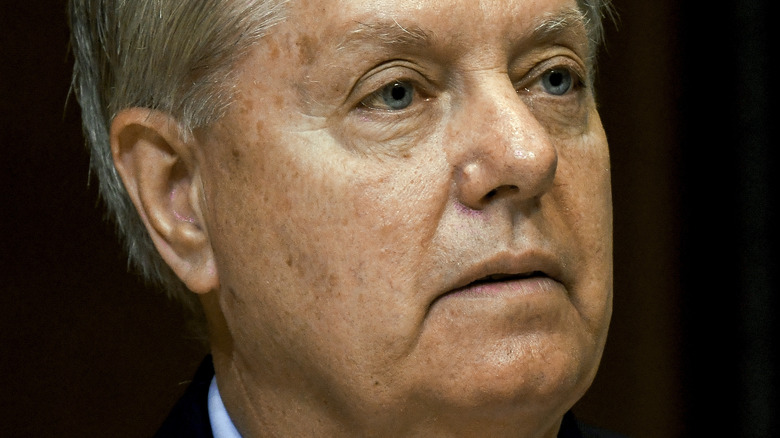 mark reinstein/Shutterstock
When Joe Biden ran for president in 2020, he made two promises. He ensured his voters that his running mate would be a woman, and he made a promise about the next Supreme Court nominee: He would nominate a Black judge to the Supreme Court for the first time in U.S. history (via Time).
The choice to nominate a Black woman to the country's highest court was met with support from many members of Congress, including Senator Patty Murray. In fact, when word broke that Justice Stephen Breyer was retiring, Murray tweeted, "Justice Breyer has led an exemplary & distinguished career in public service. I'm grateful to him for all that he has done for our country." She continued, "I support @POTUS pledge to nominate the first Black woman to the Supreme Court. The Court should reflect the diversity of our country."
Biden stayed true to his promise, selecting Ketanji Brown Jackson as his Supreme Court appointee (via CNN). "For too long, our government, our courts haven't looked like America," the president stated. He added, "I believe it's time that we have a court that reflects the full talents and greatness of our nation with a nominee of extraordinary qualifications, and that we inspire all young people to believe that they can one day serve their country at the highest level."
However, not all members of Congress supported this nomination. As Jackson's SCOTUS hearing began, a high-profile politician walked out.
Graham left the hearings after a loud outburst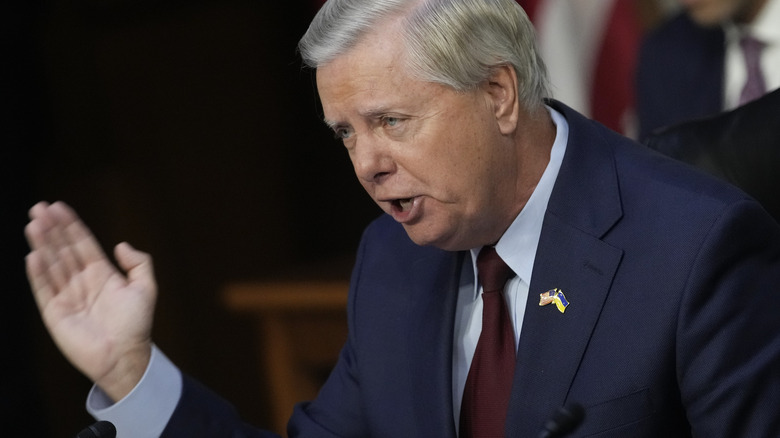 Drew Angerer/Getty Images
As confirmation hearings continued into their third day, Ketanji Brown Jackson stood strong, answering questions on everything from race to faith from members of Congress (via USA Today). Jackson is a member of the U.S. Circuit Court of Appeals in Washington, D.C., so she is no stranger to the pressure. However, some government officials were not happy with the hearings.
According to the New York Post, Lindsey Graham, a senator out of South Carolina, stormed out of the hearings as Jackson took questions. The incident began when Graham asked Jackson about representing terror suspects from Guantanamo Bay. He began to clash with the Senate Judiciary Committee Chairman Dick Durbin and eventually left the hearing altogether.
While Graham was grilling Jackson, Chairman Durbin spoke up about the cost of keeping prisoners in Guantanamo Bay, defending Jackson's choice to represent cases from the high-security prison. Graham became unhappy and left the hearing, but not before declaring, "Look at the friggin' Afghan government!" He continued, "It's made up of former detainees at Gitmo! This whole thing by the left about this war ain't working!​"
The hearing went on without Graham present.