Joe Biden Reiterates His Promise About The Next Supreme Court Nominee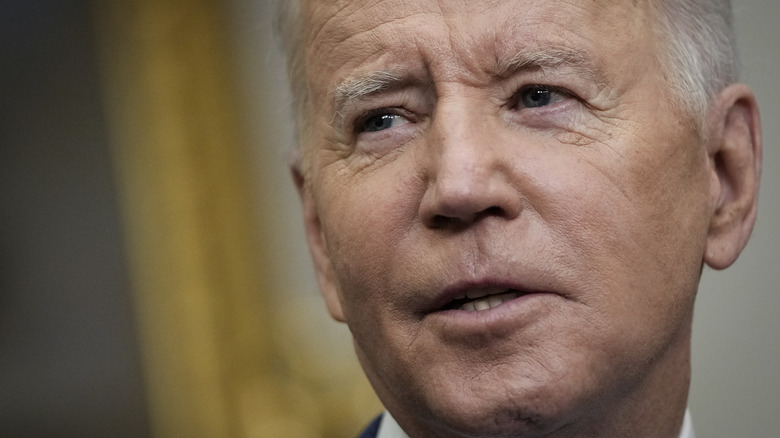 Drew Angerer/Getty Images
On Wednesday, sources close to Supreme Court Justice Stephen Breyer revealed that he would be retiring from his position at the end of the current term this summer. Then, on Thursday, Breyer, who was initially appointed to the Supreme Court by former President Bill Clinton in 1994, officially announced his plan to retire in 2022, per CNN. Currently, Breyer is only one of three remaining liberal justices on the Supreme Court.
Breyer announced his retirement in a letter to President Joe Biden and in an event at the White House on Thursday. "I enormously appreciate the privilege of serving as part of the federal judicial system," Breyer wrote in his letter to Biden, according to CNN. "I have found the work challenging and meaningful. My relations with each of my colleagues have been warm and friendly. Throughout, I have been aware of the great honor of participating as a judge in the effort to maintain our Constitution and the rule of law."
Biden also spoke about his personal relationship with Breyer during the White House event on Thursday. "In 1994, I got to preside as chairman of the Senate judiciary committee over his Supreme Court confirmation hearings ... Did we ever think he'd have served decades on the court and I'd be President of the United States the day he came in to retire? ... I was proud and grateful to be there at the start of his distinguished career on the Supreme Court and I'm very proud to be here on the announcement of his retirement," Biden said.
Biden has just reiterated his plans to appoint a Black woman to the Supreme Court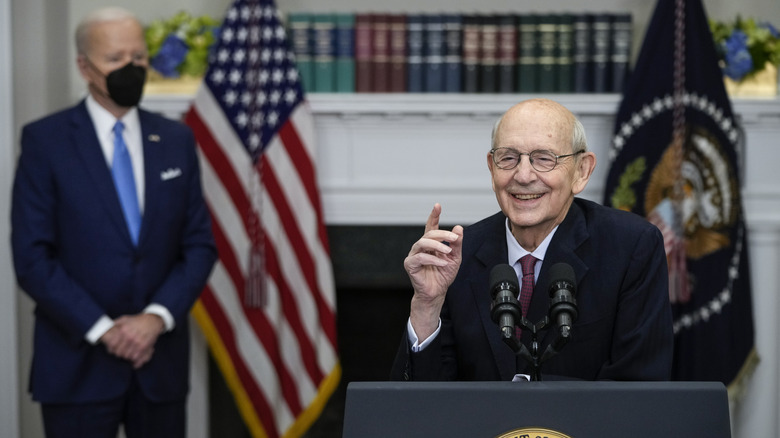 Drew Angerer/Getty Images
Stephen Breyer's retirement is crucial for President Joe Biden, who will be able to appoint a new Supreme Court Justice while still in office and ahead of the turbulent 2022 midterm elections. As it turns out, Biden has already mentioned who he might want to appoint to the Supreme Court. While speaking at a press conference in June 2020, Biden revealed that he intended to nominate the first Black woman to the Supreme Court, CNBC reports.
During Thursday's event at the White House, announcing Breyer's retirement, Biden reiterated his promise to appoint a Black woman to the Supreme Court. "Our process is going to be rigorous," Biden said during Thursday's event, per CNN. "I will select a nominee worthy of Justice Breyer's legacy of excellence and decency. While I've been studying candidates' backgrounds and writings, I've made no decision except one: the person I will nominate will be someone with extraordinary qualifications, character, experience and integrity. And that person will be the first Black woman ever nominated to the United States Supreme Court."
At this point, it is unclear who Biden intends to nominate to the Supreme Court. A shortlist of potential candidates has been circulating since before Breyer announced his retirement. According to Vox, the frontrunners appear to be federal appellate Judge Ketanji Brown Jackson and California Supreme Court Justice Leondra Kruger. Both women clerked on the Supreme Court and have proven to be powerful advocates for social justice.