What We Know About Madeleine Albright's Ex-Husband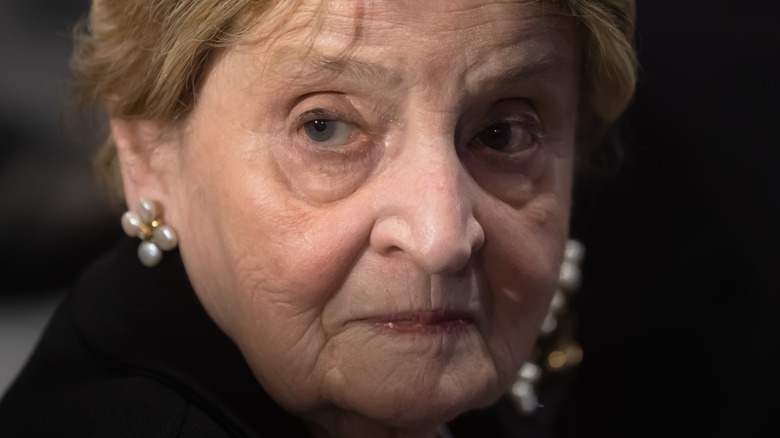 Drop of Light/Shutterstock
Madeleine Albright, who was the first woman to hold the position of U.S. secretary of state, sadly passed away at the age of 84 (via ABC News 7). News of her death was learned from an email sent to employees at Albright's strategy group, Albright Stonebridge Group.
Albright jumped into politics working for the presidential campaign of Senator Edmund S. Muskie in the 1970s (via Notable Biographies). While the campaign was unsuccessful, she caught the political bug and continued to work in the field. She operated as an advisor to various politicians before breaking gender barriers to become the first female secretary of state under former President Bill Clinton.
She spent years in the public eye while working in the United States government, but Albright managed to keep a good deal of her personal life out of the headlines. However, it appears that her career might have eventually put a dent in her marriage to Joseph Medill Patterson Albright.
Madeleine Albright was married through much of her early career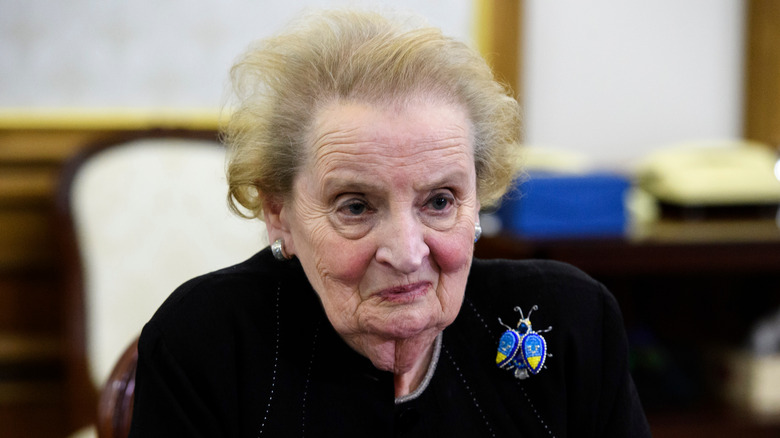 paparazzza/Shutterstock
According to The U.S. Sun, former Secretary of State Madeleine Albright was married to Joseph Medill Patterson Albright. He came from a family with ties to media publications including The Chicago Tribune, Newsday, and New York Daily. The couple tied the knot in 1959 and stayed together until 1982. Madeleine and Joseph shared three daughters: Anne, Alice, and Katie. However, it seems that her career played a role in their split.
According to The Guardian, getting involved in politics after her children were born and she had been married for some time impacted the Albrights' union. "From my graduation day until the graduation of my last child, I had to deal with the age-old problem of balancing the demands of family with academic and professional interests," she wrote in her autobiography "Madame Secretary." 
It all went downhill when her husband started an affair with a younger woman. He would eventually leave her for his mistress.
She said, "When I became secretary of state, I reali[z]ed that, though others might, I would never have climbed that high had I still been married." She continued, "Yet I am deeply saddened to have been divorced. I know that, at the time, I would have given up any thought of a career if it would have made Joe change his mind."