Are The Clintons Gearing Up To Rejoin The World Of Politics?
Kevin Mazur/Getty Images
Since her loss in the 2016 election, Hillary Clinton has laid low in the realm of politics. The former senator doesn't need to justify where she is or how long she'll take to get back, but there are some signs of things to come. According to the New York Post, Hillary and Bill Clinton are easing back into politics for the best reason. It might not be an all at once comeback, but the pair are definitely making small, purposeful waves.
With nearly their entire lives in politics, it only makes sense that this couple wouldn't stay away for long. Heck, just take one look at Hillary's concession speech and you'll see a bit of foreshadowing, as Vogue pointed out. "Let us not grow weary, let us not lose heart, for there are more seasons to come," she said in the speech. "And there is more work to do."
More work there is. According to Politico, both Hillary and Bill are slowly stepping back into politics — slowly but surely. Here's everything you need to know about how they're impacting politics right now and how they will likely do so in the future. 
Hillary and Bill Clinton are stepping back into politics at a critical time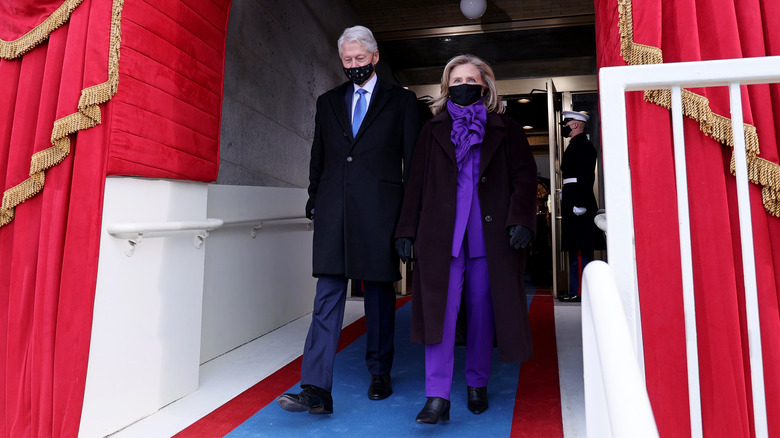 Pool/Getty Images
Like a moth to a flame and Taylor Swift to the music industry, there are just some people who can't stay away for long. According to the New York Post, Bill and Hillary Clinton are stepping back into politics to give President Joe Biden some advice and work with senators to try and get the midterm election back on track for Democrats. 
According to Politico, Bill is giving advice to Biden regarding his social spending plan. "I told Joe, 'Break it up, pick one or two [pieces] you can swallow and then run on the rest,'" Clinton reportedly told Biden, according to someone close with the call. 
Bill's not stopping there, either. Politico also reported that Bill made a call to Senator Kyrsten Sinema, who promised to vote against the filibuster of Biden's social spending bill. Of the call, Bill said, "I don't know her, but I like her" (via Politico). Will Bill's influence pay off? Time will tell, but given his wealth of economic accomplishments while he was in office, it's safe to say that the former president still has a lot of swaying power. 
The Clintons have a 'perpetual itch' for politics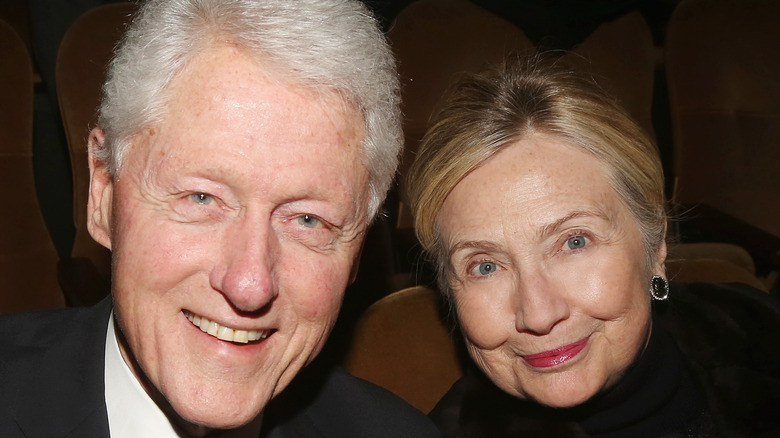 Bruce Glikas/Getty Images
The comeback to politics seems to be at the perfect time. Not only has subsequent time passed since the 2016 election, but the Monica Lewinsky series, titled "Impeachment: American Crime Story," had "low ratings and limited public reaction" (via the New York Post). The lack of fervor surrounding the series undoubtedly reveals that people are somewhat over the scandal and ready to hear what else Bill Clinton has to contribute to the world of politics. 
According to Politico, a source close to the couple said that it's no surprise that the pair is coming back. "It's a perpetual itch that will never go away," one insider told the publication. "They know how to slowly reenter. The Clintons want to reset the board in their favor and then move the pieces."
Heck, according to Barron's, Bill has been told by his mother since he was a small child that he would be president of the United States, and that happened. With that kind of messaging, this life is ingrained in who he and Hillary Clinton are.