Who Did Bob Barker Play On The Bold And The Beautiful?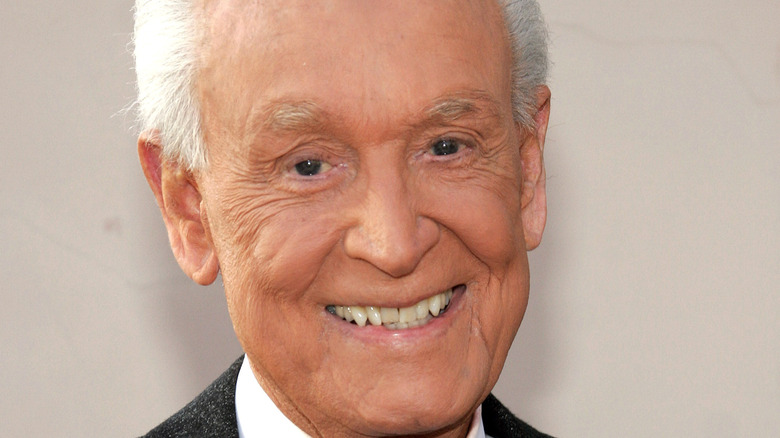 Tinseltown/Shutterstock
For 35 years, Bob Barker came into your living rooms every weekday on "The Price Is Right." Also for 35 years, "The Bold and the Beautiful" has been coming into your living rooms each weekday. And one time in 2015, their paths crossed when Barker made an appearance on the half-hour CBS soap opera that tapes next door to where "The Price As Right" tapes, per Soap Hub, although it has been hosted by Drew Carey since 2007.
Barker hosted the popular game show from 1972-2006 and would end each broadcast with a special message in support of animal reducing the stray dog population, saying, "Help control the pet population. Have your pets spayed or neutered." Carey picked up the baton after Barker left his hosting duties behind, delivering the same message day after day, per Slate. Barker brought that animal activism to "The Bold and the Beautiful" one day, but in a very humorous way.
Bob Barker plays himself on The Bold and the Beautiful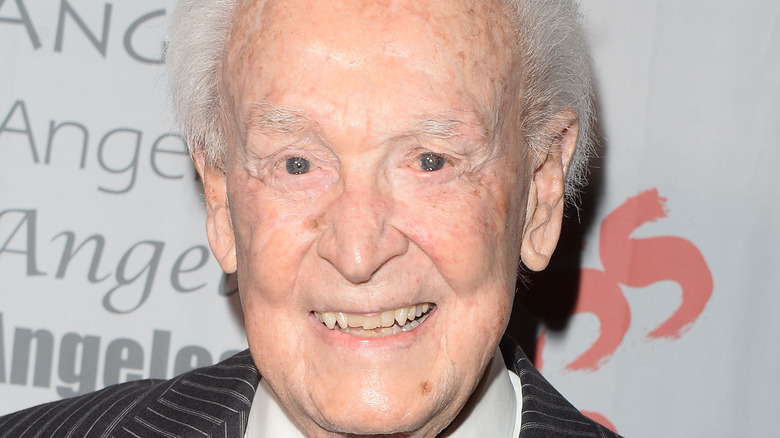 Matt Winkelmeyer/Getty Images
A devout animal activist, the 96-year-old vegetarian said he was inspired to help animals by his late wife, Dorothy Jo Gideon. "She never really made a point of talking about it, but she became a vegetarian. I had bought her furs and she stopped wearing them. And, the last thing I did, I bought her a full-length leather coat and she never wore it. She thanked me for it and just hung it up," Bob Barker said in an interview with The Television Academy. "I have always loved animals and I had contributed financially to animal-oriented organizations, but I had never participated."
One day, "The Bold and the Beautiful's" two bumbling brothers, Liam (Scott Clifton) and Wyatt Spencer (Darin Brooks) had an argument about pets and Bob Barker was there for the whole thing. Wyatt was not happy with the cat Liam gave him and his new wife, Hope (then played by Kim Matula). So he decided he would give the pet back to Liam, who just so happened to be meeting with Barker about a social media campaign for a local animal shelter, according to Soap Hub.
Bob Barker recreates an iconic movie scene for B&B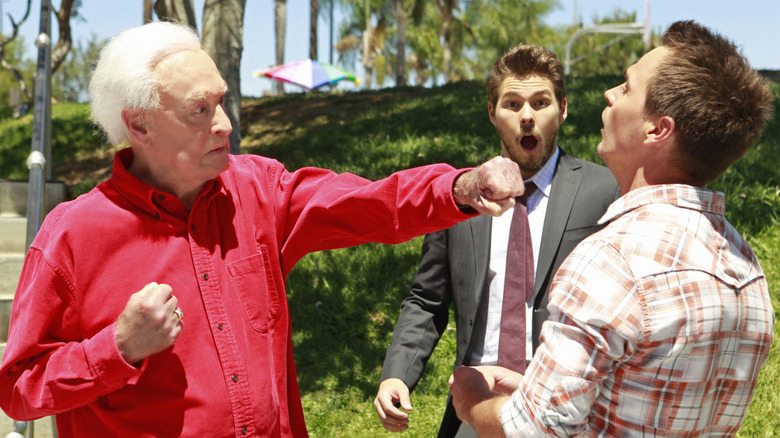 Lisette M. Azar/CBS
When Bob Barker heard Wyatt's negative feelings about pets, hilarity ensued as "B&B" essentially recreated Barker's scene from the 1996 film "Happy Gilmore" in which the game show host attacks Adam Sandler's titular character. Except, this time, after a chase and an exchange of insulting barbs, Barker attacked Wyatt, per Soap Hub. Thankfully, the character was left relatively unharmed.
The episode first aired in 2014 and popped back up 2020 when Hollywood productions took a break as the coronavirus pandemic began and soaps were forced to air reruns.
"I thought it was a wonderful idea because 'Happy Gilmore' is still playing on television frequently and everybody loved that fight scene," Barker told People at the time of the original airing . "For Bold and Beautiful to be so bold as to copy, more or less, is wonderful!"
Barker also said the scenes were simple for him, despite the physicality. "I'm a natural fighter," he said. "I work out regularly. I think that the two most important things to be healthy are nutrition and exercise. My diet is good and I work out every day," he told People.