Kate Middleton's Glittering Gown Might Be Her Most Glamorous Look Yet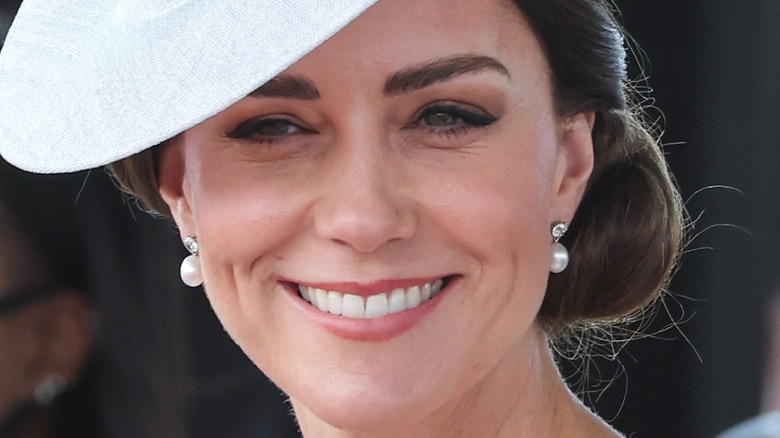 Chris Jackson/Getty Images
Prince William and Kate Middleton's royal tour of the Caribbean — in honor of Queen Elizabeth's Platinum Jubilee — has been filled with memorable fashion moments courtesy of the Duchess of Cambridge. Her style on this trip has been all about bold colors and fun prints. She arrived in Belize in a beautiful blue Jenny Packham skirt suit that matched the nation's flag (per US Weekly). She followed that up with a Tory Burch floral frock and then wowed crowds when she stepped out in a hot pink gown at a party held at the Mayan ruins of Cahal Pech (per People). Kate complemented the dress, which was from UK-based fashion house The Vampire's Wife, with gold earrings from O'nitaa and a beautiful clutch featuring Mayan embroidery.
The following day in Jamaica, Kate wore a bright coral and turquoise vintage dress from Willow Hilson Vintage, a U.K. boutique, to watch soccer and listen to reggae music. The 1950s style dress — which Hilson bought from the original owner — featured spaghetti straps before Kate's style team altered it by expanding the neckline. "It's a dream come true, and I can't stop beaming," Willow Hilson told People. "It's a dream come true ... I've been doing this since I was 21, and all I ever wanted was someone like Kate to wear a dress of mine!"
Kate wore another vintage Hilson gown — this time in yellow — to a daytime meeting at King's House. However, the Duchess' evening look at that same location could be her most show-stopping ensemble yet.
Middleton's green gown paid tribute to Jamaica's flag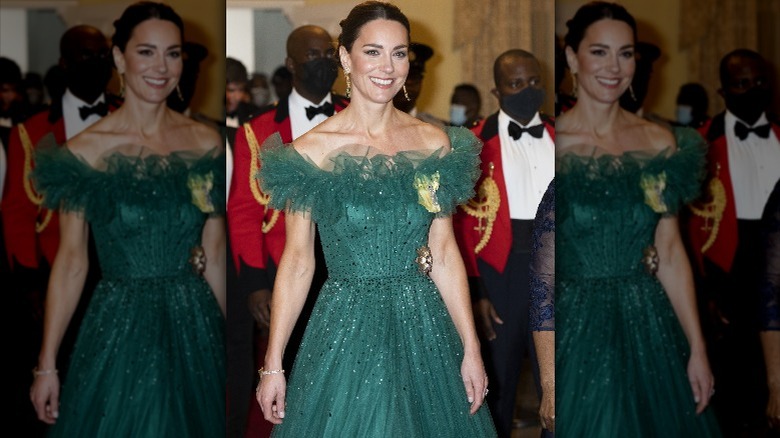 Pool/Getty Images
Kate Middleton paid tribute to her host country's national flag when she wore a glamorous green Jenny Packham dress to a dinner at King's House in Jamaica. The Duchess of Cambridge paired this stunning gown with emerald jewels borrowed from Queen Elizabeth's collection (per People). Of course, Kate was also wearing her sapphire engagement ring that once belonged to Princess Diana. The 12-carat oval-cut Ceylon stone, surrounded by 14 solitaire diamonds, is reportedly worth $500,000 — making it the most expensive royal engagement ring.
While Kate's style has been a highlight of the royal tour, the trip hasn't been without drama. The Duke and Duchess of Cambridge have been met with local protests in both Belize and Jamaica, with the latter reportedly wanting to leave the Commonwealth and remove Queen Elizabeth as head of state following the royal tour. Prince William acknowledged his country's history with slavery during a speech at the King's House dinner. "I want to express my profound sorrow. Slavery was abhorrent. And it should never have happened," he said (via People). 
Some, however, were not impressed with the speech and expressed unhappiness over the fact that William did not apologize for Great Britain's role in the slave trade. "We can only forgive people who acknowledge that what they did was wrong and are willing to repair the breach of the wrongs they have committed," said Ras Iyah V (per Daily Mail). Iyah V is a member of the Rastafari Nyahbinghi community in Jamaica.