This Is The Lipstick Alyssa Milano Wore As Phoebe In Charmed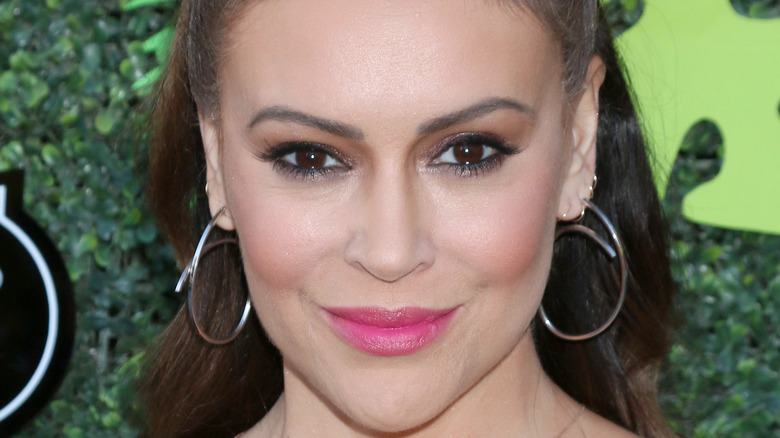 Kathy Hutchins/Shutterstock
We may receive a commission on purchases made from links.
Alyssa Milano is a beautiful and talented actress. She's currently almost 50 years old and has been killing it in the acting world for as long as we remember. Some of the many TV shows and movies she's acted in include "Insatiable," "Mistresses," "Hall Pass," and "My Name is Earl" (via IMDb).
Milano also starred in "Charmed" in the late 1990s and early 2000s. According to Rotten Tomatoes, the show is about three sisters with witchy powers who use their abilities for good rather than evil and band together to help others. Although Milano won't let her kids watch her on "Charmed," fans love to see supernatural sisters helping each other use their powers. "Charmed" was so beloved that the show got a reboot with a different cast, but many fans of the original series preferred to skip the new version and stick with the classic, per Entertainment Weekly. 
Naturally, many "Charmed" fans became curious about the fashion and makeup that Milano wore in the original series. After all, we know the lipstick Holly Marie Combs wore as Piper, but what about Milano?
Alyssa Milano wore a Mac lip liner on Charmed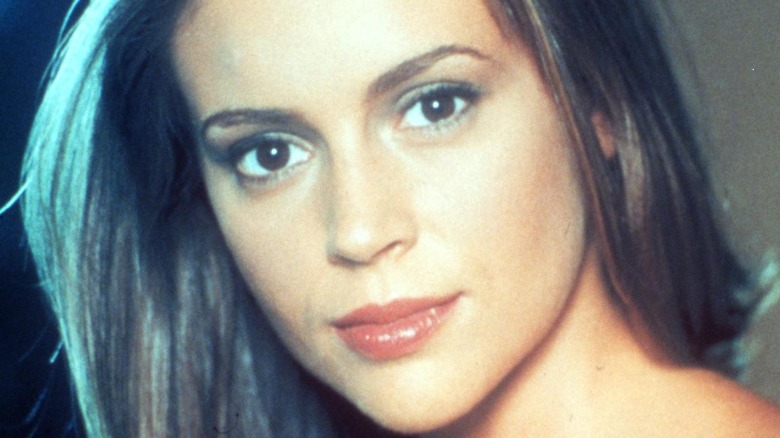 Getty Images/Getty Images
Alyssa Milano is known for portraying Phoebe Halliwell in "Charmed." Charactour noted that Halliwell was a writer who was also a witch determined to help others. She was a smart, daring, and caring person, and although she had psychic powers, she struggled with love.
While we love Halliwell's kind personality and witchy powers, we're interested in her outfits, too. According to Bellatory, some of Milano's best fashion moments from the show include a red sleeveless crop top with a matching low-waisted skirt, denim vests and jackets paired with crop tops, and a variety of pretty dresses.
Fans love her makeup, too, especially her striking red lips. A TikTok by @britneykale explained that she wore a cedar shade of Mac's lip pencil as a liner for her poppy hue of a Stila Convertible Color — and we're in love with this combination of a subtle liner with a dramatic red lip. Unfortunately, these products aren't for sale at this point, but we know other ways to recreate Halliwell's stunning lips.
How to make your lips look like Alyssa Milano's in "Charmed"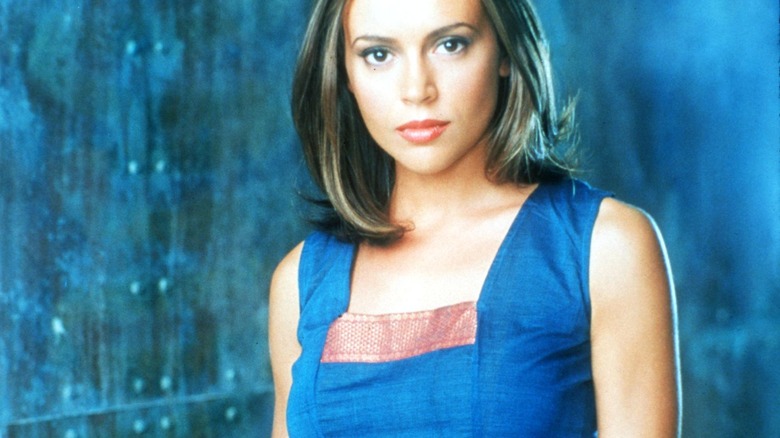 Getty Images/Getty Images
You can never go wrong with a red lip for a beautiful look. Although Alyssa Milano's exact lipstick from the show isn't available now, there are plenty of other products to make your lips look like hers. Milano wore a poppy shade on the show, and The Hollywood Reporter noted that poppy is a red hue with a heavy orange tint, so you should search for a red-orange lipstick instead of a traditional red, or a red with more of a purple tint.
According to Elite Daily, Maybelline's coral rise Color Sensation Lipstick is an excellent red-orange lipstick for a smooth look and is currently available on Amazon for less than $6, while anyone looking for a matte option will love the coral matte lipstick by Palladio. This durable lipstick is also available on Amazon for just below $8 right now. Another beautiful red-orange lipstick is Glossier's Ultralip, which has hundreds of glowing reviews.
Although you can certainly stop there, you can add a neutral lip liner if you're really determined to make your lips look just like Phoebe Halliwell's. Since Milano wore a cedar shade in "Charmed," Elcie Cosmetics' Remarkable Lip Liner in cedar is an excellent option to get the right hue. This product is currently available at Ulta for $20. If you don't want to buy a cedar shade, brown lip liner should work, too.