Ketanji Brown Jackson Faces Backlash From Mitch McConnell Over Supreme Court Nomination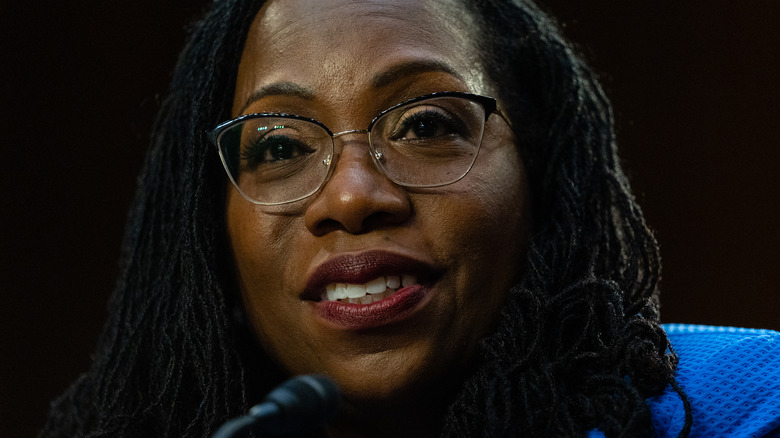 Bloomberg/Getty Images
We may receive a commission on purchases made from links.
The Senate hearings for Supreme Court nominee Ketanji Brown Jackson have concluded, and shocking to no one, some big-name Republicans aren't happy.
Jackson will not only be the first Black woman to sit on the Supreme Court, but as Vox explains, Jackson will also be the first public defender sitting on the bench in more than thirty years. This week, she sat through a week of hearings where she was asked about everything from her views on critical race theory to sentencing decisions. Several 2024 Republican presidential hopefuls made headlines this week with the direction they took when questioning the Supreme Court nominee.
On the issue of religion, Lindsay Graham asked Jackson to rate how religious she was on a scale of one to 10, per AP News. "I'm reluctant to talk about my faith in this way," Jackson responded, "just because I want to be mindful of the need for the public to have confidence in my ability to separate out my personal views." She also reminded the senator that, while her faith is important to her, there is a separation of church and state.
While Graham stormed out of Brown Jackson's hearings alone, he was not the only one who turned the hearings into a spectacle. While the hearings were historic, and will help shape the future of the United States, Republicans showed they were more concerned with their own personal political futures.
Ted Cruz wanted to know if Ketanji Brown Jackson believes 'babies are racist'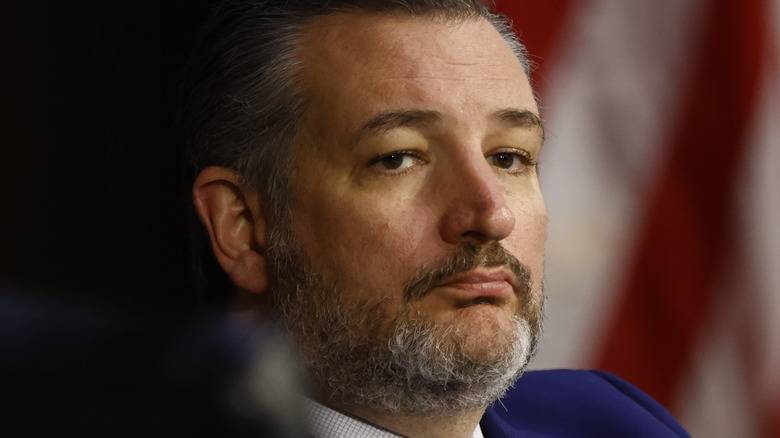 Bloomberg/Getty Images
Ted Cruz, the senator who felt like the hearings for a Supreme Court nominee was the perfect place to plug his podcast, dug into the issue of race and critical race theory, per ABC News.
According to Rolling Stone, the senator from Texas asked Ketanji Brown Jackson at one point if she believed "babies are racist." This is because Jackson serves on the board of Georgetown Day, a private school in Washington, D.C. To Cruz, the curriculum at the school is "filled and overflowing with critical race theory," something The New York Times reports the school where Cruz sends his school also has done. Cruz wanted to know, while holding up a page from the book "Antiracist Baby" by Ibram X. Kendi, whether Jackson endorsed the message the school was sending. Control over what children are being taught in school has been a major Republican issue, seen most recently in Florida's "Don't Say Gay" bill.
At several points, ABC News reports Jackson told senators critical race theory was not something that influenced her judicial philosophy.
Cruz wasn't the only Republican who touched on race, either. Lindsey Graham on Monday claimed Jackson was a "beneficiary of a lot," what many believe to be a thinly-veiled reference to affirmative action (via ABC News). The Republican National Committee even took to Twitter during the hearings, posting a picture of Jackson where her initials, KBJ, are crossed out and wrote "CRT," presumably short for critical race theory.
Why Mitch McConnell won't be voting to approve Ketanji Brown Jackson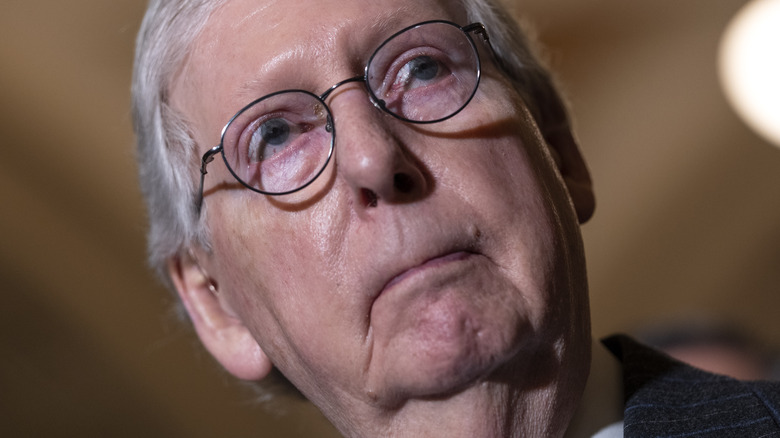 Drew Angerer/Getty Images
In his opening statement during the hearings, ABC News reports Senator Tom Cotton of Arkansas said of Jackson's nomination that "[t]he Biden administration is waging war on the federal powers and Constitution. We are witnessing a breakdown of society." He continued, "Parents are scared to walk down the streets that used to be free from crime." While it's unclear why Cotton singled "parents" out specifically, it does echo a growing cry for parental rights in schools, seen in the "Don't Say Gay" bill in Florida, and others like it around the country.
One definite "no" vote will be coming from Mitch McConnell, who never wanted Ketanji Brown Jackson to serve as a judge in the D.C. circuit court, let alone the Supreme Court (via Axios). "I went into the Senate process with an open mind," McConnell claimed from the Senate floor, "but after studying the nominee's record and watching her performance this week, I cannot and will not support Judge Jackson for a lifetime appointment to the Supreme Court" (via NBC News).
McConnell's biggest issue was that Jackson "refuses to reject the fringe position that Democrats should try to pack the Supreme Court," saying it was a "softball question." However, as NBC News notes, Justice Amy Coney Barrett, a Republican-appointed judge, did not answer the question either during her hearings. Justices who have voiced opinions on this have done so, but only after they'd been appointed.