The Reason Prince Harry Was Reportedly Worried Meghan Would Leave Him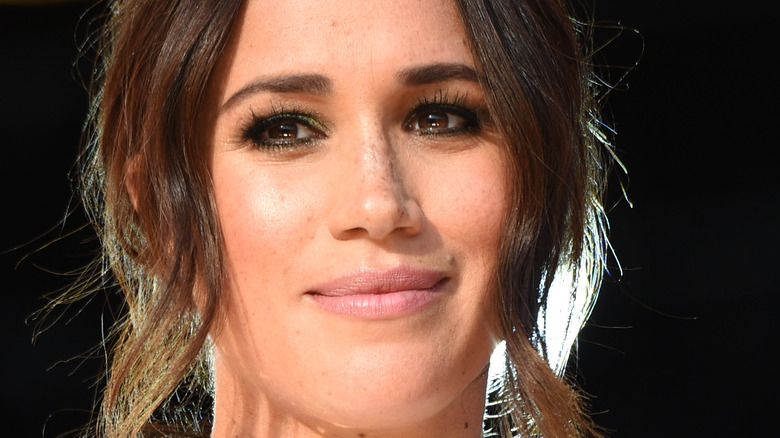 Kevin Mazur/Getty Images
Once upon a time, there was a Prince who loved to party and date models. Then, an American came in and completely changed his ways. If that seems too good to be true, think again. That is the story of Prince Harry and Meghan Markle. The now Duke and Duchess of Sussex have come a long way since they met in 2016, and it turns out that there was a significant turning point in Prince Harry's life and relationship that made it all seem very real. There was even a point where he thought he would lose Meghan altogether. 
Back in 2016, Prince Harry made a public plea for European newspapers to stop the "racial undertones" that were being used to describe his then-girlfriend Meghan Markle and for editors to "pause and reflect before any further damage is done" (via Reuters). A royal making a public statement is a pretty good indicator that he's upset, but a source said that he was much more upset than that. 
"He was freaking out, saying, 'She's going to dump me,'" a close source to Prince Harry said, according to Express UK. Breaking up with a royal because the entire British media is bashing your skin color? Breakups have happened over less. While we all know that the story ended up well for Prince Harry and Meghan, that wasn't the last time the two would battle the media together. 
This wasn't the royal couple's last battle with the media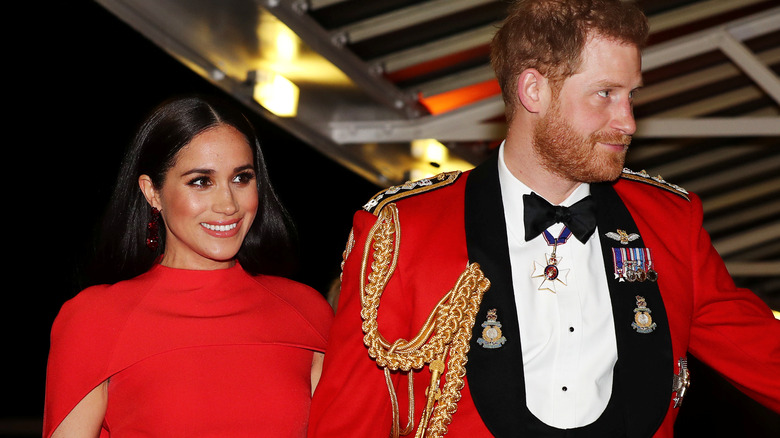 Wpa Pool/Getty Images
Spoiler alert: The media did not listen to Prince Harry's plea to lay up on their reporting of his then-girlfriend. In fact, media coverage got even more intense, especially in midst of their May 2018 wedding. During that time, Associated Newspapers published a personal letter that Markle had written to her father, according to NBC News. She then sued them and won a symbolic $1.36, which is equal to one euro.
The media coverage in Britain was so harsh that Prince Harry and Meghan Markle decided to leave the country with their son Archie to live in America. The two stepped down from royal duties and now live in California, but that fight to change media laws is not over. Prince Harry now has an open legal battle with the publishers of Mail on Sunday. According to Buzzfeed, this is the second lawsuit he's had with the Associated Newspapers Limited (ANL). The first being over the headline that accused him of "[turning] his back" on the Royal Marines. If we're keeping score, he won that lawsuit.
Prince Harry and Meghan are doing their best to change the way media gets to speak about public figures. They might have stepped down from the royal family, but they are not stepping down from the fight for safer media laws. 
The royal family has an entanglement with the British press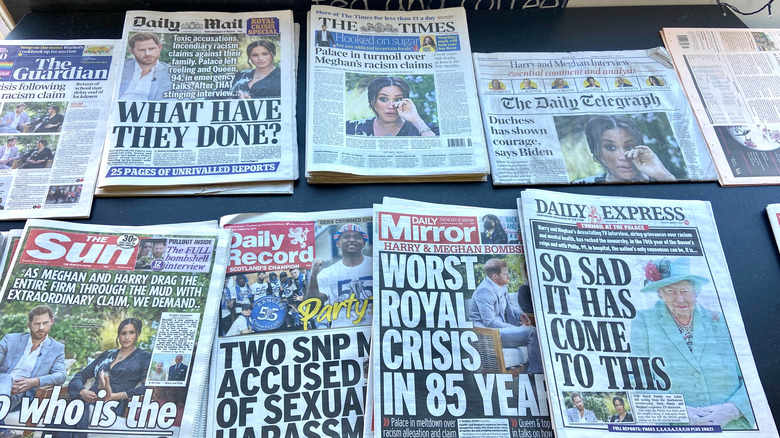 Lorna Roberts/Shutterstock
It's no secret that the royal family has been dealing with tabloids and paparazzi for years. After all, it was a paparazzi on a motorcycle that allegedly caused Princess Diana's fatal car crash. However, the British media's ties to the royal family are closer than you might think. One look at the Royal UK website and you'll see that the royal family actually has a division called the Royal Communications that deals with all media matters. 
Then, there's also what BBC calls the "invisible contract" between the royal family and the media. Essentially, it's the idea that the two parties are more involved in each other's realms than the public might think. Dr. Laura Clancy tells the publication that "some journalists [have] more intimate access to royal events." She explains that, "The construction of the royal family, as individual royals with individual stories, means that the monarchy can be consumed by audiences in the age of interest in the lives of public figures."
That being said, the British media seems to be extremely harsh on women who marry into the family particularly. Like mentioned above, Meghan Markle and Prince Harry left the country to escape the media and Princess Diana quite literally died because of it as well. There is a long entangled web when it comes to the ties between the British media and the royal family. It's going to take some very sharp scissors to sever the invisible string.