Why Oscar Viewers Are Convinced There's Another Kardashian Baby On The Way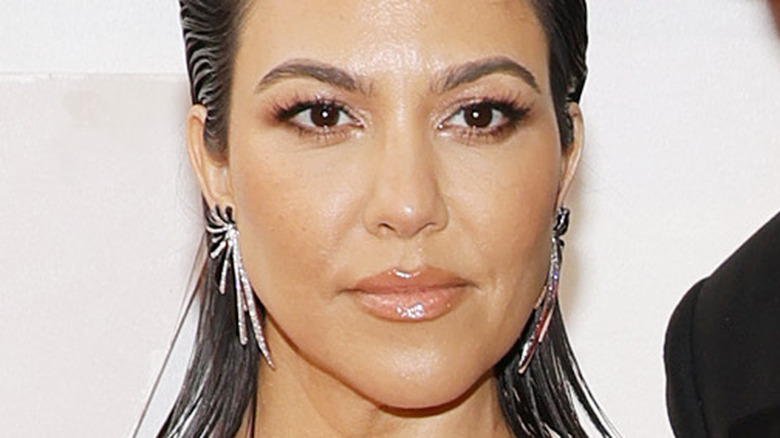 Mike Coppola/Getty Images
The 2022 Oscars ceremony was filled with tons of talent, incredible fashion, and even some funny jokes here and there from announcers. But when Kourtney Kardashian and Travis Barker took to the red carpet, some people thought they had more with them than just great outfits. Twitter users are convinced that Kardashian is pregnant from looks of her skin-tight dress at the Oscars. While zeroing in on someone's weight is never condoned, it turns out that there's more to this fan theory than just looks.
Kardashian and Barker stepped out onto the red carpet at the Oscars in their signature color: black. Because, of course they did. The pair fully embraced their brand: Kardashian wore a strapless tube dress with slicked back hair, while Barker wore a classic black suit. Naturally, they were also making out along the way. But it was the all-black dress that had fans talking. The simple gown was also skin tight, making some people on Twitter believe that they saw a little bump as well. 
It wouldn't be totally out of the question to think that Kardashian could be with child — in fact, Kardashian's pregnancy rumors have had fans in a tizzy for a while — especially as there are more clues than just her outfit for this fan theory. 
Kourtney Kardashian reportedly wants another baby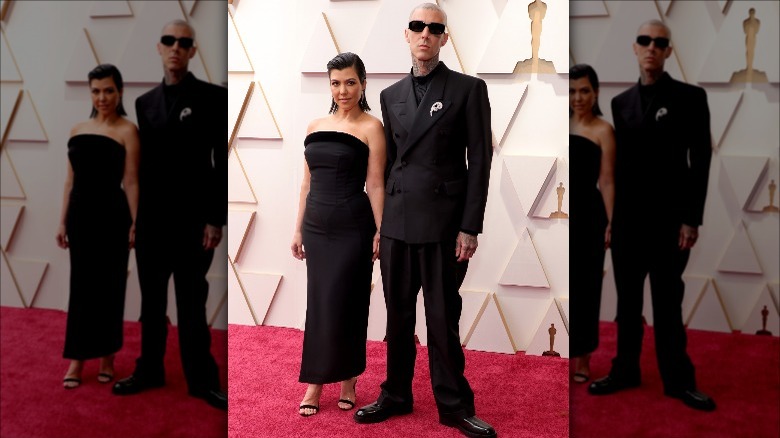 Momodu Mansaray/Getty Images
It's not completely wild to think that Kourtney Kardashian might be pregnant at the Oscars. While fans on Twitter are pointing to her Oscars outfit as evidence of a child on the way, there are actually more hints than just that. In a teaser for the Hulu series "The Kardashians," the eponymous star announces that she and Travis could be trying to expand their family.
"Travis and I want to have a baby," Kardashian says in the teaser. This, of course, seems like some pretty definitive proof that they could very well be actively trying. At the time of publication, neither Kardashian nor Travis has made a pregnancy announcement.
According to The U.S. Sun, Kardashian froze her eggs at age 39 when she realized her relationship with Barker was growing serious. So, it's not entirely out of the question to think that she could be pregnant. Of course, nothing is for sure until the couple makes an announcement, but fans are getting excited even just for the possibility.