The Unexpected Reason Megan Thee Stallion Was At The Oscars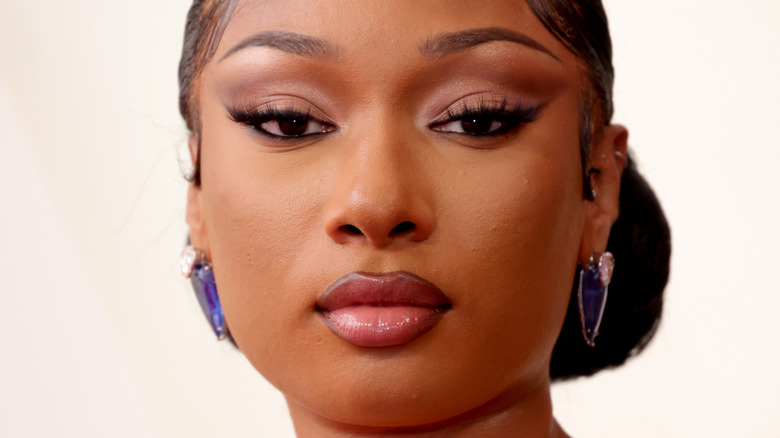 Momodu Mansaray/Getty Images
The Oscars always bring tons of talent to the red carpet, but sometimes it brings stars that you wouldn't expect. People were confused when Megan Thee Stallion walked the red carpet for at the Academy Awards, but it turns out that she was staying silent for an epic surprise. In the crossover that you never knew you needed, Megan Thee Stallion performed a remix of "We Don't Talk About Bruno" with the cast of "Encanto." And surprisingly she did it without swearing. 
There is truly is no one quite like Megan Thee Stallion. Along with winning a Grammy for Best New Artist, the rapper has been featured with everyone from Tyler, The Creator to Cardi B. But now she's adding Disney to her list as well. The star surprised everyone when she busted out in a brand new verse with the cast of "Encanto" during their Oscars performance.
If you finally got this song out of your head, then prepare to have it back. Who knew that it could get better?
Megan Thee Stallion tailored her Bruno verse to the awards show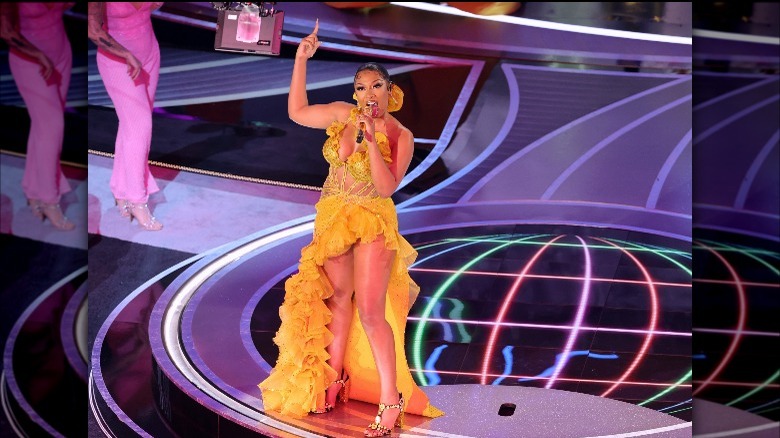 Neilson Barnard/Getty Images
There are some Disney songs that are iconic, and "We Don't Talk About Bruno" instantly became one of them. Everyone from toddlers to parents were jamming out to the tune after "Encanto" came out. So much so that, despite it not being nominated at the Oscars, the cast took the stage to perform it anyways. When Megan Thee Stallion came out to perform, it was the remix we've all been waiting for. 
The verse was tailored to the Academy Awards with lyrics calling out Zendaya and "Hollywood's biggest night" in her lyrics. Of course, she stayed true to the song with lyrics like "all the kids want to hear is Bruno." 
It worth adding that she looked absolutely gorgeous while doing it. She stepped out in a classic flamenco-styled outfit in a golden shade. If her lyrics are as true to the outfit as they were tailored to the event, then the dress is Versace (she says, "got Versace on my body" in the verse). Either way, this is one performance that will go down in Academy Awards history.