Amy Schumer's Oscars Joke About Will Smith Has Everyone In Agreement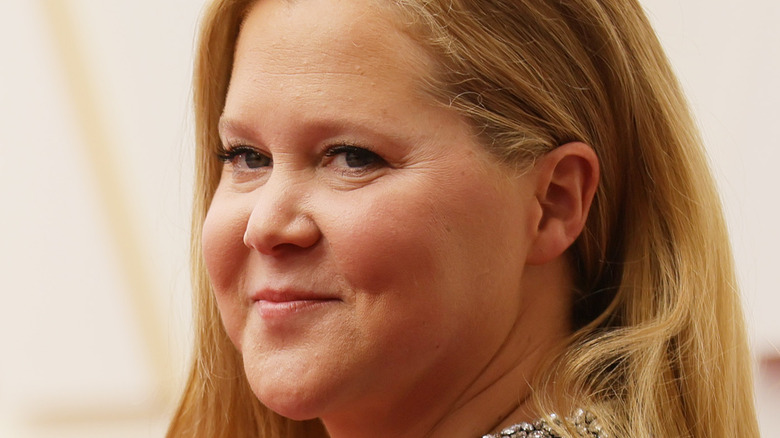 Mike Coppola/Getty Images
Even if you didn't stay up late to watch the Oscars on Sunday night, you're most certainly talking about the tense moment between Chris Rock and Will Smith. The heated exchange started after the comedian made a joke about Smith's wife's hair resembling that of "G.I. Jane." Unfortunately, Jada Pinkett Smith suffers from the hair loss disorder, alopecia, and her Academy Award-winning husband didn't find the bit so funny. Smith stormed on stage and slapped Rock, proceeding to yell out an obscenity-laced demand for the star not to talk about Pinkett Smith.
The incident was trending on Twitter and is the subject of most stories online. But one person who missed what happened was Amy Schumer, a co-host for the evening. At least, that was her joke that is sitting particularly well with fans, no matter how they feel about Smith reacting violently to Rock's dig.
After Schumer participated in a gag that saw her swinging from the rafters of the Dolby Theater, she came out on stage and deadpanned, "I've been getting out of that Spider-Man costume. Did I miss anything?" (via People). The actress then noted, "There's like, a different vibe in here...."
Social media reacts to Amy Schumer's attempt to diffuse the tense vibe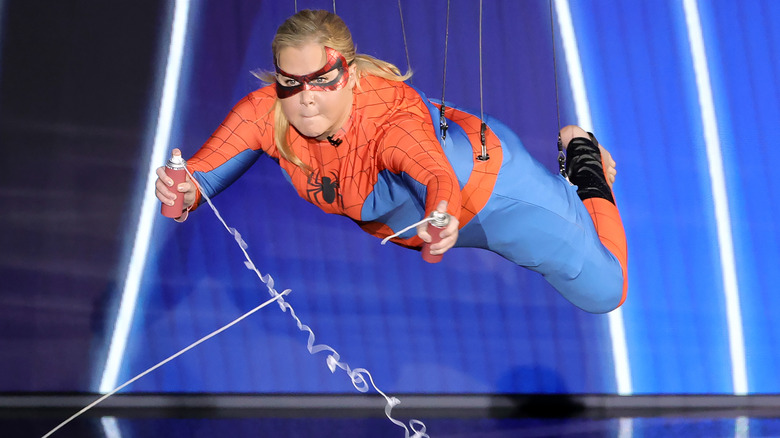 Neilson Barnard/Getty Images
On Twitter, fans were praising the comedian's attempt to diffuse the shocking situation.
Reacting to Schumer's joke about Smith's violent and completely unexpected outburst at the Academy Awards, Twitter was largely supportive of her nonpartisan take. "She won the night," commented one fan, while someone else said, "I admire how Amy Schumer handled the Will Smith ugliness. 'I was getting out of my Spider-Man suit, did I miss anything.' Way to acknowledge it without it without prolonging it. She's genius."
But other Oscars viewers offered words of caution for the star, with one person tweeting this sentiment echoed by many folks: "Careful Amy it seems comedians can't do their jokes without the fear of retribution!!"
And someone else offered this take on the events of the night, tweeting, "I am sorry the 'Will Smith Slap' has taken focus off of all the nominees and the comic genius of the three hosts, @iamwandasykes, @amyschumer and Regina Hall."