Could The Academy Take Back Will Smith's Oscar?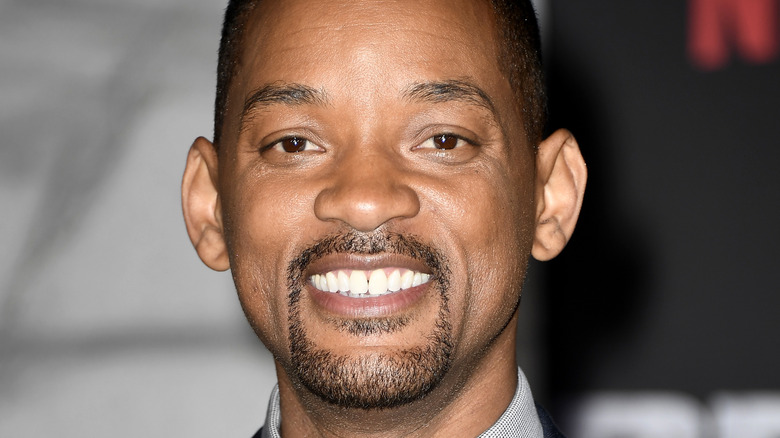 Frazer Harrison/Getty Images
While fans were concerned that the 2022 Oscars would be a write-off — due to the fact that key categories weren't shown on the live telecast, per TVLine — no one should have worried. That's because Will Smith was on hand to create a meme-worthy moment for the ages. Per Variety, the freshly-minted Oscar winner sent shockwaves through Hollywood when he slapped comedian Chris Rock across the face.
The incident occurred after Rock made light of Jada Pinkett-Smith's well-documented struggles with alopecia, by joking she'd shaved her head for an upcoming role in a "G.I. Jane" sequel. Will clearly wasn't impressed, and he took to the stage to let Rock know exactly how he felt. "Keep my wife's name out of your f***ing mouth," he yelled, once he was back in his chair. A stunned Rock noticeably stumbled as he tried to continue with his speech. Social media, and indeed Hollywood at large, has been debating whether or not Will was wrong to defend his wife so vociferously. There have even been calls to revoke his Oscar. But, is that actually a possibility? 
Twitter is calling for Will Smith's Oscar to be revoked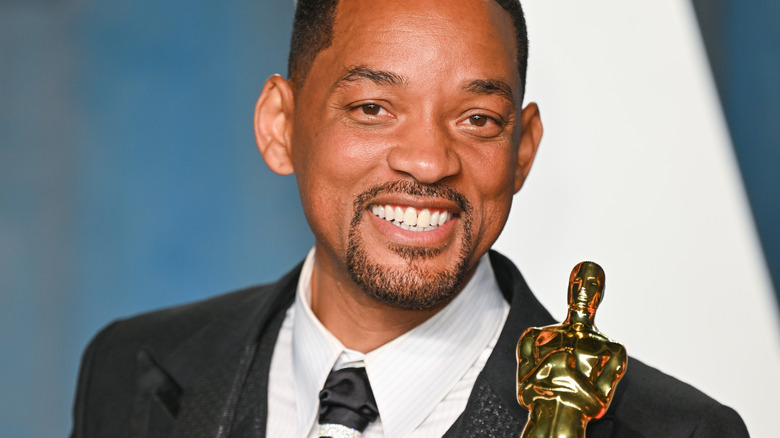 Karwai Tang/Getty Images
According to the Irish Mirror, there are widespread calls for Will Smith to be stripped of his best actor Oscar, following the violent incident. Will beat out the likes of Javier Bardem and long-time friend Denzel Washington to win the award. He was also the favorite leading up to the event to win — but now, Twitter users are adamant that the actor went too far and should be punished accordingly. "Let's be clear, the second this happened, Will Smith should been immediately removed from the theatre. You don't let someone assault another human, go back to his seat, and then give him an award so he can preach about being a vessel of love," one user tweeted.
Per the Irish Mirror, other social media users complained that it wasn't right for Will to win an Oscar after he demonstrated unacceptable behavior. "It's basically assault. Everyone was just so shocked in the room, it was so uncomfortable," one industry insider at the event told the New York Post. "I think Will would not want to give his Oscar back, but who knows what will happen now." The Academy has since released a statement on Twitter, confirming that it "does not condone violence of any form." Meanwhile, per The Guardian, Smith has apologized for his behavior and hopes he will not be banned from the Oscars in the future.
Could Will Smith actually be stripped of his award?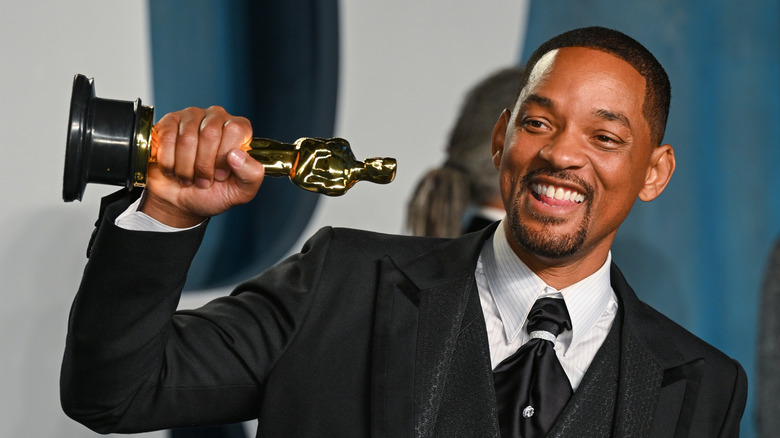 Karwai Tang/Getty Images
In the wake of the shocking moment, many are wondering whether the Academy of Motion Picture Arts and Sciences will actually strip Will Smith of his award. After all, the institution has a strict code of conduct enforcing their values, which include respecting "fostering supportive environments and respect for human dignity," per the Daily Mail. The fact their official Twitter account decried Smith's behavior suggests the actor isn't in their good graces. However, the "King Richard" star went on to attend the glitzy afterparty and pose alongside fellow A-listers all night, so it's tough to ascertain where he stands at the moment. According to the Daily Mail, the Academy actually tightened up its doctrine as recently as 2017, in the wake of the #MeToo movement. 
The outlet reported that disgraced producer Harvey Weinstein had his membership revoked, due to accusations of rape and misconduct during his decades in the industry. However, if Smith is stripped of his Oscar, it's likely to reignite criticism over the Academy's hypocrisy. Twitter users were quick to point to the fact that Roman Polanski, Woody Allen, and Mel Gibson still have their Oscars today, despite horrifying allegations against all three of them.