Oscar Attendee Reveals Chris Rock's Real Reaction To Will Smith's Attack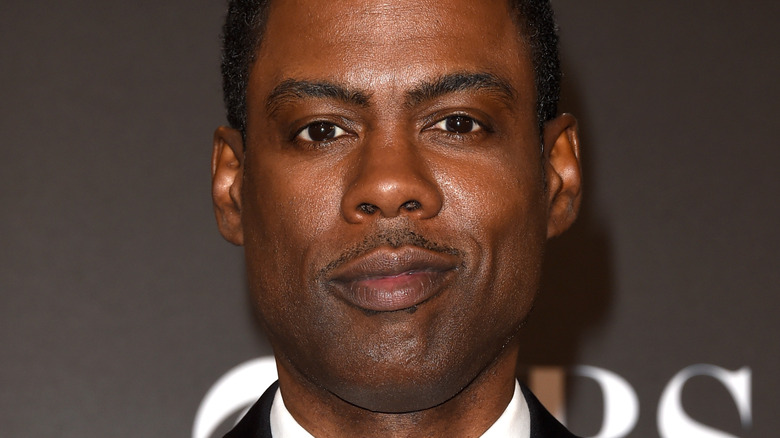 Jason Merritt/term/Getty Images
It was the slap heard 'round the world, made extra shocking by the fact it seemed to come out of left field. People reported that it came when comedian Chris Rock took the stage to present the best documentary feature award at the 94th Academy Awards ceremony. During his speech, Rock made a comment about how Will Smith's wife, Jada Pinkett-Smith, was gearing up to appear in "G.I. Jane 2" on account of her buzzed head.
The quip left Jada visibly upset — and once he realized this, Will stormed the stage to confront Rock over his behavior. Instead of asking for a private word, the "King Richard" star slapped the comedian across the face, leading a clearly stunned Rock to acknowledge to the audience, "Will Smith just smacked the s*** out of me!" Once back in his seat, Will yelled at Rock to "keep [my] wife's name out of your f***ing mouth!" When Rock protested that it was "just a joke" Will merely repeated his expletive-laden warning. As The Guardian notes, Will was widely condemned for his conduct. Though the actor apologized to the Academy while accepting his Oscar for best actor, the damage may have already been done. Amid all the drama, how did Rock feel about Will's outburst?
Chris Rock was just as blindsided as the rest of the world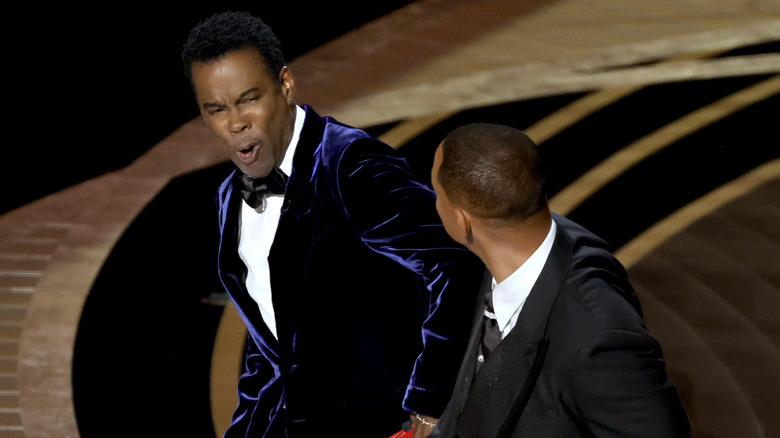 Neilson Barnard/Getty Images
According to an industry insider at the Oscars, Chris Rock was just as shocked by Will Smith's reaction as everyone else.  "Everyone in the mezzanine was standing up to see what was going on — everyone shocked. You could hear a pin drop. Everyone was looking at each other like, 'Is this really happening?'" the onlooker told People, adding, "Chris Rock looked stunned." The comedian notably tried to make light of the incident immediately after it happened, quipping, "That was the greatest night in the history of television." Rock also declined to file a report against Will Smith for assaulting him, per a statement the LAPD shared with Variety. 
To go along with the apology Will shared during his Oscar's acceptance speech, he was schooled backstage by friend and fellow best actor nominee, Denzel Washington. The two have a longstanding relationship, and Washington allegedly advised Will on his behavior, according to LADBible. Social media is divided over whether or not Will was in the wrong — or if he was simply defending his wife, who has been open about her struggles with alopecia. It's worth noting that Rock also previously made fun of Jada Pinkett-Smith's career at the 2016 Oscars, which hints at residual tension between Rock and Will. Per The Hollywood Reporter, Jada brushed off Rock's comments at the time, acknowledging that "it comes with the territory." Maybe she's simply had enough.