The Oscars Weren't The First Time Will Smith Slapped Someone At A High-Profile Event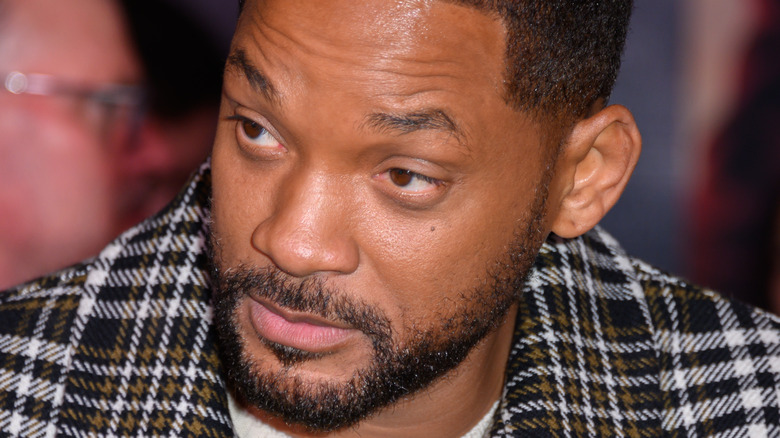 Silvia Elizabeth Pangaro/Shutterstock
Will Smith is apologizing for his violent actions at the Oscars Sunday night. Taking to Instagram a day later, the "King Richard" best actor winner expressed his regrets and addressed Chris Rock directly, writing, "Violence in all of its forms is poisonous and destructive. My behavior at last night's Academy Awards was unacceptable and inexcusable." He went on to say, "I would like to publicly apologize to you, Chris. I was out of line and I was wrong. I am embarrassed and my actions were not indicative of the man I want to be. There is no place for violence in a world of love and kindness."
The star also said he is "a work in progress." But it turns out the Academy Awards scuffle wasn't the first time the "Aladdin" actor made hand-to-face contact with someone at a high-profile event. As the New York Post reports, Smith also slapped a man a decade ago on a red carpet while promoting his movie "Men in Black III."
As the Post recounts, a Ukrainian prankster by the name of Vitalii Sediuk, who is known to pull stunts in the vein of Borat, approaches Smith. After kissing him on each cheek, and getting a little too close, the actor pushes Sediuk away, but doesn't leave it there.
Will Smith may be a serial slapper
Instead of simply making it clear that Sediuk had crossed a personal space boundary during the event, which took place in Russia in 2012, Smith slaps the faux reporter in the face, as you can see in the YouTube video. The star also told the man, who had previously assaulted celebrities, exactly how he felt about the incident, questioning Sediuk, "What the hell is your problem, man?"
According to the New York Post, Smith can also be heard saying, "He tried to kiss me on the mouth ... he's lucky I didn't sucker-punch him. Oh, I said that on camera — you know it's all good."
Twitter was quick to run with the story that the assault on Rock wasn't Smith's first face smack, with one person commenting, "Not many people [realizing] that Will Smith's slap was actually a sequel to his more indie and less known slap from 2012."
As of now, the new Academy Award winner has not addressed the prior incident.