The Heartbreaking Truth Behind The Flowers At Prince Philip's Memorial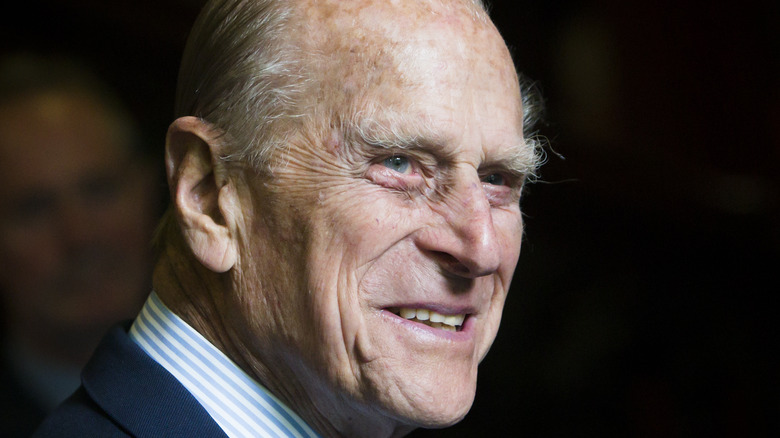 Wpa Pool/Getty Images
The royal family celebrated Prince Philip in a memorial service held on March 29, almost one year after his death. Per the BBC, 1,800 people gathered to pay their respects to the late Duke of Edinburgh at Westminster Abbey. This included Queen Elizabeth, who arrived with Prince Andrew as her escort, according to People. Unlike at Philip's funeral — which was scaled down due to COVID-19 restrictions — the queen was able to sit with family at the service. The BBC noted that Prince Charles and Princess Anne sat beside their mother, while Princes Andrew and Edward sat across the aisle. Prince Harry and Meghan Markle were noticeably absent from the ceremony, as they have been denied the security detail they requested in order to safely make the trip.
Everything about the memorial service was meant to be a tribute to the late Duke of Edinburgh. This included all aesthetic choices, like the fact that many senior royals arrived dressed in forest green, which was "Philip's official livery color," according to Harper's Bazaar. Similarly, the flowers used to decorate the abbey were also a symbolic choice, though their meaning may not have been as easy to guess.
This is the meaning behind the flowers at Prince Philip's memorial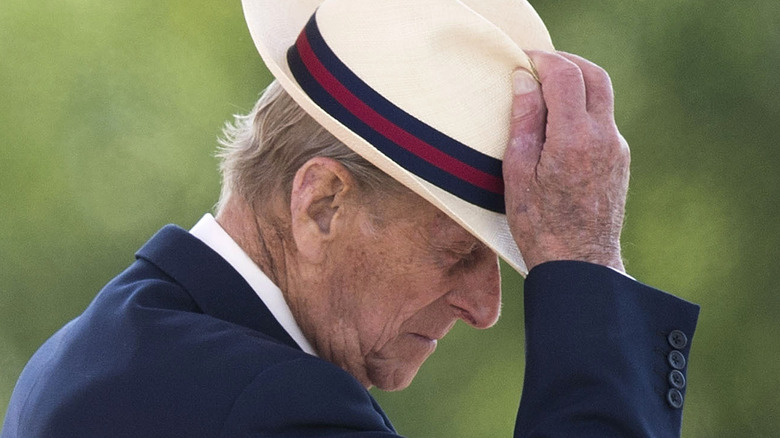 Nigel Treblin/Getty Images
Per the Daily Mail, the floral color scheme for Prince Philip's memorial was red, white, and blue. Not only are these England's colors, but each flower and color choice holds a deeply personal meaning. For example, red roses are a traditional symbol of love, as well as the color of beauty and courage, per Harlow Gardens. This could be a nod to Prince Philip's bravery, as well as the courage he helped give Queen Elizabeth II during their time together. Behind red roses, the flower arrangements also included red carnations and gerbera daisies, according to the Daily Mail.
Blue, another prominent color in the flower arrangements, is often associated with freedom, imagination, and inspiration, according to Supercolor. Because Prince Philip was both a former naval officer and pilot, the blue flowers could allude to the fact he loved the sky and the sea. Designers reportedly used blue delphiniums for Philip's floral arrangements, as these blooms are commonly used to honor those who have passed on, per FTD. Another prominent blue flower in the bouquets was thistle — which, according to Visit Scotland, is not only the country's national flower, but the symbol of the Royal Order of the Thistle. Per the royal family's website, Prince Philip was a royal knight of the Order of the Thistle, which is the highest chivalry honor in Scotland. Thistle is also known as sea holly, which could be another nod to the late duke's love of the sea.
This is why orchids were used in Prince Philip's memorial flowers
Wpa Pool/Getty Images
White is historically known to symbolize purity and innocence, but for Prince Philip's funeral, the white flowers were chosen for a more personal reason. The Daily Mail reported that florists included white chrysanthemums, as they are another flower commonly integrated in funeral and memorial arrangements. FTD explains that they are often associated with joy and optimism, in addition to symbolizing loyalty and honesty.
Dendrobium orchids were also used in many arrangements. These delicate flowers have a rich history of symbolizing hope, reverence, innocence, and purity, per Bouqs. While these might be a strange choice for a funeral flower, they were chosen because of their personal significance to Queen Elizabeth II. The BBC noted that the queen also carried orchids in her wedding bouquet when she married Prince Philip. Per Yahoo! News, they were the only flowers she requested at the time. Though Prince Philip may be gone, it's clear the memory of him lives on, especially in Queen Elizabeth's heart.