How To Add Purple Mascara To Your Makeup Routine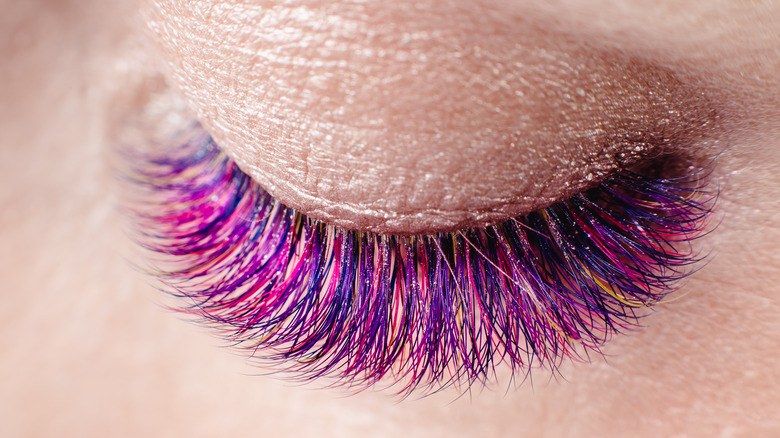 Parilov/Shutterstock
We may receive a commission on purchases made from links.
The color purple is a beautiful and expressive shade, featuring a mix of warm reds and cool blues. Because of its rarity in previous decades, Verywell Mind reports that purple was traditionally worn by royalty, in addition to representing "wisdom and spirituality." Who wouldn't want to wear a color that makes them look effortlessly regal and wise? Whether you favor a light lavender or a dark, dramatic plum, purple is universally flattering — and, what's more, it presents endless opportunities for styling.
The same can be said of purple makeup, too. For instance, purple lipstick is the perfect retro choice to add a lively pop of color to your lips, and deep shades were also a popular lipstick color in 2021, according to Cosmopolitan. Eyeko London noted that purple eyeliner can enhance the overall eye area, and this seems to be true, given the rise in purple eyeshadows and eyeliners in recent years. With so many purple-inspired makeup ideas, we want to try them all! Keep reading for the best ways to rock purple mascara.
There are tons of fun ways to pull off purple mascara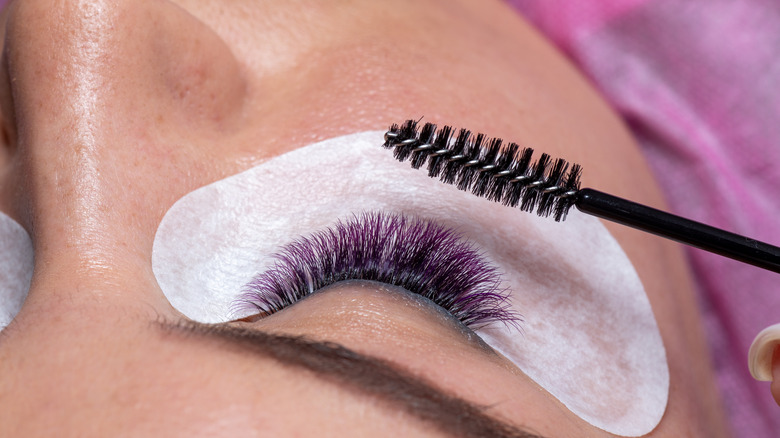 Adam Radosavljevic/Shutterstock
Are you dying to try purple mascara, but not sure how to style it? L'Oréal Paris explains that wearing purple mascara with purple eyeliner will add an extra dimension to your purple lashes by making your overall look more cohesive. In that vein, why not turn heads with a purple-on-purple makeup look that makes a regal statement? If you're not a fan of eyeliner, or you don't want to wear quite so much purple at once, then using eyeshadow is an excellent option. Alternately, you can go for purple lashes and experiment with a different color eyeshadow that will draw attention to the purple hue, such as a green. If you're feeling glamorous, try exploring some sparkly eyeshadows for a head-turning look!
Per Bustle, if you're looking for a cohesive way to pull off colorful mascara, then you can never go wrong with wearing a lip color or nail polish in the same hue. This complimentary choice will complete your look, while emphasizing multiple features at once. 
These are some of the best purple mascaras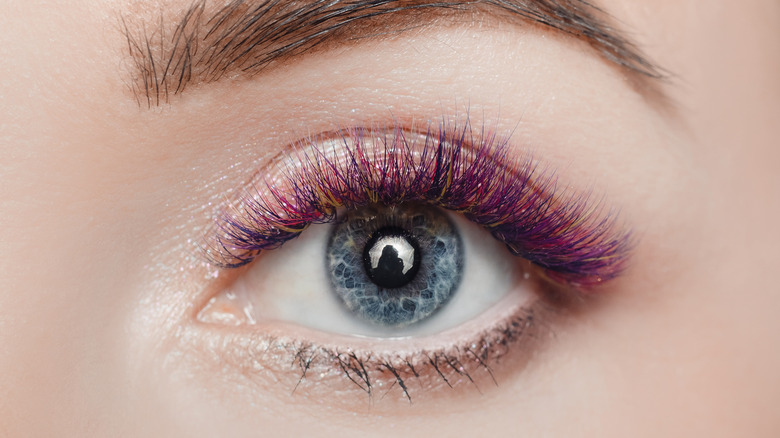 Parilov/Shutterstock
If you're not sure where to start in your search for the perfect purple mascara, then look no further than Stylecraze, which has rounded up some of their top picks. To begin with, the outlet highlights Maybelline's New York The Colossal Big Shot Mascara X Shayla in Poppin' Purple, which has waved bristles that make for an easy application process. This fun purple product is currently available at Amazon for $18, and Walmart for $22. For a slightly cheaper option, check out NYX's Professional Makeup Color in purple, which retails for $14 at Amazon and $17 at Walmart. Furthermore, the purple Volumatic Mascara by L.A. Girl adds lots of volume to your lashes — and it's practically a steal for $7 on Amazon!
While we love all these purple options, there's still more to choose from, per Who What Wear. L'Oréal's deep violet Voluminous Original Mascara is currently available at Ulta for $10 and has 4 out of 5 stars. "Makes my blue eyes pop. Always get many compliments when I wear," one user wrote on Ulta's website. Last but not least, we're fascinated by Lime Crime's Astronomical Volumizing Vegan Mascara. Available at Ulta in light lavender, this product is perfect for anyone who's looking for a lighter purple over a darker violet. With so many options at your disposal, it's hard to choose just one mascara!