How The April 1 New Moon Will Affect You If You're A Sagittarius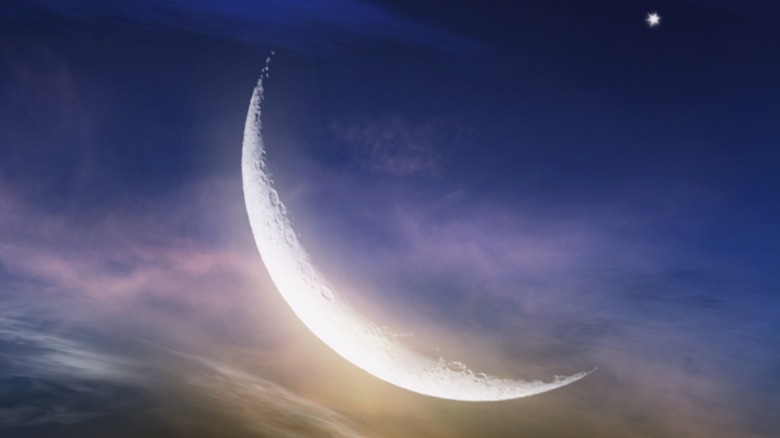 yaalan/Shutterstock
Greetings, Sagittarians (or those trying to accommodate a certain spicy fire sign in your lives)! April is full of astrological events that shouldn't be slept on (literally) and turns the tides for Sagittarians' romantic lives and career aspirations. Though the exit from March may feel like an emergence from winter's fog, you won't have everything clear and sorted out right away, according to Today's April projection. This source singles out Aril 8 and April 12 as particularly murky, but a rare planetary event on April 12 — the meeting of Neptune and Jupiter in Pisces for the first time since 1856 — ensures a cosmic change in your life. However, before reaching long-awaited clarity, you will enter into a period of deep processing and transformation.
The goal-oriented Sagittarius will be facing down the month with motivation and enthusiasm, according to Bustle, and it could be the perfect time to set intentions for a powerful spring. Though the season is traditionally a time for new beginnings, April horoscopes are pointing to transits prompted by endings, per Bustle. These could take the form a relationship fading into the ether, a project wrapping up, or a long-awaited goal accomplished.
The new moon is Sagittarius' time to plan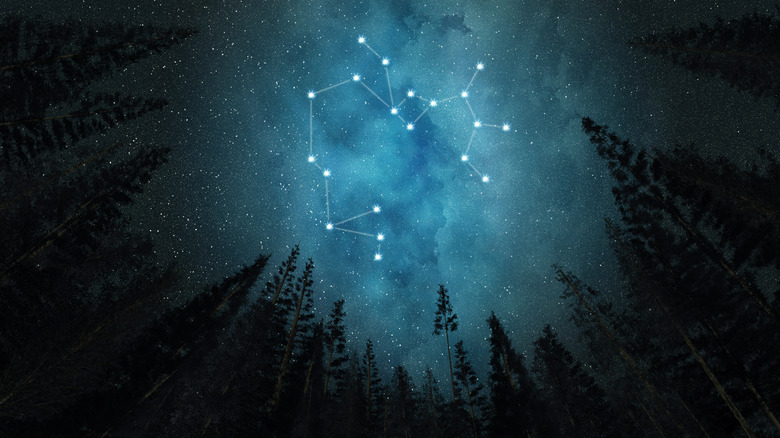 Roman Voloshyn/Shutterstock
Nylon's astrological lineup positions April 1's new moon in Aries and April 30's partial eclipse in Taurus as the brackets containing a truly revelatory month. The transition between one of the fieriest signs to one of the most level-headed and grounded ones mirrors predictions for Sagittarius' personal journey. In the outlet's general astrological projection, Nylon points to the beginning of the month as an apt time for strategy before hitting the typical mid-month confusion. This ambiguous period will be exacerbated by the rare reunion of Jupiter and Neptune on April 12 in Pisces, which won't happen again until 2188, per Today.
The event occurring in Pisces also implies that Sagittarians will finally lean into past-due emotional processing, which will help them feel more secure in their internal state, according to Nylon. Their prediction places the sign on a whirlwind journey toward the grounded state they've secretly longed for, despite the mutable Sagittarius' general transience and fluidity.
With the new month starting on a Friday, it's also the perfect weekend to take your time sorting out your goals and intentions. Glamour's forecast points to the new moon as a sign to move into your adventurous side, leveling up on your own explorative instincts. However, Sag should follow their joy toward their next venture only while they wrap up their last, even if endings can feel scary for this sign. Yes, those half-finished projects laying around deserve closure, and you do, too. 
April will be a lucky time for love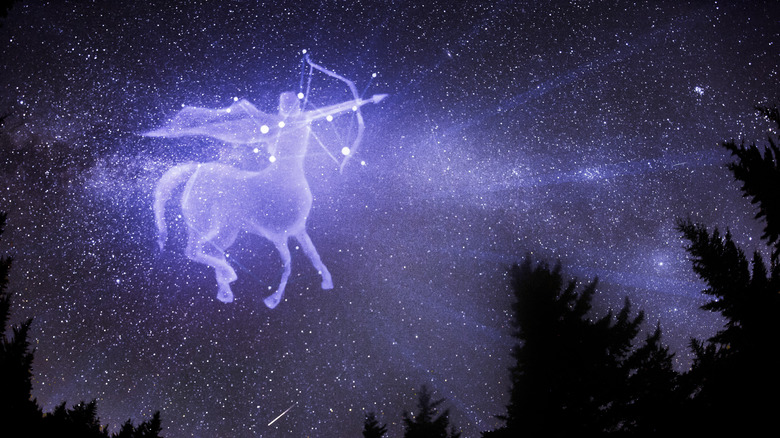 Elena11/Shutterstock
InStyle's forecast for the new moon sees a particular attention to home life, which makes sense within the framework of the month's progression into Taurus season, and its emphasis on domestic comfort. The outlet also mentions that with the love-centered planet Venus moving into Sagittarius' area on April 5 and remaining until May 2, it will be a positive time for the sign in terms of relational stability and closeness. 
Sagittarius is known for being fun and flirty, and InStyle predicts that listening to their risk-taking instinct in all things love will pay off in a big way over time, especially with Venus and Mars transitioning into the feelings-oriented Pisces. Jupiter and Neptune will meet on the April 12 for the last time until they reconnect in Aries in 2035, but thankfully, romantic luck seems to be in the stars for this 13-year period.
Whether you dip your toes into new uncertain waters or finally put the hours in to improve your craft, it appears that Sagittarians are entering a reflective, goal-oriented period of self-growth. Looking toward the future comes naturally for the fire sign, but deciding on specific goals and committing to downtime with loved ones will be a welcome challenge to the mutable sign's sense of spontaneity.