How Prince George's Godmother, Julia Samuel, Is Connected To Princess Diana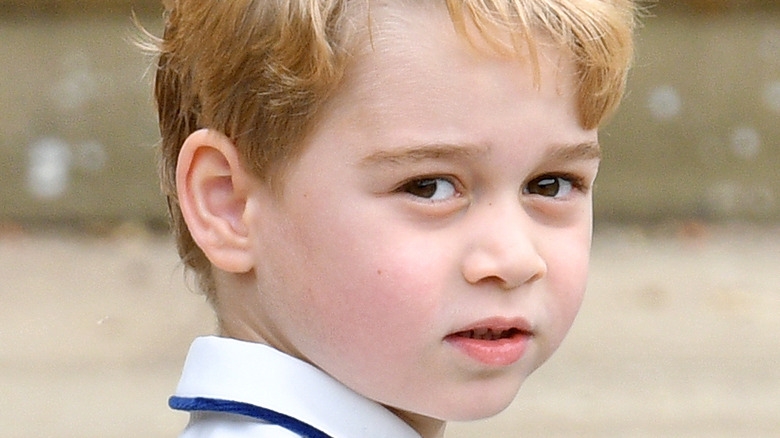 Pool/max Mumby/Getty Images
Being a member of the royal family comes with plenty of roles and titles. Most titles come as a result of either being born royal or marrying into the family. But there's one title that can go to just about any friend of the monarchy: royal godparent. In the case of Prince William and Kate Middleton's eldest child, Prince George, Julia Samuel is one of the people lucky enough to be looking out for him. According to Hello Magazine, Prince George has a whopping seven people named as godparents. 
Per the U.S. Sun, it's common for royal children to have up to six different people named as godparents. However, Samuel's connection is a sweet nod to Princess Diana, as she was one of the late Princess of Wales' best friends, per the Daily Mail. Beyond her ties to Princess Diana, the South China Morning Post reports that Samuel is a best-selling author, psychotherapist, and creator of an app that helps people cope with their grief. She also holds the title, The Honorary Julia Samuel — though one could argue that her title as royal godparent is the highest honor of all. The fact that the Duke and Duchess of Cambridge have entrusted Samuel with the responsibility of helping to guide and mentor Prince George is a touching way for Prince William to keep his late mother's presence alive in his children's lives.
Prince George's godmother is keeping a sweet tradition alive
On the "How To Fail With Elizabeth Day" podcast, Julia Samuel opened up about her royal godson and their relationship. It turns out that she has a pretty great way of keeping Princess Diana's spirit alive. "I do to George what [Diana] did to us, which is give impossible toys that are really noisy and take a lot of making... [which] William then has to spend days putting together," Samuels says on the podcast. While Prince George probably receives tons of gifts and advice from his six other godparents, it sounds like Samuel might just have the best gifts of all! Furthermore, her godson probably appreciates her gifts, because he has a great sense of humor, just like Princess Diana did. "[George is] funny and feisty and cheeky and God [Diana] would have loved him so much," Samuel added, via the "How To Fail With Elizabeth Day" podcast.
And while George and Samuel's relationship is a nod to Diana, it's also a relationship that has taken on a special meaning for Samuel. "I feel lucky I was such a good friend of Princess Diana. And I really love my godson, George. And it's a lovely way of loving her," the psychotherapist revealed in an interview with The Guardian (via People). Between the gifts and the incredibly sweet sentiment, it sounds like Samuel was a great pick for George's godmother.
Besides Julia Samuel, Prince George has six other godparents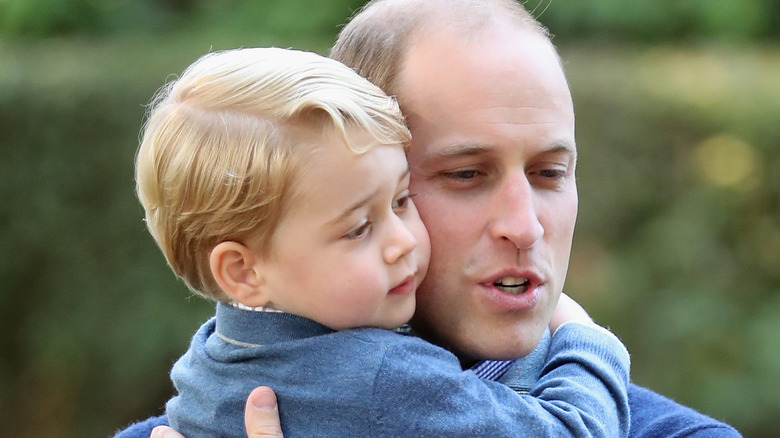 Chris Jackson/Getty Images
Though Julia Samuel is a guiding presence in Prince George's life, she's far from the only one in charge of spoiling the young royal. And while one might think that George has a hefty lineup of royals as his godparents, the list is surprisingly normal. According to Harper's Bazaar, the prince's godparents are all a collection of family friends — apart from one royal. Per the outlet, this royal is Zara Tindall, Prince William and Prince Harry's cousin. As a royal expert told Express, this speaks volumes about her relationship with William. "That closeness was really signified when William made Zara a godmother to Prince George," the expert shared.
Along with Zara, Harper's Bazaar lists Oliver Baker, William van Cutsem, Emilia Jardine-Paterson, Earl Grosvenor, and Jamie Lowther-Pinkerton as George's other godparents. Baker is a school friend of both the Duke and Duchess of Cambridge. Per the BBC, Jardine-Paterson is an interior designer and close friend of Kate Middleton's. Harper's Bazaar reports that van Cutsem is a childhood friend of Prince William's, while Lowther-Pinkerton acted as former private secretary to Prince William, Kate, and Prince Harry, according to the BBC. Judging by the lack of royals on this list, it seems that William and Kate value love and friendship above crowns and titles.