Here's What Pink Looks Like Going Makeup-Free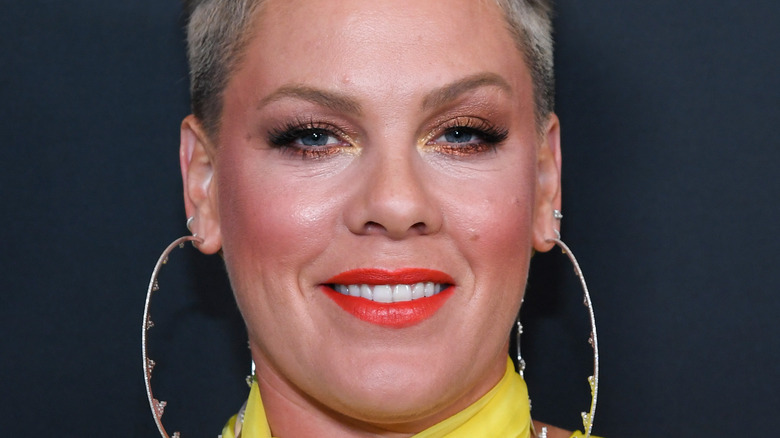 Kevin Mazur/Getty Images
We may receive a commission on purchases made from links.
When we say "wife and mother-of-two who can spend hours at the grocery store," who's the first person to pop into your mind? Chances are, you think of your friendly neighborhood mom before you think of Pink, one of pop-rock's biggest icons. Pink, whose real name is real name is Alecia Beth Moore, is proof that stardom doesn't have to come at the expense of family. While she may not be in the spotlight as much as she was when she released hits like "Get the Party Started" and "So What" in the aughts, she's still solidifying her position as a legend in the music industry.
In 2019, the singer received a star on the Hollywood Walk of Fame. Per Billboard, she also became the youngest recipient of Billboard's Icon Award in 2021, when she was 41 years old. Most recently, the superstar received a Grammy nomination for her song, "All I Know So Far" (from her documentary of the same name). When out of the public eye though, Pink embraces a much more low-key, family-oriented lifestyle with husband husband Carey Hart.
Pink is fresh-faced when hanging with family
Like any other A-lister, Pink rocks a full face of makeup onstage. Unsurprisingly, her longtime makeup artist described Pink's makeup style as "adventurous," according to TODAY. "She's very creative ... She's an adventurer with makeup," Yvette Beebe told the outlet. Because Pink is known for her out-of-box thinking and punk-rocker style, she embraces a more unconventional beauty standard. "[One] very important thing I tell my daughter [Willow] is it's very fun to be weird and it's very boring the be normal," the superstar told People in 2015.
At home, Pink allows her children and family to see a more stripped-down version of her. In 2019, she took to Instagram to share a throwback photo of herself and Willow. The picture shows a now 10-year-old Willow giving Pink a sweet peck on the cheek. Pink is noticeably barefaced, seemingly without a smidge of makeup on. It's in moments like these where Pink isn't afraid to show the world how normal she is behind the scenes. But of course, not everything about the singer's life is normal! Her 2021 documentary "All I Know So Far" shows how the music icon balances motherhood and a world tour, and how her busy lifestyle is a unique blend of simplicity and fame.
Makeup or no makeup, Pink is beautiful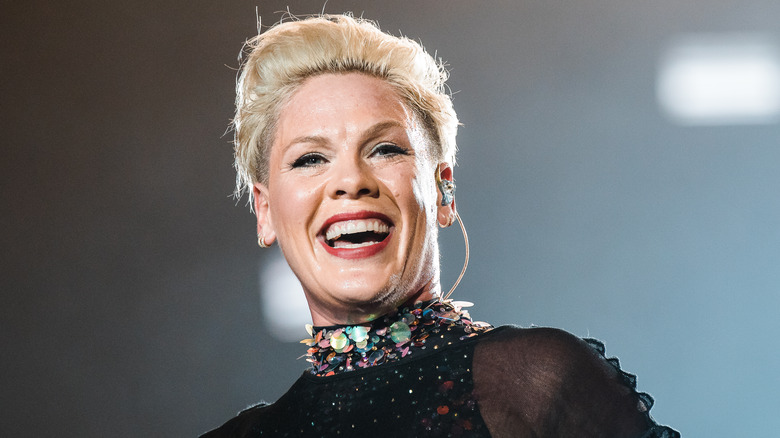 Mauricio Santana/Getty Images
In 2018, People chose Pink to grace the cover of their "Most Beautiful Issue," citing her "honesty, humor, confidence and sheer star power" as her beauty DNA. In true Pink fashion, the cover photo shows Pink smiling and holding her two children. Meanwhile, the photo spread in the magazine depicts her backstage playing air guitar! When discussing her cover on "The Ellen DeGeneres Show," Pink explained, "I love that our perception of beauty has completely been knocked on its head. And there's nothing wrong with beautiful, and there's nothing wrong with beautiful on the inside, beautiful on the outside. [Beautiful is] all different shades, it's all different sizes. It means whatever it means to you."
Throughout her career, Pink has never been afraid to experiment with her definition of "beautiful on the outside." She's tried out every beauty look you can imagine — from spiked fuchsia hair, to trendy fedoras, low-rise pants, and stunning red carpet gowns. Whether fans catch a glimpse of her sans makeup with her family, or fully glammed-up onstage, Pink is beautiful either way.