Everything We Know About JoJo Siwa's New Relationship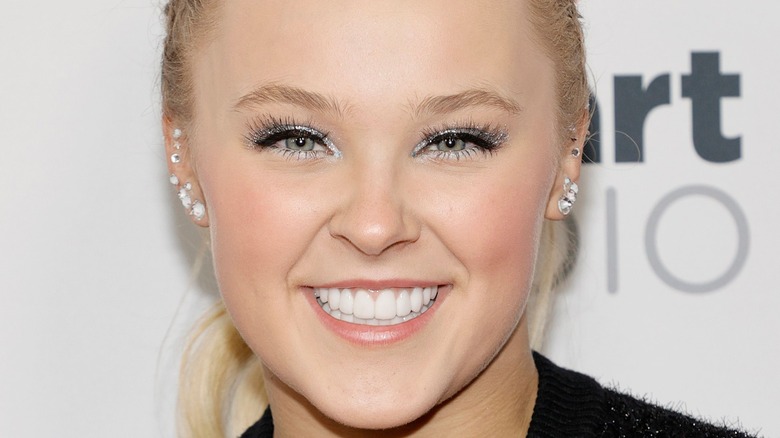 Amy Sussman/Getty Images
"Dance Moms" star JoJo Siwa shocked fans when she came out as a member of the LGBTQ+ community in early 2021. At the time, the 18-year-old shared a photo of herself on Twitter wearing a shirt that read, "Best. Gay. Cousin. Ever." The post received over one million likes and was flooded with mostly loving comments. Siwa shared how she really felt after coming out and mentioned that she was happier since making the declaration. Shortly after breaking the internet, the dancer opened up about another exciting aspect of her life: Her relationship status. During an appearance on "The Tonight Show" in February 2021, the singer shared that she was in a relationship with "the most amazing, wonderful, perfect, most beautiful girl in the world," Kylie Prew (via YouTube).
Siwa went on to date Prew for almost a year (via Page Six). Though the couple split during Siwa's historic run on ABC's "Dancing with the Stars," Siwa maintained that Prew was still her best friend. After a few months of playing the field, though, the "Boomerang" singer has officially entered a new relationship (via People).
JoJo Siwa is 'very happy' with her new partner
When Jojo Siwa appeared on her close friend Rachel Ballinger's podcast, "Rachel Uncensored," Siwa provide an update on her relationship status. The social media star said, "We're not single. I say 'we're' because it's me and my multiple personalities within myself." Siwa went on to clarify, "I am not single and I don't want to mingle. No, I'm a loyal lady." She then added that she contemplated announcing her new relationship in a classic teen fashion — she joked, "I was gonna erase my whole bio but just put the lock [emoji]." Though she didn't make this change, she did open up about her blossoming relationship on "Rachel Uncensored."
While Siwa is clearly excited about her new romance, she admitted that she took time to explore during the period between her split with Kylie Prew and her commitment to her new partner, whose name she did not reveal. Siwa explained, "Listen, I went around the block. I tried a lot, and I learned a lot." While the singer seemed to enjoy her time of exploration, she's grateful for her new relationship. She said in closing, "I'm very, very, very happy where I am now" (via People).