Viral Video Shows Jada Pinkett Smith's Real Reaction To The Oscars Slap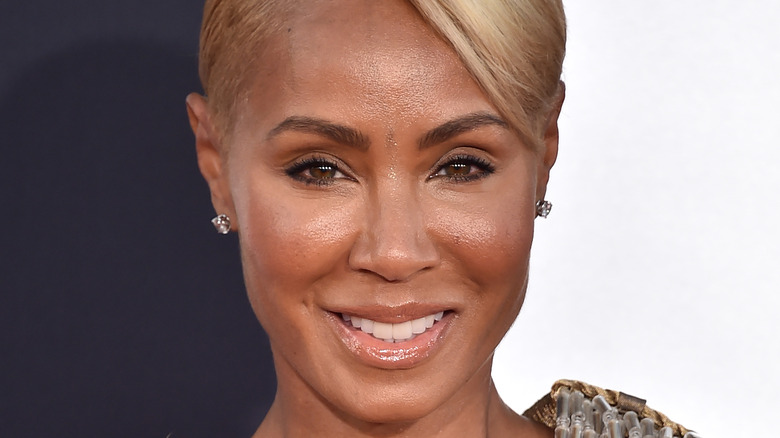 DFree/Shutterstock
It's been called the slap heard around the world, and it's clear to see why. That is, when Will Smith stormed on stage at the 2022 Academy Awards and slapped Chris Rock after the latter made a joke about Will's wife, Jada Pinkett Smith (via Deadline). People were left surprised and stunned at the incident — fans still have unanswered questions after Will's Oscar win, but alas — and there isn't consensus in the public as to whether Will was in the right or not (via USA Today). 
While Smith apologized to the Academy in his acceptance speech for best actor in the film "King Richard," and even later apologized to Rock publicly via Instagram, the Academy is reviewing the incident (via The New York Times). He could face expulsion from the Academy, putting him in the same company as Harvey Weinstein and Bill Cosby, both removed after sexual assault allegations were uncovered, per Vanity Fair.
As people continue to debate what should happen to Will now, others are looking back at the reactions in the room when it happened. Specifically, people are looking at how Jada reacted to the slap, which can be seen in a new video posted to social media.
Jada Pinkett Smith laughs after the slap, perhaps thinking it was a bit
Much of the footage of the slap and the aftermath was from the official Oscars broadcast, where the focus is on Chris Rock and Will Smith (via YouTube). However, an attendee captured a different, unseen angle, and the video's gone viral. As Will walked back to his seat, Rock said, "Oh, wow...Will Smith just smacked the s**t out of me" (via Variety). In an Instagram video taken by someone a few rows behind the Smiths, it appears that Jada Pinkett Smith laughed at Rock's comment. But then there seemed to be a clear shift in mood when Smith yelled back at Rock, "Keep my wife's name out your f***ing mouth," during which Jada appears to keep her eyes locked onto Rock.
One Reddit user thinks she laughed at first because, like a lot of people, she may have thought the slap was staged. They weren't alone. On the Instagram post, one person noted that it seemed fake "until Will started screaming/cursing." Jada's public response to the slap has thus far included an Instagram post in which she said, "This is a season for healing and I'm here for it." Ultimately, fans were concerned about Jada's Oscars behavior, but it appears that everyone is putting it behind them.