Harry Styles' New Song Leaves Fans Questioning His Relationship With Olivia Wilde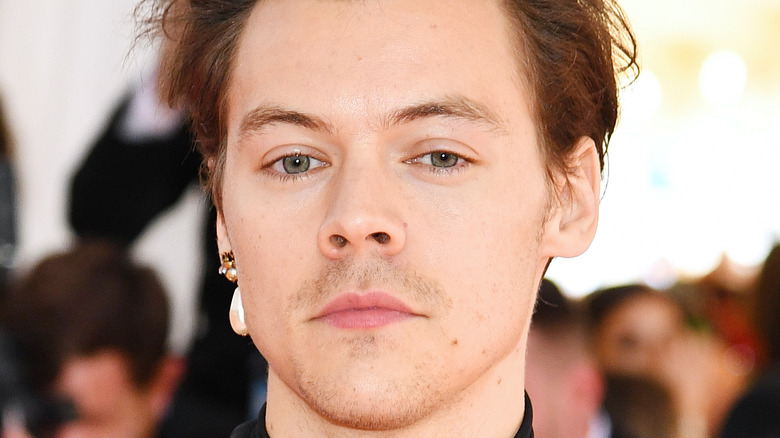 Dimitrios Kambouris/Getty Images
Olivia Wilde and Harry Styles have kept their rumored relationship mostly under wraps, with Us Weekly reporting the unlikely couple hooked up just a couple months after she split from fiancé Jason Sudeikis, whom the actor-turned-director had been involved with for over 10 years and with whom she also shares two children. Wilde and Styles met while working on her upcoming movie "Don't Worry Darling," and had instant chemistry on set, according to a source, who shared, "It was only a matter of time before they got together."
Although neither has publicly discussed their romance, despite being caught by paparazzi all over Styles' hometown of London as well as in Los Angeles, where they're both based, Wilde told Vogue she's "happier than ever." The pop star's fans' voracious appetite for intimate details can be difficult to contend with but, as the "Booksmart" director reasoned, "What you realize is that when you're really happy, it doesn't matter what strangers think about you. All that matters to you is what's real, and what you love and who you love."
It's tough to ascertain exactly what's going on with a couple who don't give anything away, but Styles' latest release has fans wondering whether it might be all over with Wilde.
Is Harry Styles' new song hinting that they've broken up?
Harry Styles is back with his first single in over two years, per People. "As It Was," the first cut from his highly-anticipated upcoming album "Harry's House" is here, and it's got a swoon-worthy music video to accompany it. The clip sees Styles, resplendent in scarlet, dancing opposite a woman dressed all in blue. They spend much of the video trying to make their way back to each other. Tellingly, though, Styles ends up alone, with his love interest drifting away. The message, at least as far as fans are concerned, is clear. 
As one wrote in the YouTube comments, clearly the relationship is "going in circles." However, as The Guardian points out, the song could be interpreted as being about a positive change in the singer-songwriter's life. Moreover, the line, "Leave America, two kids follow her" suggests Styles is fighting back against the idea he shouldn't be with mother-of-two Olivia Wilde. There are also those who believe Styles is actively "trolling" by making such a direct reference to Wilde. 
If anything, the pop star is keeping things vague to allow for a wider interpretation. It's tough to know where the couple stands since they don't really give us anything, but as recently as February 2022, Wilde was celebrating Styles' birthday with him, People notes. Later that same month, a source also told In Touch Weekly that the couple is still going strong.