Chris Rock Continues To Prove He's Taking The High Road After Oscars Drama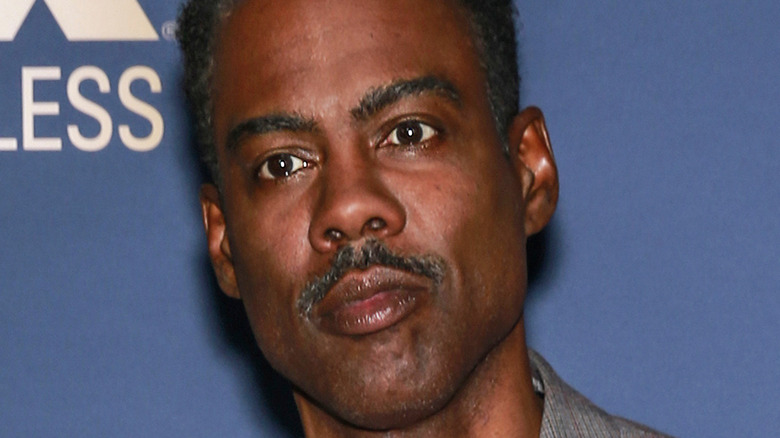 Ovidiu Hrubaru/Shutterstock
Will Smith shockingly made his way onto the Oscars stage March 27, 2022 so he could promptly slap presenter Chris Rock across the face. The actor then returned to his seat and shouted at Rock to, "Keep my wife's name out of your f***ing mouth," according to Page Six. Rock remained professional in the moment. After observing that "Will Smith just slapped the s*** out of me," he went right back to his duties. Smith had reacted to Rock making a joke about Jada Pinkett Smith's shaved head, which is related to her alopecia diagnosis, according to CNN.
After the slap, Rock refused to press charges against Smith (via CNN). Smith issued an apology to Rock via social media. "Violence in all of its forms is poisonous and destructive. My behavior at last night's Academy Awards was unacceptable and inexcusable. Jokes at my expense are part of the job, but a joke about Jada's medical condition was too much for me to bear and I reacted emotionally," Smith wrote on Instagram. "I would like to publicly apologize to you, Chris. I was out of line and I was wrong. I am embarrassed and my actions were not indicative of the man I want to be."
Rock is continuing to be a grown up in this matter, despite what happened Sunday night.
Chris Rock seems to want to keep Will Smith out of his comedy act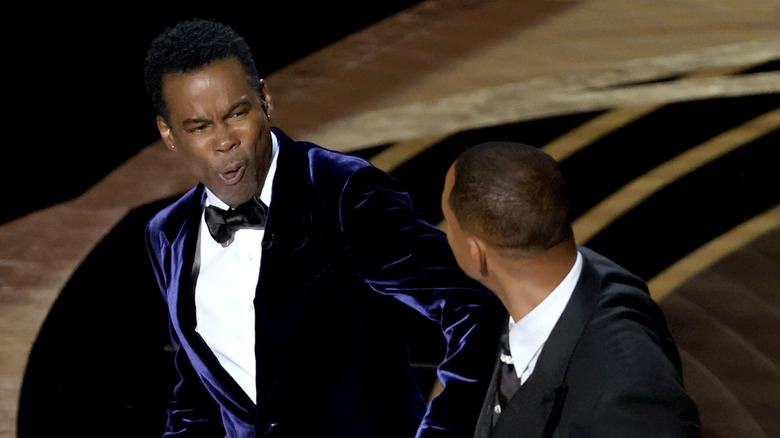 Neilson Barnard/Getty Images
After his time in Los Angeles — during which he got to crack jokes at the 94th Academy Awards and wound up slapped for one of them — was up, Chris Rock returned to his comedy act at The Wilbur in Boston, Massachusetts. Audience members in attendance seemed to want to talk about and even disparage Will Smith, who is now under investigation by the Academy of Motion Picture Arts & Sciences, according to Entertainment Weekly.
When Rock took the stage Wednesday night, he refused to participate in chants of "Will Smith" but did make a reference to the incident, according to People. The "Grown Ups" actor and comedian said he is, "still processing what happened" and added, "I haven't talked to anyone, despite what you heard."
Thursday night, an audience member called out, "F*** Will Smith," to which Rock responded, "No, no, no, no, no." People also noted that while Rock didn't use Smith's name, he seemed to make it clear that he hadn't spoken to the best actor winner since the incident.