Nathan Kress, Jaidyn Triplett, & Laci Mosley Tease Season 2 Of iCarly - Exclusive Interview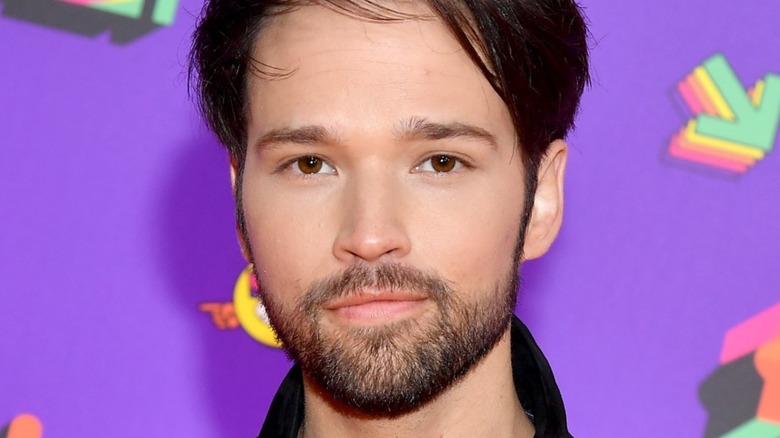 Amy Sussman/kca2021
If there's one thing we all wanted to do growing up, it was to star in our own successful web series. Carly Shay was our idol then, and she's still our idol now that we're adults who are about to stream a second season of the "iCarly" reboot.
In addition to enjoying spaghetti tacos and continuing the iconic web series, the now grown-up characters are trying to navigate adulthood, just like the rest of us watching. Freddie is set on searching for true love while raising his stepdaughter Millicent, Harper is busy pursuing her passion for fashion, and Spencer is — eh, still not so grown-up. However, this concoction of characters, as true fans know, sets the scene for all sorts of random adventures (Random dancing, anyone?).
We got to the chance to chat with Nathan Kress (who plays Freddie), Laci Mosley (who plays Harper), and Jaidyn Triplett (who plays Millicent) all about some of these surprises and guest stars in store for the new season. In an exclusive interview with The List, the "iCarly" stars shared their favorite moments from the original series and revealed what it was like working with their guest star Josh Peck.
The trio talks what it's like working on the iCarly reboot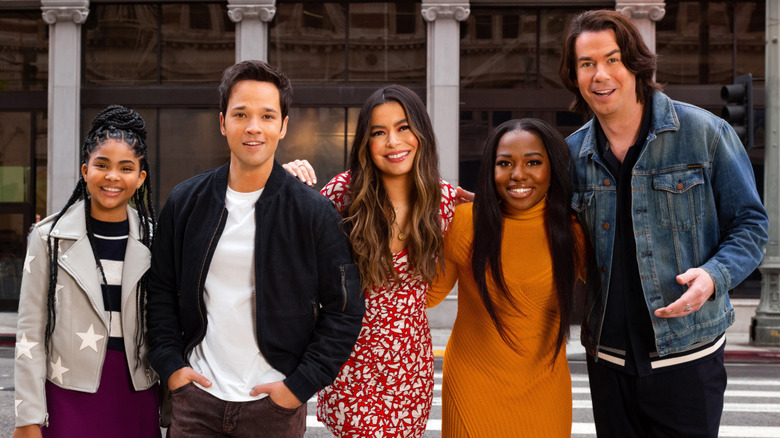 Sami Drasin/Nickelodeon/Paramount+
Laci and Jaidyn, you two have eaten spaghetti tacos and you have pear phones, but what's something you're still hoping that Harper and Millicent get to do that happened in the original series?
Jaidyn Triplett: It would be cool to be on one of the "iCarly" skits that Carly makes, to be able to do one of those things, because we have the pear phones, you know? My purple one with the pear on the back. The spaghetti tacos were delicious, so I think the "iCarly" skit would be awesome.
Laci Mosley: Yeah, I agree. It would be cool to — we have been in web shows in the first season, but they did so many weird things. I remember — I shouldn't say this, because then I'm going to curse myself into having it happen — but I always remember the individual toe socks that they would put on their feet. [Laughs]
I don't know if I actually want that to happen to me, but it was one of my favorite bits on the original show. Maybe we bring it back for Miranda [Cosgrove]. She'll kill me. [Laughs]
Nathan, what's been the most nostalgic moment for you so far doing a reboot?
Nathan Kress: Oh, man. Ultimately, it started in the first season. It continued this season, but having key, core guest stars come back has been magical, and it's in a very, very cool way.
Getting to see how these characters evolve — not just Freddie and Carly and Spencer, but all of these people that we interacted with, lives that we may or may not have ruined, who are now going to come back and try and ruin ours. Carly is in for a little bit of a comeuppance from the shenanigans that she instigated on people, so things will change for the "iCarly" crew.
That's been one of my favorite things, is having homecomings every couple weeks [with] people, familiar faces, but then getting to evolve those characters into something that's not just from a kid show. It's for adults, for them as well. We get to explore what that could look like with a lot more breathing room.
We'll be able to see another Nickelodeon star on iCarly this season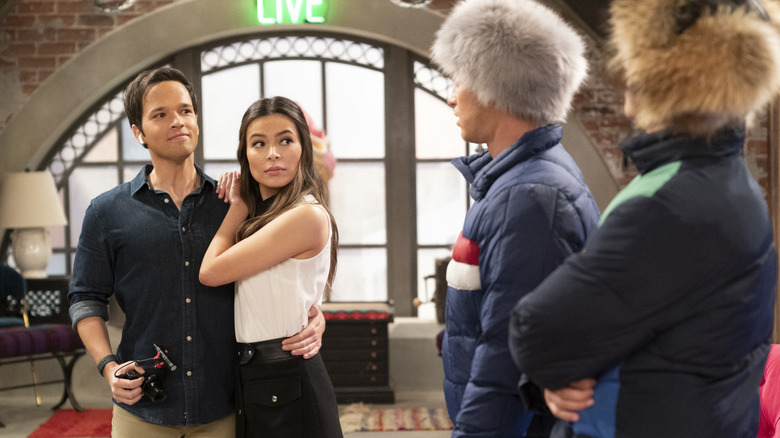 Lisa Rose/Paramount+
Josh Peck is appearing in two episodes this season. What was it like to have him on set?
Kress: An absolute dream come true. I grew up watching "Drake and Josh," and it was funny, because I did an episode of "Drake and Josh" in a bit part right before "iCarly." The character was so similar to Freddie. He ended up getting cut out, but Josh directed that episode, and I got to work with him as an actor, but mostly, watching him be a director was the coolest thing to me.
This time, in his first episode, I actually got to direct him. I directed that episode, and it was a really fun one, because we had a lot of interaction as characters. I was fan-boying the whole time and when he was on set, talking with Miranda [Cosgrove] and Jerry [Trainor]. I would be back there going, "Oh, my gosh! Oh, my gosh! They're all talking, and they're all still friends! This is so cool!"
It took me a minute to get over that, but he's also the most absolutely delightful and genuine and kind person, and such a giving actor [who] had great ideas. It was a dream come true.
Mosley: I would have to agree. I didn't know him before working with him in person, but I watched Josh Peck, and I watched "Drake and Josh," and all the iconic memes, so working with him was really fun. He's also a dad, so he's telling us all these stories about his child, and he's a fun guy, and loves to do improv.
We'd be at the end of takes, and sometimes, I'd be hiding behind a set piece, because I left the scene, and I would sneak over so I could get behind the monitor and see what he was doing at the end of takes, because he's so funny and would, switch it up all the time. It was great, a fun energy to have on set, for sure.
Triplett: He's a really fun guy and extremely sweet. I remember he was in a golf cart, and I was walking out of my trailer, and he was right there, and I was like, "Oh, mom! That's Josh from 'Drake & Josh'!" And she was like, "Well, go say 'hi.'" I was like, "Well, duh." [Laughs] So then I went up and I said, "Hi." And he was so sweet. He definitely had father energy, like Nathan. [Laughs]
Mosley: Yeah. They both have very strong father energy — except Nathan won't let us call him "daddy." [Laughs]
Kress: No, I draw the line.
Mosley: Nothing. Happy? He wouldn't let me have any of the names at all. [Laughs]
Kress: Very uncomfortable.
Season 2 of "iCarly" is available to stream beginning Friday, April 8, exclusively on Paramount+.