The Unexpected Gift Kate Middleton And Prince William Just Received From Tom Cruise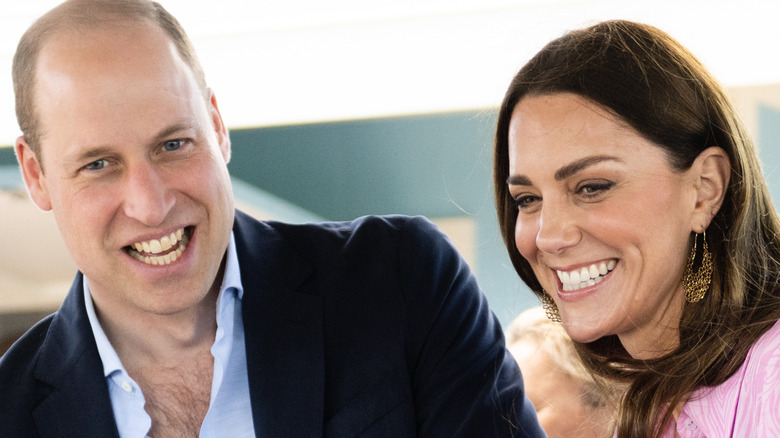 Samir Hussein/Getty Images
Prince William and Kate Middleton have had a busy year. After cutting their in-person engagements in half in 2021, the couple has been on the move in the new year. They have most recently traveled to the Caribbean to celebrate the Queen's Platinum Jubilee, which ended up being a heavy trip. Their visit to Belize, Jamaica, and the Bahamas was met with protests of people wanting to remove the Queen as Head of State. Prince William even made a statement about how they were "overwhelmed with remorse" after the trip, per Express UK. Thankfully, the royal couple received a gift from Tom Cruise when they got home that reportedly put them in a pretty good mood.
Nothing like a gift to lift spirits. To start, the royal family is allowed to receive gifts, but there are some exceptions. "The fundamental principle governing the acceptance of gifts by Members of The Royal Family is that no gifts, including hospitality or services, should be accepted which would, or might appear to, place the Member of The Royal Family under any obligation to the donor," according to Royal UK. 
Whether you're gifting the royal some freshly picked flowers on tour or splurging, the royal family is allowed to accept. And accept they did when it came to Cruise's gracious gift. When you hear what the actor gave the royals, you'll wish you had friends in higher places. 
Tom Cruise gifted the royal family an early movie premiere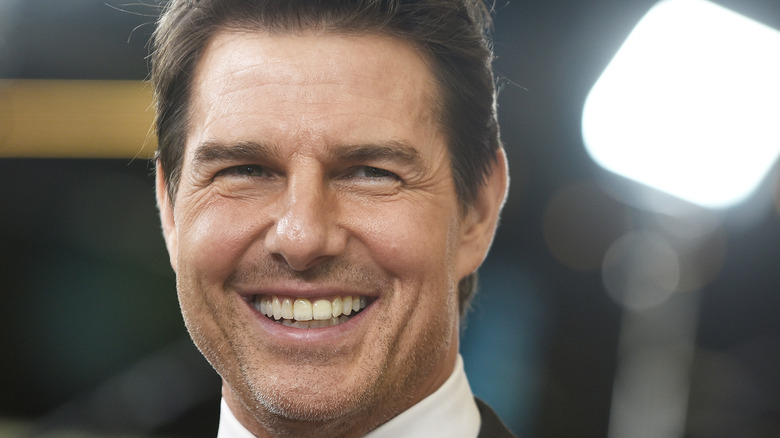 Shannon Finney/Getty Images
Just hearing that Tom Cruise gifted something to Prince William already makes you realize that it's going to be big. According to Daily Mail UK, Cruise gifted Prince William an early showing of "Top Gun: Maverick." The movie, which doesn't even come out until the end of May, was screened at the IMAX screen in London's Leicester Square for Prince William and his family. Because nothing says A-list like a surprise premiere in your honor from the movie's main character.
"The rest of the cinema was shut to ensure privacy and William, Kate and a few other members of the royal family — plus a couple of very trusted friends — were the first to see it," an insider tells Daily Mail UK. According to the publication, Prince William, Kate Middleton, Princess Eugenie, and Princess Beatrice were among the move goers. 
And, of course, Cruise was there himself to greet the family and welcome them in. The actor didn't end up staying to watch the film with them though. 
Prince William has personal ties to the movie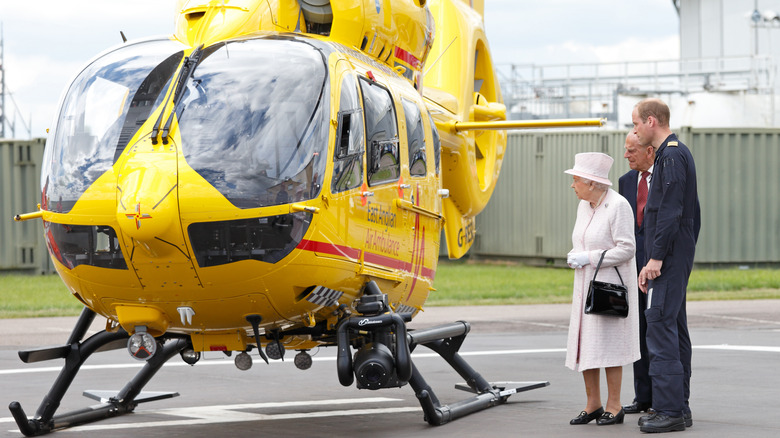 Max Mumby/indigo/Getty Images
If you're thinking that "Top Gun" and Prince William don't have a lot in common, think again. Prince William is actually a trained helicopter pilot and served in the Royal Air Force. It's not exactly the same as a fighter plane, but a pilot is a pilot. It's also makes a lot of sense why the royal pilot would be interested in seeing the movies. 
In case you're not familiar with your air facts, Tom Cruise is also a trained pilot. So while it might not seem like these two have a lot in common on paper, they're really two of the same. The whole premiere thing should make a lot more sense now.
The royals weren't the only ones excited to see the premiere. Apparently, the actor was just as excited for them. "Tom welcomed them and said he hoped they'd enjoy watching it as much as he'd enjoyed making it, and left them to it," the insider tells Daily Mail UK. 
If you're not royal, you'll have to wait to see the movie. "Top Gun: Maverick" premieres May 27 for all of us regular people.