The Success Of Donald Trump's Social Media Platform Isn't What You Think It Is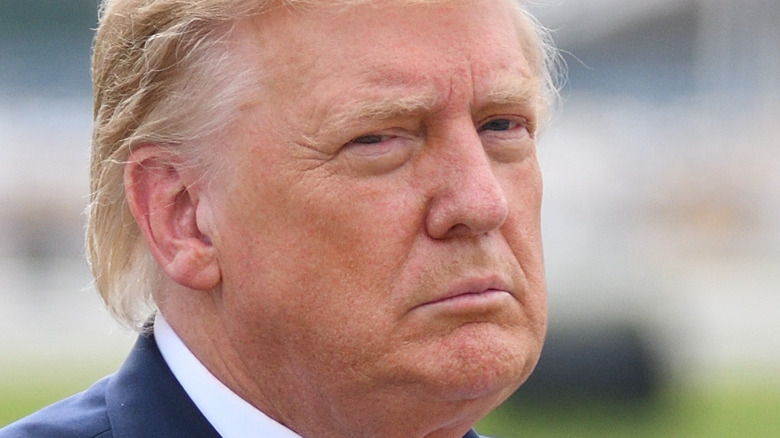 Evan El-Amin/Shutterstock
If there was a word for something going the opposite of viral, it would be the perfect descriptor for former president Donald Trump's social media platform, Truth Social. But that's not what Trump wants you to think.
The Twitter knock-off was created in part because Trump has been banned from mainstream social media platforms like Facebook, YouTube, and Twitter following the January 6 insurrection. The then-acting president was found to have been adding fuel to a growing fire, spurring on protestors. As a result of the events that day, three police officers died, including one Capitol Police officer, Brian D. Sicknick, who was attacked by rioters. The first responder deaths were the result of suicide, per The New York Times.
Trump's outrage about the January 6 events wasn't over the fact that rioters storming the U.S. Capitol building in his name killed a police officer, though. When announcing his new social media platform, the former president said: "We live in a world where the Taliban has a huge presence on Twitter, yet your favorite American president has been silenced. This is unacceptable", per The Guardian. Truth Social was supposed to be Trump's way of defeating what he calls "Big Tech."
But since Truth Social launched on February 21, 2022, the platform has done little to pull in users, let alone take them away from Twitter and Facebook.
Why people can't sign up for Donald Trump's social media platform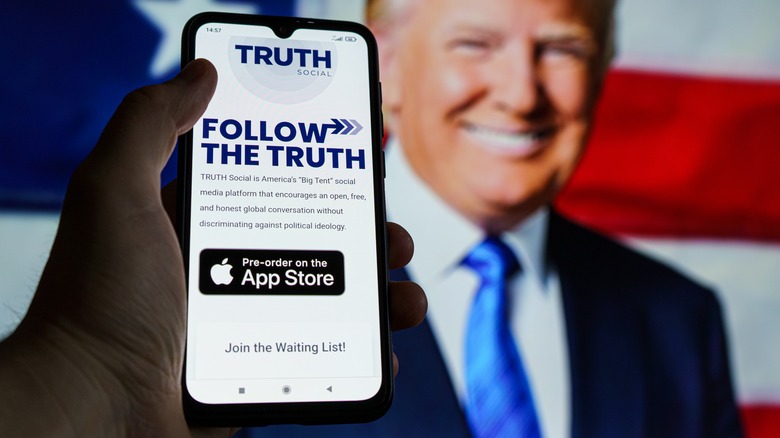 Rokas Tenys/Shutterstock
When Truth Social debuted in the Apple Store, it took the number one spot of downloaded apps, reports Business Insider. But downloads, as well the amount of time users spend on the app, have been trending down since its launch. The social platform's failure is partly due to the fact that, unlike Twitter and Facebook, you have to use an app to access Truth Social. With the app only being available in the Apple App Store, and not also in Google Play's app store, only people with iPhones are able to download Truth Social. 
Even if you're able to download Truth Social, there's a waitlist. According to Politico, The Guardian, and Business Insider, attempts were made to create accounts on Truth Social the day it launched. It's only been recently, over a month later, that people were able to create accounts.
Those who can access Truth Social aren't really using the app either. According to Daily Beast, while there were over 2 million visits to the Truth Social social media platform — which only has a link to download the app — when it first debuted, now only averages 300,000 visits a day. According to Business Insider, the content being shared on the platform isn't original either. You'll mainly find bots advertising cryptocurrency and RSS feeds that auto-post on accounts more than you'll find actual discourse.
Why Truth Social, Donald Trump's social media platform, is failing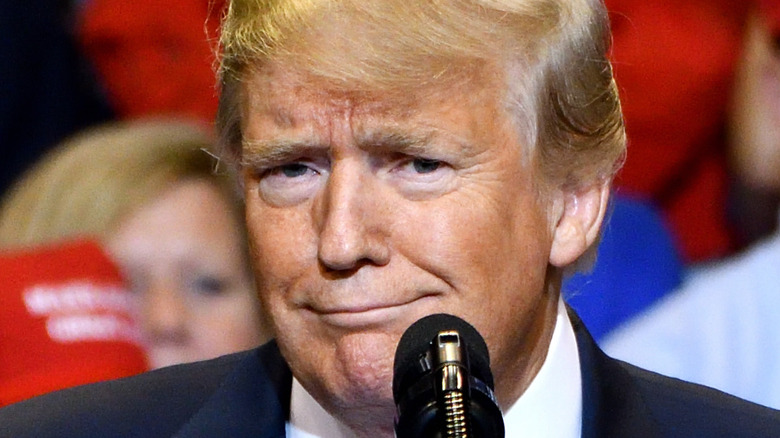 Evan El-Amin/Shutterstock
Sources told Daily Beast former President Donald Trump is anything but happy. Not only is bad press getting to him, he also can't understand why Truth Social is not beating the competition.
One problem is that not even prominent conservatives you'd expect to flock to something Trump-made have profiles — you won't find Alex Jones or Tucker Carlson on Truth Social, at least not at the time of publication of this article. Another problem is with users like Marjorie Taylor Greene and Kevin McCarthy who are cross-posting the same thing on Truth Social, Twitter, Gettr, and Parler — other "safe spaces" for conservatives, per The Guardian. There isn't any incentive right now for users to make the switch: Why sign up for yet another social app if you're not going to be getting any new content?
Content creators, whether they're lawmakers or news anchors, won't find the audience they're looking for on Truth Social, either — at least not right now. With such low usage, the likes of Greene and Gaetz still need to use the other platforms. As The Guardian reports, you can't even share posts from the app with other people. Instead, you get an error message.
Perhaps another part of Truth Social's problem is that its own creator doesn't even use it. Since its launch, Business Insider reports Trump has only posted one "truth" to the platform: "Get ready! Your favorite President will see you soon!" They're still waiting.