Fans Have A Ball With Justin Bieber's Leather Grammys Pants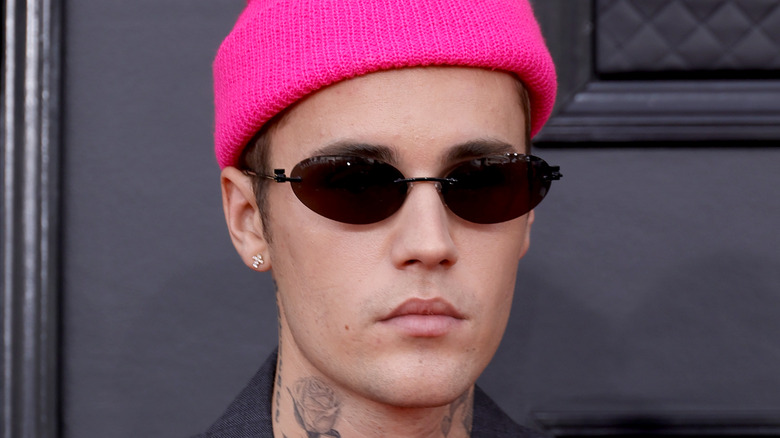 Frazer Harrison/Getty Images
"Peaches" is one of the most memorable songs from this past year. Its artist, Justin Bieber, sang the catchy tune on Sunday night's Grammys. But what everyone seems to remember from the performance is the star's attire — specifically, a pair of leather pants he chose for the number (via Page Six). Oh, the pants, and the fact that according to Rolling Stone, Bieber's rendition of "Peaches" had to be heavily censored.
But back to those buzzy leather pants. On Twitter, the singer's attire prompted fans to have a bit of much-needed fun following the super serious aftermath of the Oscars, which saw Will Smith slapping Chris Rock for a joke. Most of the comments were good-natured, with one hilarious meme comparing Bieber's leather pants to the infamous pair Ross Geller wore in "Friends" and then couldn't get back on after he attempted to let his legs breathe on a date.
Another Twitter user shared a gif of Vice President Kamala Harris waving along with the caption, "Justin Bieber in leather pants is what this country needed. Amen."
Luckily, social media was just getting started having its fun with Bieber's pants.
Justin Bieber's leather pants really got people talking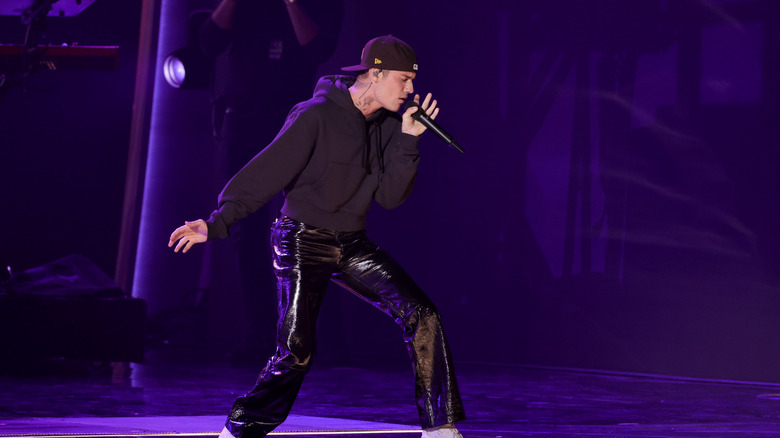 Matt Winkelmeyer/Getty Images
Comedian Corinne Fisher jumped aboard the Justin Bieber leather pants train and shared her wish for the nation, tweeting Sunday night, "I hope more men start wearing pleather pants. Thank you, Justin Bieber. You continue to bless us."
To be fair, not everyone was feeling the vibe of the star's attire, with one person expressing a sentiment oft repeated online after "Peaches": "Why is Justin Bieber wearing a hoodie, tight leather pants & a baseball hat for his grammys performance?"
Meanwhile, a lot of tweets obsessed over the appearance of Bieber's rear end in the pants. Twitter as a whole seemed to feel that it was the singer's butt that stole the show in Las Vegas.
Bieber's wife Hailey also made waves at the Grammys for her less-is-more approach to fashion. Just weeks after her health scare, the model appeared by her husband's side and managed to make our list of the most-talked-about looks of the night.