Olivia Rodrigo Experiences Hilarious Mishap At The Grammys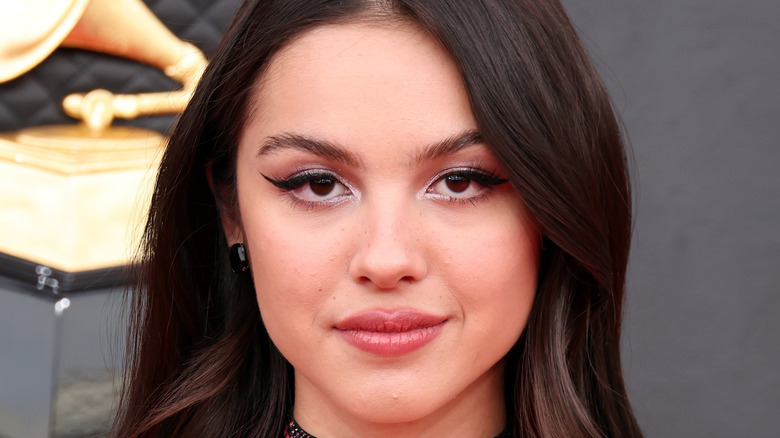 Amy Sussman/Getty Images
In 2021, Olivia Rodrigo officially took up the gauntlet for superstar teen singing sensation, a role most recently filled by the likes of 2020's Best New Artist-winner Billie Eilish, a 16-year-old Lorde before her, and of course, the inimitable Taylor Swift during her rise to fame. In early 2022, Rodrigo took to Instagram to celebrate the one-year mark for the single that started our collective Livy Rod craze, "Driver's License," which debuted at No. 1 on the Billboard Top 100 and kept its coveted spot for an impressive eight weeks, per Billboard. In addition, the singer's debut album "Sour," which was released in May 2021, was also No. 1 on the Billboard 200 for an unprecedented five weeks. Needless to say, the rookie singer-songwriter had officially struck gold on her first try.
At the 64th Annual Grammy Awards, "Driver's License" was nominated for Record of the Year, Song of the Year, and Best Pop Solo Performance (which Rodrigo won), while her song "Good 4 U" gained a nomination for Best Music Video. Though "Sour" was nominated for Album of the Year, the award went to "We Are" by Jon Batiste. However, Rodrigo snagged Best Pop Vocal Album, beating out heavy-hitters Ariana Grande, Justin Bieber, Doja Cat, and Billie Eilish, per The Recording Academy. The young singer also won the coveted Best New Artist Grammy, which has gone to singers including Megan Thee Stallion, John Legend, Adele, and Amy Winehouse (via TheWrap).
She had an incredible night despite the faux pas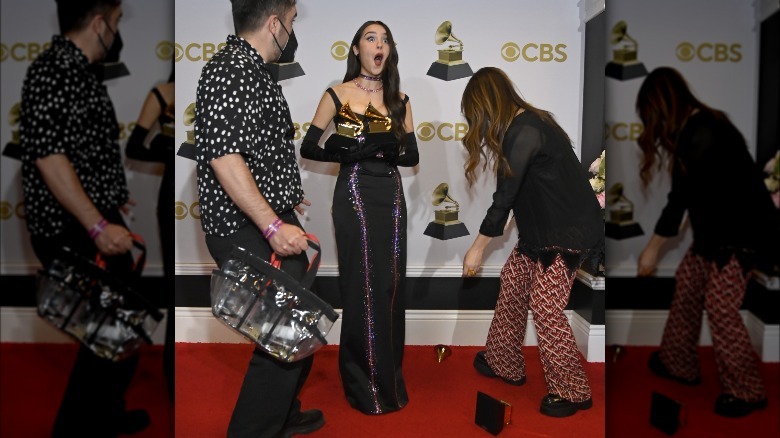 David Becker/Getty Images
The teen pop sensation has had the world in the palm of her hand since the January 2021 release of her hit single "Driver's License," but it looks like Olivia Rodrigo may still need to work on her grip. The singer headed to the Grammy press room with her impressive three record-player trophies — however, as she posed for photos and answered questions, she accidentally let one of her Grammys fall to the floor, and it split in two on impact, per TMZ. The singer was clearly shocked and embarrassed, but all was not lost since the Recording Academy would send her real engraved Grammys in the mail. Plus, snagging seven Grammy nominations for your first-ever album — and winning three — is certainly nothing to be embarrassed about.
Even with her hilarious fumble, Rodrigo seemed to have an incredible night. Before heading into the Grammy Awards ceremony, she stayed humble when asked about her seven nominations, telling ET, "If I won one, that would just be something I couldn't even fathom." But, she also added, "I'm just, like, genuinely so excited just to be here and to watch all of the performers." Her wishes came true, with big wins in three categories, getting to chat up a member of the iconic K-pop group, BTS, catch Chris Stapleton's unreal performance, and watch a powerful tribute performance for the people of Ukraine.
Olivia Rodrigo accidentally repeated history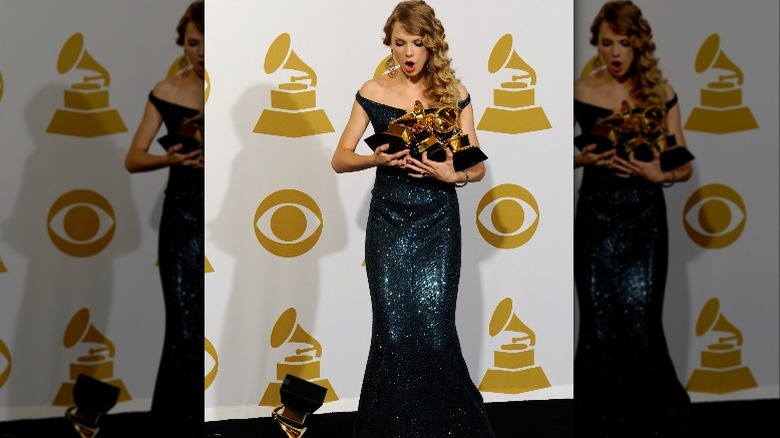 Kevork Djansezian/Getty Images
The image of Olivia Rodrigo dropping her Grammy Award looked familiar to fans, reminding them of Taylor Swift fumbling her four awards back in 2010. This parallel is both funny and sweet, considering Rodrigo's admitted admiration of the prolific singer-songwriter. Swift and Rodrigo have even had an ongoing relationship that started with Rodrigo's release of "Driver's License" — Swift reached out to congratulate the young singer via a handwritten letter, according to Rodrigo's 2021 interview for her Billboard cover story.
"I don't want to divulge too much because it's really sweet and personal," Rodrigo told the outlet about the letter. "But she talks a lot about how, I think, you make your own luck in the world."
Rodrigo has since derived inspiration from specific Swift songs like "Cruel Summer," which informed the bridge of "deja vu," and the soft piano intro of "New Year's Day," which resembles "1 step forward, 3 steps back," per Rolling Stone. She credited Swift on both "Sour" tracks as "non-collaborative," but could this foreshadow a future musical collaboration between the pop stars? We sure hope so.