If You're A Scorpio, This Nail Art Trend Is A Must For You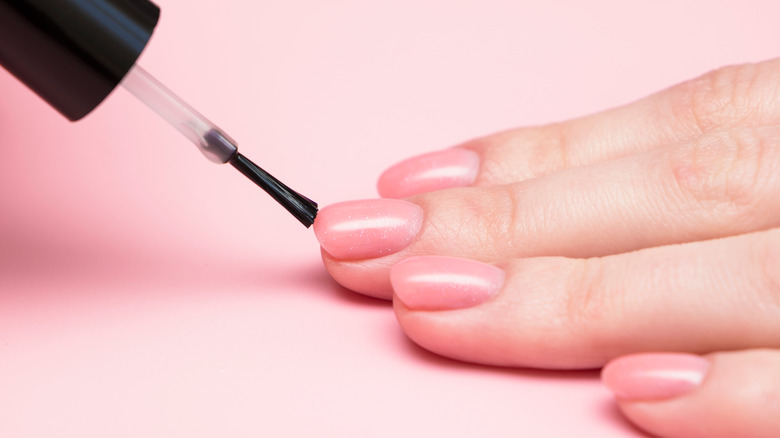 Lashchuk/Shutterstock
Anyone who's ever had a relationship with a Scorpio probably already knows how intriguing and intense this sign can be. According to Allure, people belonging to this water sign were born between October 23 and November 21 and are notoriously passionate and sexual. While they're known for being controlling at times, they're also caring, deep thinkers who crave real connections despite their dark sides.
Analyzing your sign's most prominent characteristics can help you learn a lot about yourself, like the types of songs you'll enjoy listening to, or which types of clothing will best reflect your unique personality – Glamour noted that Scorpios typically wear neutrals instead of colors and tend to be more comfortable than other signs when it comes to baring some skin. 
That doesn't mean they always play it safe, though, and nail art is one place Scorpios might express their more wild side. Are you looking for a new nail art trend to complement your hottest outfits? We know the best manicure option for fierce Scorpios.
Animal print nails scream Scorpio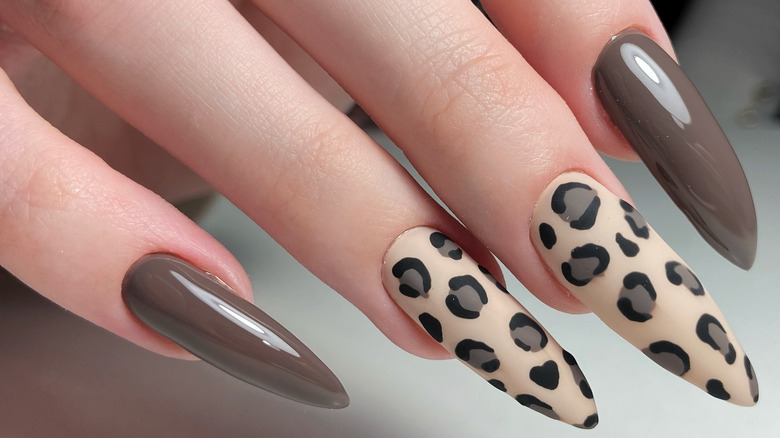 Tigra09/Shutterstock
Co-Star Astrology explained that Scorpios are brave and have a competitive, power-hungry attitude. Like a cheetah stalking its prey, Scorpios can be ruthless when going after what they want. That intense, animalistic outlook on life can be perfectly reflected with an edgy animal print nail design.
According to PopSugar, animal print manicures are wild yet still somewhat traditional, making them perfect for Scorpios; this sign is adventurous but typically wouldn't like to draw too much attention to themselves as they often avoid opening up. On Instagram, you can find multiple variations of animal print nails, such as zebra print, cheetah print, and cow print. And if a full animal print nail is too much for you, you could always opt for animal print tips, instead.
As if you needed another reason to try this trend, celebrity nail artist Lisa Kon did an animal print manicure for the one and only Kendall Jenner, who happens to be a Scorpio (via Refinery29).
How to nail the animal print nail art trend
While you can get a trendy animal print-inspired manicure at your local salon, some driven Scorpios may want to try to do it themselves, as they're known for their ambition (per YourTango). 
A YouTube video by Paulina's Passions explains how to apply a leopard design to your nails. First, put on a gel nail polish in the color you want for the base. Next, using a nail art tool, carefully apply multiple spots of another color on top for the animal print design. Then, use a thin nail polish brush to outline those spots in black and more tiny black details on the nail. After that, all you have to do is apply a nail polish topcoat, and you're done. 
Other animal prints are just as easy, and this YouTube video from Miss Jo's Nail Co. shows you how to detail everything from cow prints to a tortoiseshell pattern on your nails, all from the comfort of your own home.