The Startling Confession Tyler Perry Once Made About His Madea Franchise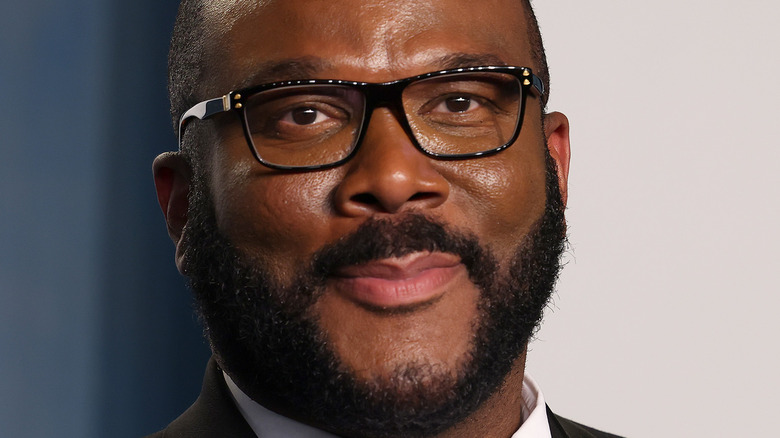 John Shearer/Getty Images
Tyler Perry grew up poor, even living in his car at one point, but the actor, writer, director, producer, and studio owner has become a Hollywood success story over the years. And Perry's net worth is higher than you might think.
Forbes estimates that there are 2,755 billionaires in the world. According to Essence, just 15 of them are Black, which puts self-made billionaire Perry into an extremely exclusive group alongside the likes of Oprah Winfrey, Kanye West, Rihanna, Michael Jordan, and Jay-Z.
The bulk of that fortune is thanks to Perry's Madea movies, in which he plays the title role of the tough, gun-toting grandmother who tells it like it is. In an interview with NPR, Perry explained that the character paid homage to both his mother and his aunt, and he described Madea's essence: "She would beat the hell out of you but make sure the ambulance got there in time to make sure they could set your arm back."
Given the obvious love and affection baked into the character — not to mention the fact that Madea is largely responsible for Perry's entertainment empire — his feelings about actually playing the character may come as a surprise.
Tyler Perry didn't like playing the role of Madea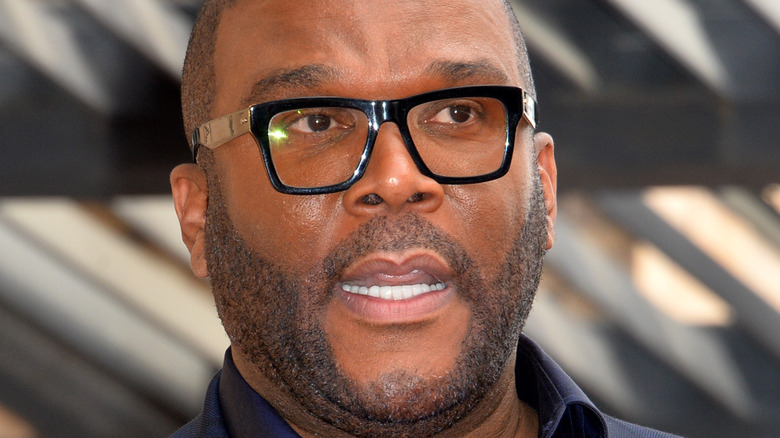 Featureflash Photo Agency/Shutterstock
Tyler Perry toured the country in 2019 and 2020 in what was billed as a farewell show for Madea. In an interview with Level near the end of the tour, he was asked if he missed the much-beloved character. The star answered with a blunt no.
When the interviewer expressed incredulity, Perry insisted, "My hand to God. I hated the costume, the wig, all of it."
Perry was then asked how he felt about Madea at the beginning of his career. "I was scared to death! I watched Eddie Murphy and how he did his female characters. I said I'll try it once and that's it," Perry said. "And it ended up being a $2 billion franchise."
It was far from the first time he'd complained about the iconic character that launched his career. In a 2011 interview with Creative Loafing, Perry talked about how much he disliked transforming into Madea: "Being in Georgia in a fat suit, and wig and makeup, in the middle of summer? The physicality of it is no fun."
The actor keeps trying to retire her
In 2019, Tyler Perry tried to bid farewell to Madea, the character that first made him famous. In a 2018 interview on the SiriusXM show "Bevelations," he told host Bevy Smith that he was done with the old lady. "I'm tired, man, I'm tired," he said about playing the role.
He then informed Smith that 2019's "A Madea Family Funeral" would be the last Madea movie ever. "We just gonna say goodbye in '19," he said. "I just don't wanna be her age playing her."
After the movie was released, however, he did an about-face: Perry brought his iconic character out of retirement. He shared the news via a video on Instagram, slipping in and out of Madea's distinctive voice during the announcement. He stated: "Madea's coming to Netflix!" In February 2022, "A Madea Homecoming" premiered on the streaming platform.
Despite his many comments to the contrary, Perry still isn't quite finished with the character. A prequel series called "Mabel" is in the works at Showtime, which follows Madea in her 20s (per ET). It will be the first time that the role has been performed by anyone other than Perry himself. 
Perhaps he'll grow fond of the character once again after leaving the fat suit behind.