Savannah Chrisley's Latest Photo With Her Mom Is Turning Heads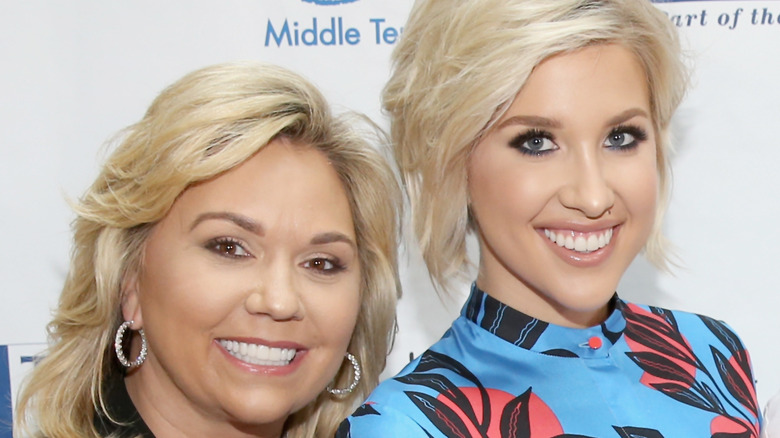 Terry Wyatt/Getty Images
The Chrisley family shot to fame when their reality show "Chrisley Knows Best" first premiered in 2014. The reality series follows the lives of Todd Chrisley and his wife, Julie, along with their children. The show is so successful that two of the Chrisley children got their own spin-off series in 2019 — "Growing Up Chrisley."
The spin-off follows Chase and Savannah Chrisley as they navigate adulthood away from their parents. Along with being a reality star, Savannah has her own beauty brand, Sassy by Savannah Chrisley, as well. She is also no stranger to hitting the gym and trying new workouts. If you follow her on Instagram, you may even see a few workout posts from time to time.
It turns out that when it comes to getting into shape, the Chrisleys really do know best. However, Savannah is not the only one in the family who loves to workout. The reality TV star recently posted a photo with her mom on Instagram, and it has people talking for all the right reasons. 
Instagram is obsessed with Julie Chrisley's health journey
Getting into shape apparently runs in this reality show family as Savannah Chrisley shared a photo of her and her mom, Julie Chrisley, wearing workout clothes and looking incredible on Instagram. We're not sure which of the two inspired the other's heath journey, but it is seriously paying off. While Julie Chrisley might not be actively posting about hitting the gym online, there is a secret to her weight loss success.
"Chrisleys Knows Best" is, well, your typical reality show. On screen, the mom of three and alleged Miss South Carolina is just that — a supportive mom. However, off screen she is a weight loss machine and her daughter knows it. In Savannah's post on Instagram of her standing next to her mom, the two sport all-black workout clothes, looking like full-blown Instagram fitness models. In fact, Savannah posted the photo just to brag about how great her mom looks. "Can we talk about how AMAZING my mama looks," the Instagram caption reads. If that's not the best hype-daughter you've ever seen, you're lying.
On top of it being the most adorable mom-centered post, the rest of Instagram is agreeing as well. "You both are absolutely BEAUTIFUL," one comment reads. Another says, "Looking strong and confident (both of you!!!)." Honestly, these people are not wrong. 
Julie Chrisley's secret to success is Nutrisystem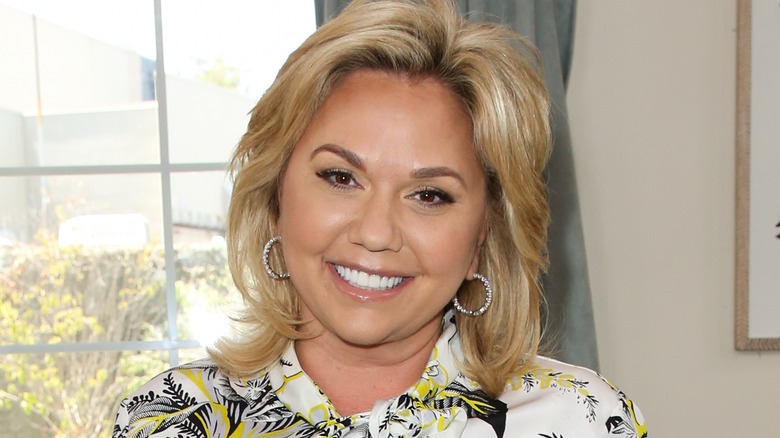 Paul Archuleta/Getty Images
Just like Savannah Chrisley's secret to looking great is told in all her Instagram gym posts, Julie Chrisley's sharing hers on social media as well. According to a string of Instagram posts, Julie mentioned she is using Nutrisystem to hit her weight loss goal. Of course, it is worth noting that these are marked as paid posts, so be cautious of what you believe. Either way, you can tell that Julie is feeling great with her new system for success and is vocal about it.
"Todd and I are on the Partner Plan with Nutrisystem," Julie tells Us Weekly. "I have been a partner with Nutrisystem for several years now, and I am down officially 30 pounds. It has been something that has taken time. It has truly been a lifestyle change for me because I love to cook and I love to eat. But Nutrisystem fit into that lifestyle for me because the food's great and because it works and because it's easy and it's convenient. When Todd saw the results that I was getting, he decided to join the partner plan with me."
While you should take everything you see on social media — and reality television — with a grain of salt, it is nice to see the family supporting each other.