The Real Reason Will Smith Didn't Get Arrested At The Oscars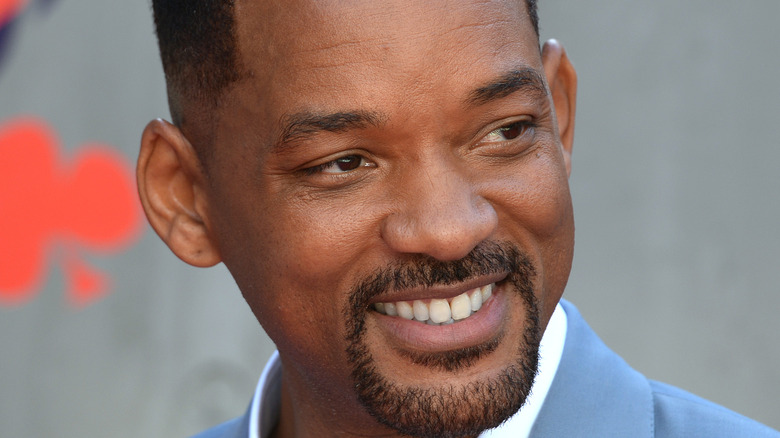 Anthony Harvey/Getty Images
Hollywood continues tying itself in knots over what happened at the 2022 Oscars. As Deadline details, everybody — A to Z-listers alike — has seemingly weighed in on whether Will Smith was right to slap Chris Rock, if he was truly defending his wife, Jada Pinkett Smith, and even if the actor deserves to be harshly punished for his behavior. Not everybody is concerned with the particulars of the shocking incident, though. 
Director Michael Bay had harsh words for Hollywood following the slap, reasoning there are more important things to worry about, including the ongoing crisis in Ukraine. There was such massive backlash to the incident that The Academy immediately launched an investigation into it, leading Smith to resign from their ranks. There's also an ongoing discussion over whether The Academy will take back Smith's Oscar. 
Amidst all the noise, though, questions remain about whether the actor's conduct was criminal. And, if so, why wasn't Smith arrested at the event itself?
LAPD were prepared to arrest Will Smith for slapping Chris Rock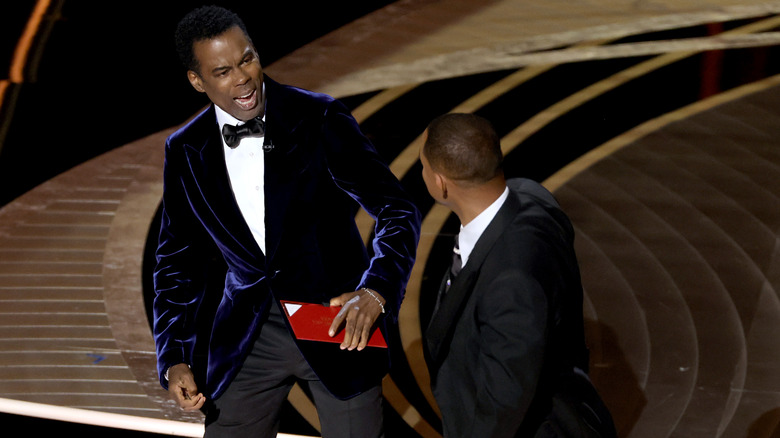 Neilson Barnard/Getty Images
The Los Angeles police department was poised and ready to take Will Smith downtown after he slapped Chris Rock live onstage at the 94th Academy Awards. However, according to producer Will Packer, who was being interviewed on "Good Morning America" at the time, they couldn't move forward because the comedian opted not to pursue charges against him. LAPD considered Smith's actions battery. According to Packer, "They said, we will go get him. We are prepared. We're prepared to get him right now."
Smith reacted violently after Rock made fun of his wife, Jada Pinkett Smith's, bald head — a result of her widely-known battle with alopecia — while presenting the award for best documentary feature. He later apologized for his behavior while accepting the best actor award, for "King Richard." According to Packer, Rock was adamant that the situation didn't escalate any further, insisting he was fine and that he didn't want Smith removed.
In a statement provided to Variety, LAPD confirmed they were aware of the incident in question, but noted Rock opted not to pursue charges. He can do so in future, if the comedian changes his mind. However, the real reason the cops didn't move on Smith is a lot simpler.
Why was Will Smith not arrested at the 2022 Oscars?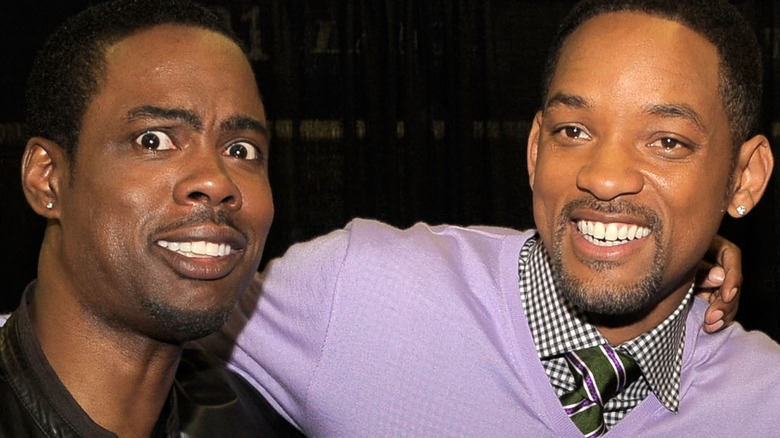 Charley Gallay/kca2010/Getty Images
TMZ reports that, aside from Chris Rock not wanting to pursue the incident any further, LAPD were unable to arrest Will Smith because the lone officer who was patrolling the auditorium at the time didn't actually see what happened. For a misdemeanor battery charge, the cop in question would've had to personally witness the slap. The officer heard what happened and rushed to Rock's dressing room to see how he wanted to proceed. As we know, the comedian refused to take it further. However, LAPD sources claim it wasn't up to Rock whether Smith was removed from the event, as producer Will Packer previously claimed. 
A bystander could've made a citizen's arrest on the night, alongside one of the attending officers, but nobody did. Several people contacted the police department after the fact, demanding Smith's arrest, but because they weren't there to witness the event, nothing could be done. According to Deadline, if Rock had chosen to file a police report, leading Smith to be charged with assault, he could've faced up to six months in prison alongside a sizable fine of up to $100,000.
The "King Richard" star apologized unequivocally to the comedian in an Instagram post, acknowledging violence is never the answer. Rock briefly opened up about the Oscars outburst for the first time during a recent stand-up show, but acknowledged he was still working through it.