Here's What Lip Sync Assassin Means On RuPaul's Drag Race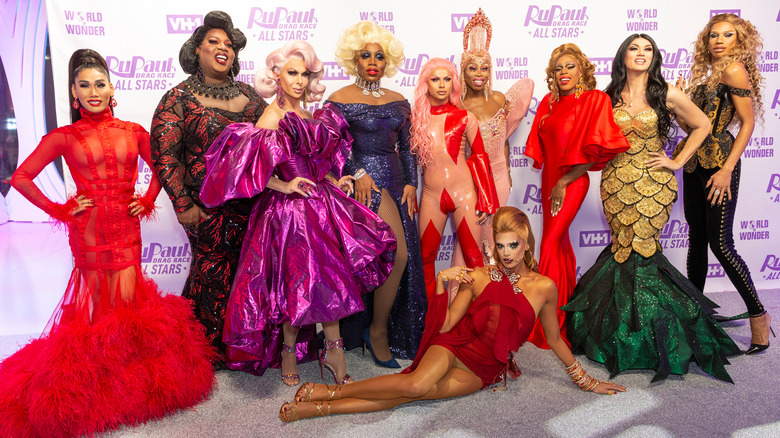 lev radin/Shutterstock
Lip sync battles are a crucial component of "RuPaul's Drag Race." The best lip syncs in the show's esteemed history run the gamut from forcing lovers to face off against each other to utilizing various props to leave our jaws on the floor, and even just selling the hell out of an emotionally raw ballad. In contrast, the worst lip syncs on "Drag Race" thus far are typically dull, uninventive, or, in Valentina's case, involve one of the queens in question not knowing the words — in her defense, at least Valentina inspired an iconic meme. 
No matter which variation of the show you're watching, each episode is guaranteed to end with a dramatic lip sync face-off. And, more often than not, the moment is more than worth waiting for. If you've been watching "Drag Race" for a while, you've likely heard of a "lip sync assassin." In fact, when "All Stars 5" rolled around, host RuPaul Charles pulled the rug out from under us by announcing that an assassin would face off against the top queen each week, as ET reported at the time. But what does the term actually mean?
Contestants don't stand a chance against lip sync assassins
As Screen Rant notes, lip sync assassins are "Drag Race" contestants who slay the titular challenge each and every time they take part. Recent examples include Brooke Lynn Hytes and Yvie Oddly, who did such a good job tackling Demi Lovato's "Sorry Not Sorry" in Season 11 that RuPaul opted to keep them both. Likewise, Season 5's Roxxxy Andrews emphasized the importance of "ru-veals" during lip syncs by removing her wig to expose another unit underneath it, while fighting for her life against the iconic Alyssa Edwards. 
Speaking of whom, Edwards' face-off against frenemy Coco Montrese during the same season is also considered one of the best in "Drag Race" herstory. According to Decider, based purely on track record, Trinity the Tuck, who announced some major life news, is the all-time greatest lip sync assassin. However, nobody compares to Laganja Estranja for pure gaggery. Her "All Stars 6" entrance, as the week's mystery lip sync assassin, left everybody noticeably shook — including RuPaul herself (via Twitter). 
There's debate over what constitutes a lip sync assassin on Drag Race
Lip sync assassins come in many forms. Some are obvious from the outset, like Season 12's fan fave Heidi 'N' Closet, per the Gay Times, while others don't emerge until the end of the season, like Sasha Velour. The bald beauty ultimately won Season 9 after managing not to fall into the bottom for the entire season. Her finale lip sync involved removing a wig to unleash a cascade of rose petals, sealing the deal and sending Shea Couleé packing. 
In an interview with W magazine, Velour explained, "I wanted an element to the performance with a 'Wow' factor." She brainstormed the big "ru-veal" just one day beforehand and quickly acquired a bunch of fake petals. Velour only had one opportunity to practice, but she knew it was the right move, arguing, "The song ['So Emotional' by Whitney Houston] is all about love in excess and I thought the explosion of rose petals really captured that." 
However, there are plenty of "Drag Race" fans who believe the term lip sync assassin is overused. A Reddit post argued that it shouldn't just be about winning a lip sync, but about doing so in a memorable way. There's concern over queens who survive a few lip syncs in a row being referred to as assassins when, really, there was nothing gag-worthy about their performances — they just did better than the other competitors.