Meghan Markle Steps Down From Position After The Loss Of A Close Friend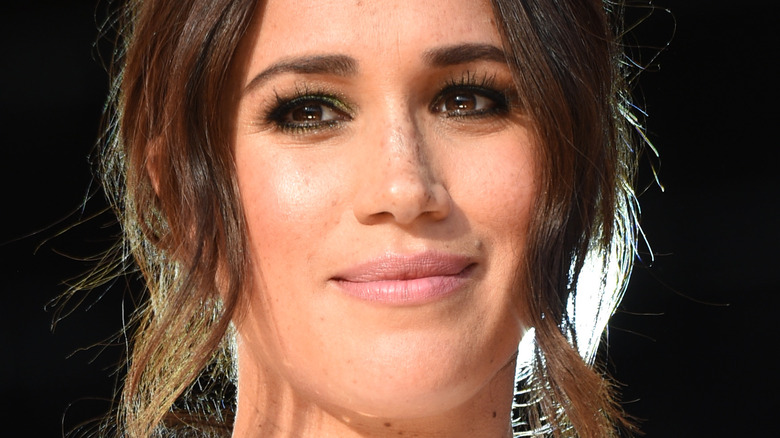 Kevin Mazur/Getty Images
It's no secret that there are perks to being royal. Not only do you get added to the family payroll and sometimes handed a house on royal grounds (via Insider), but you also get to choose charities to work with closely. At the beginning of her role as Duchess of Sussex, Meghan Markle picked four charities as part of her royal patronage (via Town & Country).
Unfortunately, when you give up your status as a royal, those perks get taken away. In 2020, Meghan and Prince Harry decided to leave the royal family. After a long court case against the British media, the two decided that they could no longer bear living so significantly in the public eye. 
They instead decided to go to Vancouver Island in Canada before making Montecito, California, their home, where they now live with son Archie and daughter Lilibet Diana. On March 31, 2021, the once-royal couple was given a one-year transitional period to wrap up their royal affairs, according to People.
It has officially been a year since the couple decided to leave the family, which has left Meghan having to say goodbye to some of her favorite charities. A huge thing that Meghan and Harry seemed to bond over was their passion for philanthropy. Not just content with throwing money at a problem or putting their name on a building, they enjoy getting their hands dirty and helping on the ground when needed.
Now, Meghan has severed her final tie to her former charities in the U.K. 
Meghan Markle's royal patronage with Mayhew has ended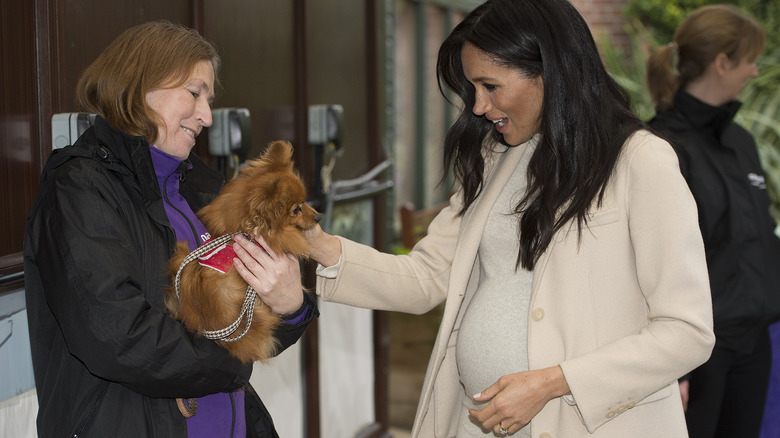 Wpa Pool/Getty Images
Meghan Markle's 2020 departure from the royal family has changed many aspects of her life, including cutting down on her U.K. charity work. The Duchess of Sussex originally chose four charities to share the funds of her royal patronage — the National Theatre, the Association of Commonwealth Universities, Mayhew, and Smart Works (via Town & Country).
As of April 6, 2022, her contributions to Mayhew, an animal welfare charity, have officially ended. "Our Royal Patronage with The Duchess of Sussex came to an end at the beginning of the year. It's been an incredible privilege for Mayhew to have worked closely with Meghan, The Duchess of Sussex, since 2019 when she became our Patron," reads a new statement from Mayhew.
Meghan also shared her sadness about stepping down from the role. "Though my time as patron of Mayhew has come to a close, my unwavering support has not. I encourage each of you to support in whatever way you are able," she said in the same Mayhew statement. "The emotional support of a rescue animal is unparalleled — as you'll soon realize: it is not you who saves them, it is they who save you."
The Daily Mail noted that Camilla Parker Bowles will begin giving money to the National Theatre instead of continuing on with the four charities that Meghan had initially chosen.
She also lost the friend who introduced her to the charity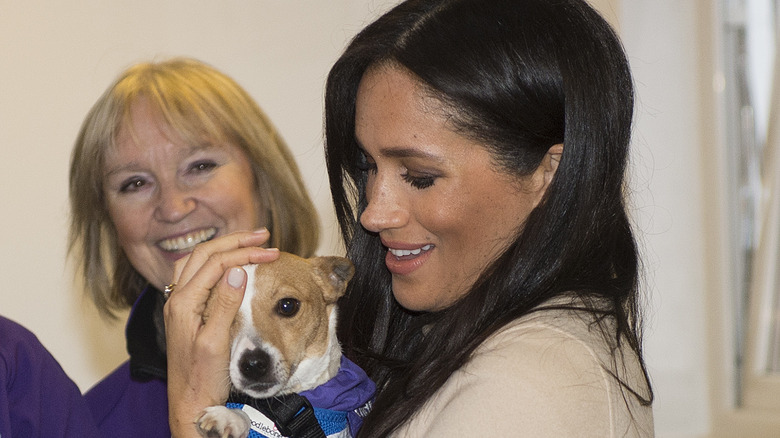 Wpa Pool/Getty Images
Meghan Markle stepping away from the animal charity comes at a heartbreaking time. According to People, her close friend Oli Juste passed away unexpectedly in January 2022, right around the time when Meghan's royal patronage was coming to an end. The moment was particularly shocking considering that Juste, who worked as an animal behavioralist, was the one who introduced Meghan to Mayhew in the first place.
Meghan had a close bond with Juste, as she turned to him and his fiancé, Rob, to look after her injured rescue dog when she first arrived in the U.K. "They loved him as though he was their own," Meghan told People. It was Juste's passion for caring for animals that compelled Meghan to work with Mayhew as part of her royal patronage. 
She is not letting her friend be forgotten, though. "It has left me, and so many others, heartbroken and reflective — knowing that the legacy he leaves for our furry friends is beautifully simple: just love them," the Duchess of Sussex said in a statement on the Mayhew website. 
Meghan noted that the Oli Juste wing at Mayhew will be established in his memory, intended to house animals that have long had trouble being adopted. "Because much like Oli, they will never be forgotten, and they will always be loved," she said.
It's nice to see that, just because her royal reign is over, Meghan isn't completely severing ties with the causes she believes in. This might be the end of her royal patronage, but she's still a philanthropist at heart.