How To Get '70s Hair Like Farrah Fawcett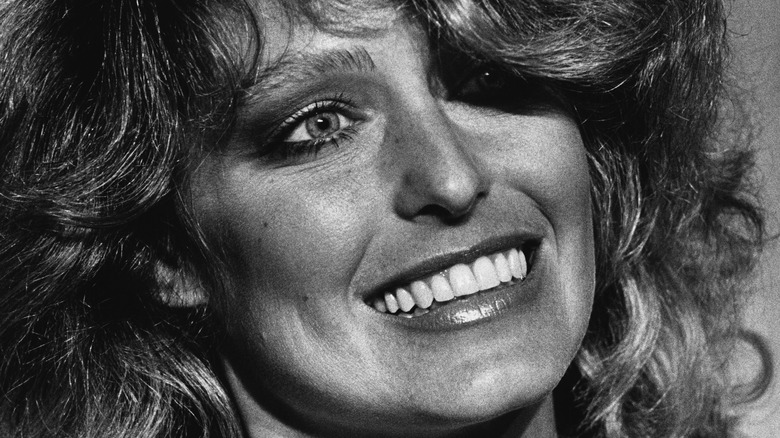 George Rose/Getty Images
The 1970s deserves more credit for what it brought to fashion and beauty industry — bold prints and sky high platforms. Harper's Bazaar called this decade one of the most stylist, and it's easy to see why. '70s fashion trends have had a long shelf life — year after year, the styles from the disco era make a grand resurgence. Today highlights the crotchet crop top and high waist jeans as current style favorites. 
One of the '70s most popular trends can be attributed to Hollywood icon Farrah Fawcett — big hair. Fawcett arguably had the most recognizable hair. Maybe "Mean Girls" was onto something when they equated big hair with secrets. Vogue France dubbed her voluminous curls the "Fawcett flip." 
On top of mesmerizing the world with her impeccable acting and star power, the "Charlie's Angels" actress inspired style lovers with her feathered hairstyle. Beauty lovers know that volume is everything, and '70s hair goes hand in hand with that mantra. Luckily, you can get Fawcett's flawless look using hair products you already have in your bathroom.
Achieve Farrah Fawcett hair icon status with 3 products. That's it.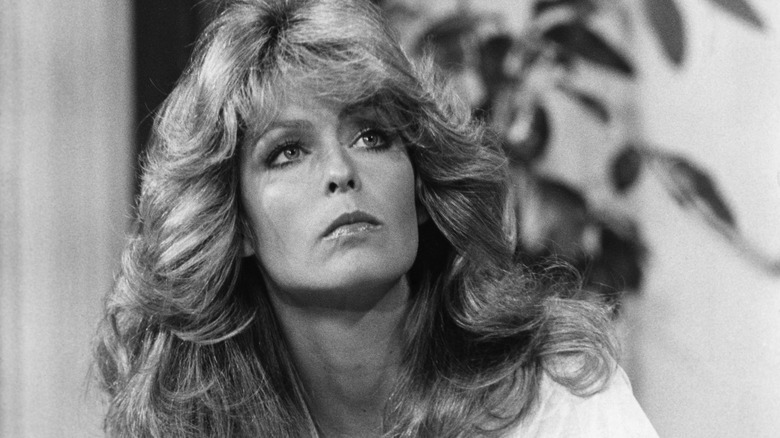 Michael Ochs Archives/Getty Images
Farrah Fawcett attributed her defining look to famous French hairstylist José Eber, per Byrdie. Overnight, TikTok has become a shrine for Fawcett's gorgeous '70s hair. Nostalgia is taking over TikTok's "For You" page, with beauty influencers trying out the legendary hairstyle, per POPSUGAR.
TikTok star Anna Primavera regularly dedicates tutorials to different hair icons. In a March 2021 tutorial, she tackled Fawcett's look using a curling iron and pins. Before you start styling, Byrdie suggests using your favorite mousse so your hair has a better chance of holding the style. 
In the video tutorial, Primavera curls her hair in an outward motion before pinning it in place. Lifestyle blogger Mackenzie Fitz recommends pinning your curls so they hold their shape and last longer. For tousled hair, use your hands to gently loosen your curls and bam — long live the 70s.
The Farrah Flip works on all hair types
Whether your hair is long, short, straight or locked, you can 100% pull off this classic look. TikTok hair vlogger and queen of locs Briana Tisdale is proof of that. Tisdale documented her '70s hair journey in a two-part TikTok series. She tailored the process to fit her natural hair texture and length, and the end result (see above) was equally as gorgeous. 
In Tisdale's first video, she washed her hair with vegan, Black-owned brand Peculiar Root's Apple Cider Vinegar Shampoo and Black Charcoal Conditioner. She then used flexi rods to curl her locs. If you identify as a naturalista and prefer heatless curling options, flexi rods are a great alternative to the curling iron. Per Essence, they last just as long without the heat damage. As she curled her hair, Tisdale applied a mousse to hold everything together.
After letting her hair air dry, the hair vlogger showed off her results in a second TikTok. Tisdale told Allure that she kept her flexi rods in for roughly two days, though she would hold for three days the next time. 
Embrace your inner hair goddess and take this look for a test run.