Chris Rock Makes His Expectations Clear Amid Pressure To Talk About Will Smith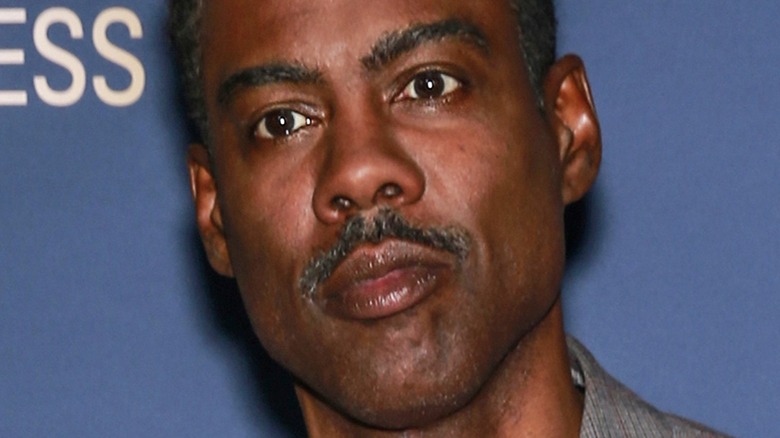 Ovidiu Hrubaru/Shutterstock
Since Will Smith slapped Chris Rock live on the Oscars, we've heard from just about everyone — except Rock. Indeed, the "King Richard" star took to his Instagram to share a public mea culpa for his shocking assault on the comedian, writing in part, "Violence in all of its forms is poisonous and destructive. My behavior at last night's Academy Awards was unacceptable and inexcusable."
Celebrities like Wanda Sykes have also since weighed in. "I just felt so awful for my friend Chris," the event's co-host told Ellen DeGeneres in an interview. She went on to call the incident "sickening," and claimed to feel "ill" and "traumatized" over what happened. Meanwhile, Sykes' co-host Tiffany Haddish's take on the shocking slap surprised many folks. As told People, "When I saw a Black man stand up for his wife. That meant so much to me." She added the smack was "the most beautiful thing" she'd ever witnessed.
At this point, even the Academy of Motion Picture Arts and Sciences has spoken, controversially deciding that a fitting punishment is to ban Smith from attending the ceremony until 2032 (via Today). And still, Rock is staying mum about his take on the epic incident. We may now know why the star has chosen to keep his thoughts to himself.
Chris Rock has taken the high road at every turn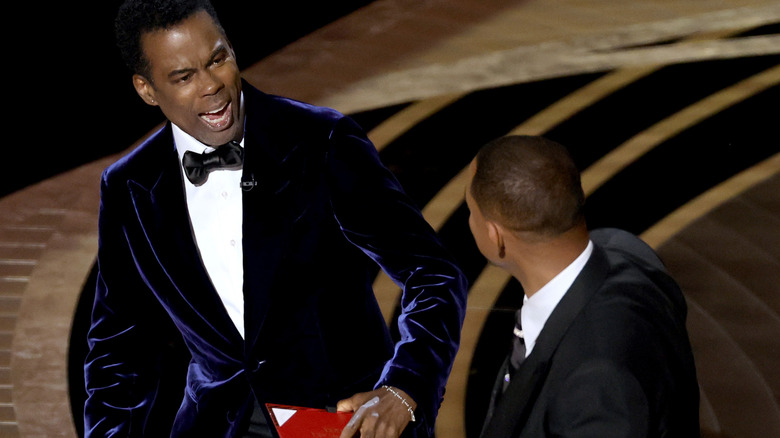 Neilson Barnard/Getty Images
Chris Rock, who was credited with keeping the show going after the unbelievable live assault, has gone so far as to put an end to a fan hating on Will Smith at one of his comedy shows that took place in the weeks following the Oscars (via New York Post). But other than making it clear that he won't be publicly dissing his assaulter, Rock is yet to say anything significant about the slap. The "Grown Ups" star did note at one of his shows that he would talk about it eventually, without being specific.
According to the Desert Sun, Rock told audience members at his Fantasy Springs show Friday that he isn't talking for another reason other than simply taking the high road. "I'm OK, I have a whole show and I'm not talking about that until I get paid. Life is good. I got my hearing back," Rock said during the set, alluding to the idea that he would wait until someone paid him a large sum for an exclusive interview (via TMZ).
TMZ notes there is a chance that Rock is talking about deciding to sue Smith. But in late March, Page Six reported that according to the comedian's friends, going after the "Men in Black" actor for financial compensation over the assault wasn't something he was even considering.