Queen Elizabeth Shares A Heartbreaking Tribute To Philip On The Anniversary Of His Death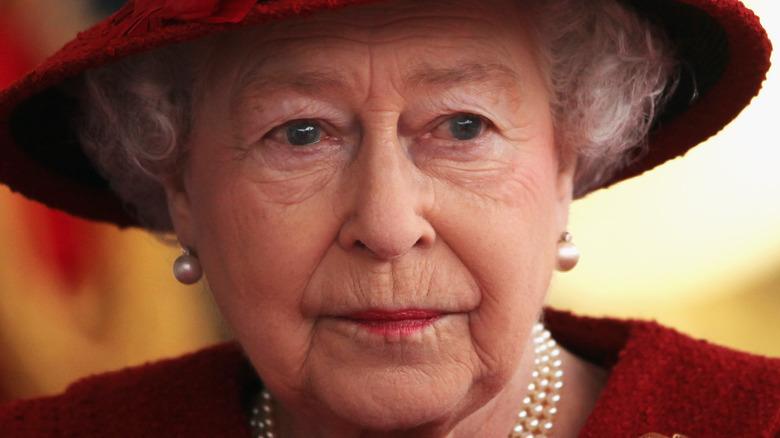 Dan Kitwood/Getty Images
It's always heartbreaking when death parts a loving and long-married couple, but when that couple happens to be the reigning British royals, the impact is felt by millions. It's been a year since the death of Prince Philip, the devoted husband of Queen Elizabeth, and despite her famed stoicism, the past 12 months must have been extremely painful for her. Not only did the prince not live to see Queen Elizabeth's Platinum Jubilee, but he also will never meet his newest great-grandchildren: Prince Harry's daughter Lilibet Diana, Zara Tindall's son Lucas Philip, Princess Eugenie's son August, and Princess Beatrice's daughter Sienna Elizabeth (via Town & Country). 
Normally, the prince's funeral would have had a huge attendance, but due to the pandemic, the roster of mourners was limited to 30 close family members, per CBS News. But by 2022, the COVID restrictions had been eased enough for the palace to hold a first-anniversary memorial service for Prince Philip on March 29. The touching ceremony at Westminster Abbey not only had a much larger guest list, but it also permitted the guests to go unmasked and sing the prince's favorite hymns, according to Hello!
The service took place more than a week before Prince Philip's actual death anniversary of April 9, though. The queen marked that solemn day on social media with a simple but moving tribute to her husband.
Queen Elizabeth posted a poem written for Prince Philip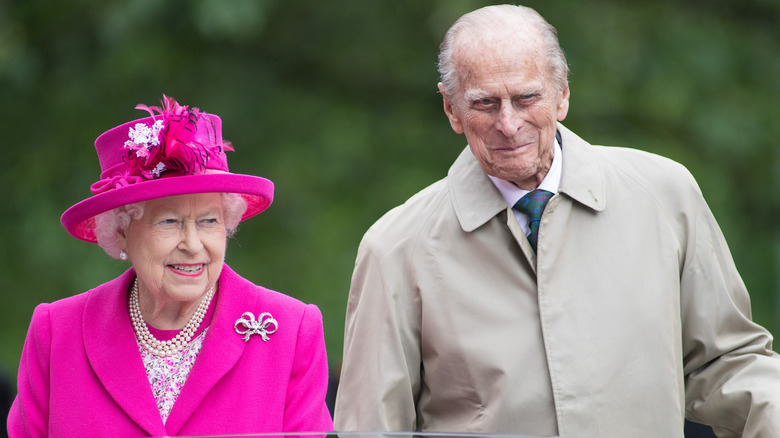 Jeff Spicer/Getty Images
On April 9, 2022, the Royal Family's Instagram posted a simple but fitting memorial to Prince Philip. "Remembering His Royal Highness the Duke of Edinburgh on the first anniversary of his death," began the caption. The post included a poem written by UK poet laureate Simon Armitage last year in honor of the prince. Titled "The Patriarchs — An Elegy," the blank verse casts the prince as a proud member of a generation "whose survival was always the stuff of minor miracle," and who were "Great-grandfathers from birth."
The poem's vivid imagery includes: "To study their hands at rest was to picture maps showing hachured valleys and indigo streams, schemes of old campaigns and reconnaissance missions." The poem opens with an observation of the snow flurries that fell on that day, and concludes with a theme of rebirth: "The major oaks in the wood start tuning up and skies to come will deliver their tributes. But for now, a cold April's closing moments parachute slowly home, so by mid-afternoon snow is recast as seed heads and thistledown."
Armitage's narration of the poem accompanies a video montage of Prince Philip's life, including photos of him as a boy and a young man, in his military service, and, of course, images from his 73-year marriage to Queen Elizabeth. Although the prince always wanted a "no-fuss" funeral (per StyleCaster), we think he would have appreciated this dignified tribute.