The Truth About Tyler Perry's Friendship With Oprah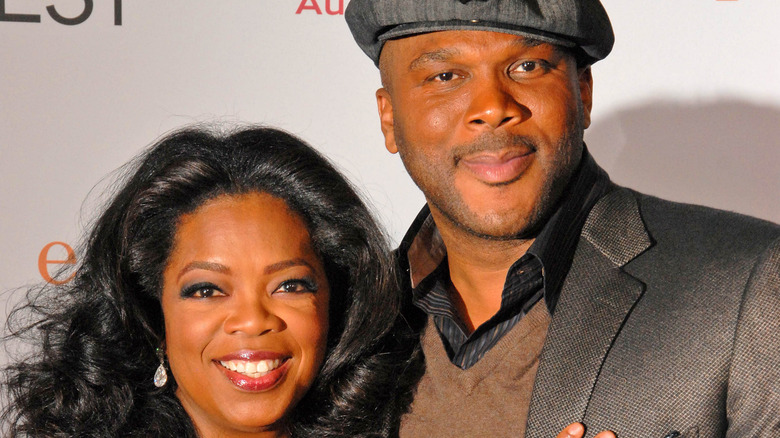 Shutterstock
Tyler Perry has worshipped Oprah Winfrey for as long as he can remember. As Forbes notes, the "Madea" creator actually credits the TV host with inspiring him to become a writer. As he revealed during a "Today" interview, Perry requested her autograph back in the day when Winfrey was staying at a hotel where he was working at the time. He recalled, "She turns around and she puts an O on the page. It was a good moment" (via People). Once he'd made it officially, Perry signed a multi-year deal with Winfrey's OWN Network, which was hugely beneficial to both parties. 
In a joint interview with Essence magazine, the prolific producer enthused, "The most important thing about coming together was making sure we would not lose our friendship because of the business." Perry advised they're always 100% honest with each other and can work through pretty much anything. Winfrey added, "We both know how rare this is," explaining, "Where else in the history of our African-American culture have two really, really successful people who can do whatever they want said, 'Let's come together and be even more powerful — let's take it to the tenth power'."
Their relationship is built on mutual respect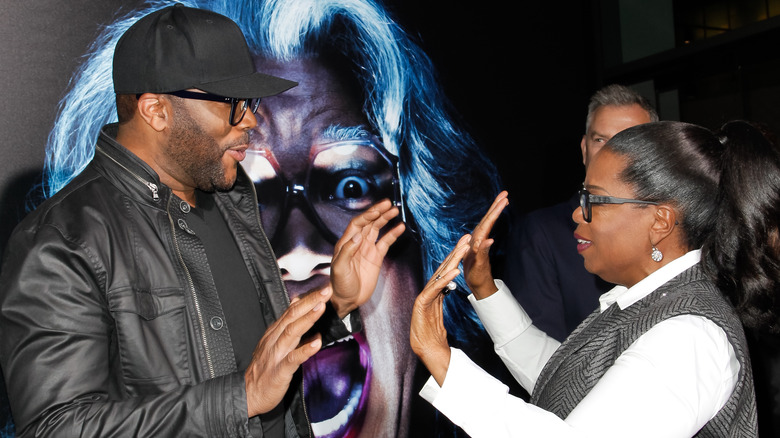 Tibrina Hobson/Getty Images
While speaking to the Los Angeles Daily News, Tyler Perry credited Oprah Winfrey with launching his career into the stratosphere, noting, "Had she not put the things in place, then I wouldn't be successful." After being invited to the 2005 Legends Ball, Perry was inspired to push harder, after seeing everything Winfrey had accomplished (via ET). She's even the godmother of Perry's son, Aman. As the talented multihyphenate told Forbes, "She inspired me from day one. Watching examples like Oprah, owning 'The Oprah Winfrey Show,' and understanding what that meant. That was very, very important to me." When the TV legend was lamenting the difficulties her network, OWN, was struggling with, her buddy hopped on a plane to California from Atlanta just to make sure Winfrey was okay.
Just a short while later, Perry wrote "The Haves and the Have Nots," the first scripted series the network ever produced, which not only solidified their business relationship and long-time friendship but helped usher in a new phase at OWN, too. When Perry left to launch his own streaming service, he did so with Winfrey's blessing. The iconic TV host has been inspired by Perry too, with People noting his impressive community service efforts during the devastating COVID-19 pandemic encouraged her to found a specific charitable fund. Winfrey's BFF Gayle King even revealed to Vanity Fair that the "Madea" creator gifted her a brand-new Bentley simply because, "Oprah liked it." Now that is true friendship.